What are the steps to a solar panel installation?
Published on November 08, 2017 by Chris Meehan
Last updated on August 01, 2019
4 minutes read
Categories: Solar 101, Solar financing, Solar panels, Solar power, Solar inverters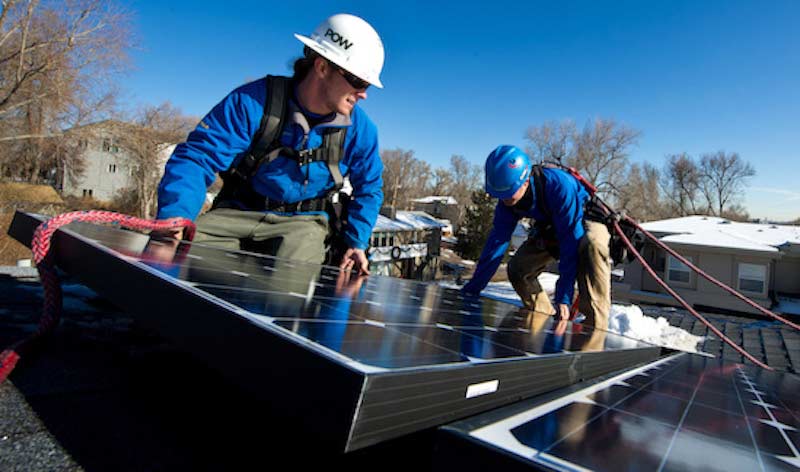 You've decided to join your neighbors and go solar. So now what? The process begins. 
The first step is simply choosing an installer, which solar-estimate.org's tools can help you with. The solar calculator shows research-based estimates on you what size system you need in terms of kilowatts of solar panels to offset all or part of your electric consumption, how much it will likely cost both in terms of cost per watt and overall, how many kilowatt hours the system should produce on an annual basis, and what your financing options are.
The calculator also will connect you with up to four solar installers, including SolarReviews.com's Pre-Screened Solar Pros that will give you even more accurate quotes on the photovoltaic (PV) systems they offer and whether they offer additional equipment like energy storage systems. 
When choosing a solar installer you should ask them a number of things: 
Ask how long does it take them to install and interconnect a solar system to the grid and whether they have a wait list. 
Ask what incentives you're eligible for and what the local net-metering rates are.
Ask them what solar panels and other equipment they offer, including what types of inverters and solar panels they use. Then research to find out which equipment you want them to install.  
Ask them what financing options they offer and at what rates.
Ask them what accreditations and licenses they have, like NABCEP accreditation, among other things. 
Ask them what they take care of regarding permitting and what you're responsible for in terms of the permitting process. 
This can all be done over the phone, via email or onsite when a contractor makes initial evaluations for the home's solar system and you sign a contract. 
Now, the installation process begins. It often takes weeks—sometimes up to three months, for a solar panel system to be installed and connected to the grid. Certain cities and states have made it much quicker and easier to go solar by streamlining the permitting process. That process actually takes numerous steps and visits throughout the installation process. 
First Inspection 
The process begins with the first contractor inspection, which should occur shortly after signing the solar contract, whether you're getting a PPA, financing, leasing, loaning or purchasing the system outright. During that inspection your contractor sends someone, usually one of their employees, to physically evaluate your home for solar. While onsite they'll inspect your electric panel (where your fuses or circuit breakers are) to determine if it can handle the solar installation or whether it needs to be upgraded. They'll determine where the system will be located on your home, inspect the roof inside and out to make sure its sound enough for the solar panels and racking systems and where additional equipment, including the inverter(s)—if the system is not using microinverters, and the power controller. 
The Permitting Process Begins
Your solar contractor should handle getting you most, if not all, of the permits and paperwork needed for the solar system they'll install on your home. You'll have to sign them but they'll usually submit the documents to the local agencies and utility for approval. They'll also help you sign up for federal investment tax credit (ITC) and any local incentives like net-metering and solar renewable energy certificates (SRECs).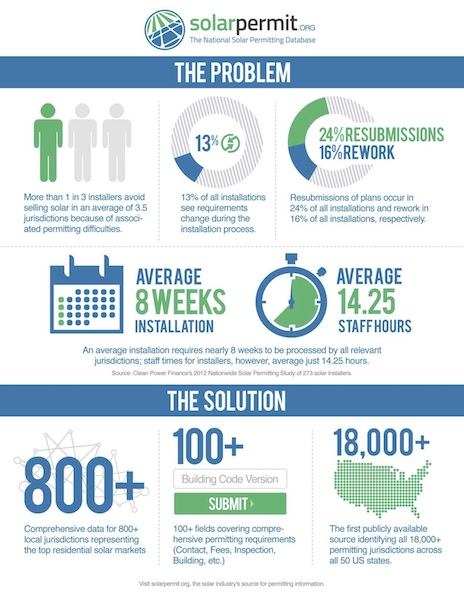 Depending on where you live and what's required, this process can take a couple of days, weeks, or months. Certain cities and towns have been designated as Solar Friendly Communities or SolSmart Communities, which means they've taken additional steps to make the permitting process quicker and easier—in some of these communities solar systems can be permitted within a day of submitting applications. But the process is among one of the remaining areas where many think the costs—the so-called "soft costs"—can be significantly reduced. Your solar installer should be able to tell you how long the process should take.
Getting the Equipment and Installing the System
If your solar contractor doesn't already have the equipment in stock, they'll have to order it from a distributor. This can be done during the permitting process or after. Depending on how busy the season is for your solar installer and their existing stock of equipment, this can take place within a couple of weeks or months.
Finally, the big day comes when your solar contractor starts prepping your roof and house for your new solar panel system. That's also usually when they bring the solar panels and other equipment to your home. 
The actual installation will usually take between one and three days to install, depending on the size of the system and the roofing materials. The process starts by making sure the roof is sound and ready for the solar panels and racking equipment to hold them in place. At this time the installer—though sometimes the utility—may have to install a new power meter that allows for bi-directional metering of electricity, allowing for net-metering. 
The installer will start installing the wiring for the new solar system. Then they'll install racking equipment on the roof, followed by the solar panels. Finally, they'll connect the solar panels to the inverter or power controllers. 

Interconnection—the final step
Here's the hardest part. The system is physically installed and you'd think it was producing power for you, but there's still a final step. Interconnection and final approval. Prior to allowing your system to go online and start providing you with energy from the sun, it must undergo a final inspection from the utility and/or local officials. The inspectors will ensure the work done by the solar installer was done safely, appropriately and to code. Once the inspectors have signed off on the solar array, the switch is flipped and the solar panels are officially generating electricity for your home.

Calculate your solar savings from installing solar on your home