What are the BEST solar panels to buy for your home in 2019? (Updated July 2019)
Published on May 23, 2019 by Zeeshan Hyder
Last updated on August 14, 2019
10 minutes read
Categories: Solar 101, Solar panels, Solar power
Are you thinking of buying solar panels for your home? If so, you've probably already estimated solar power's cost and savings and figured out it's worth it for you; you're now on the next step of figuring which brand of solar panel to install.
You're doing the right thing by doing your research and visiting this page. Solar panels are a big investment that will produce energy for a long time — 25 years or more. With the right brand of solar panels and proper installation, you will go years without any performance or maintenance issues.
So which brand should you choose? Well, we'd like to tell you that there is one brand that is the best in all situations, but that simply isn't the case. The answer to the question "what is the best solar panel" will vary depending on what's most important to you as a homeowner: expert assessment, popularity, efficiency, value for money, or some other factor.
This is why we've compiled a whole set of rankings of the best solar panels based on a number of different criteria.
Table 1. The best solar panels for home use based on different criteria
The overall BEST solar panels based on expert opinion
To produce this list, we asked a group of solar industry veterans to weigh up the pros and cons of different solar panel brands and choose which they would install on their own homes.
What's interesting is that all of these experts gave a lot of weight to the manufacturer's brand reputation and financial position. They explained that since solar panels last so long, you want to buy from a company that'll be around to honour any warranty claims.
After comparing the different solar panel brands on offer, they come with their list of the top 5 solar brands for 2019.
Table 2. The 5 best solar panel brands in 2019 according to solar industry veterans 
#
Company Name
What the experts like about it
1
Panasonic
+ Very high quality panels
+ High efficiency and tied-for-best temperature coefficient
+ Strength of company and reputation for manufacturing excellence
2
LG Solar
+ Very high quality panels
+ Strong corporate reputation & warranty support
3
Canadian Solar
+ High quality panels
+ Lower price means it offers amazing value
+ Strong financial position makes warranty support likely
4
SunPower
+ Very high quality panels
+ Highest efficiency and temperature coefficient
+ The best performing solar panels in the market
5
Trina Solar
+ Solid all-round performance
+ Low cost for a Tier 1 panel
The rankings are a mix between manufacturers making premium solar panels — Panasonic, LG Solar and SunPower — and big Chinese manufacturers with more affordable offerings: Canadian Solar and Trina Solar. [No, there's no mistake in the last sentence: Canadian Solar is actually a Chinese company, although headquartered in Canada].
It's also interesting to see that despite being the most well-known solar panel brand and having the best performing solar panels, SunPower didn't earn the #1 spot. Want to know why? Read the experts' reasons for choosing the best solar panel brands of 2019.

Unlock live pricing on the best solar panel brands
The 10 best-selling solar panel brands for home
Curious what solar panel models are most popular at the moment? To find out, Solar-Estimate.org compiled data from recent residential solar installations in California, which is the largest solar market in the US by quite a bit.

These are the top 10 solar panel manufacturers based on their use in California home solar installations, along with the top-selling model for each brand.
Table 3. The best-selling solar panel models in California (June 1, 2018 - Nov 30, 2018)
Panasonic is the #1 solar panel brand used in solar panel installation. They produce excellent solar panels — they were rated #1 by our experts — and they have benefitted from their partnership with Tesla/ SolarCity. However, in recent months Panasonic's solar panel sales are reported to be declining in parallel with the declining fortunes of the Tesla solar business.
Looked at as a whole, the most popular solar panel brands are a mix of premium and value solar panel brands. The top 3 — Panasonic, SunPower and LG Solar — as well as SolarWorld (at #5) are all premium, while the remaining brands on the list are known for offering great value.

See how much you can save by installing solar panels
The best solar panels according to consumer reviews
For this ranking, we turned to our sister site SolarReviews, the leading consumer review site for solar panel manufacturers and solar panel installation companies. Their website has thousands of reviews from American homeowners sharing their solar panel installation experience and performance. This ranking provides great insight into which solar panels are meeting and exceeding customer expectations, as well as how they're performing in real-world conditions.
Table 4. Consumers choice: The solar panels with the best reviews from consumers
*Itek Energy was acquired by Silfab Solar in October 2018
Some notes about this ranking:
Solar panel manufacturers regularly update their models and technology. To make sure that our rankings reflect consumer views of newer models, we've only used reviews from the last 2 years.
We've only included companies with more than 20 reviews to ensure that we're only considering solar panels that have proven consistent.
We've displayed review scores to 3 decimal points to help differentiate between manufacturers with similar ratings.
What's interesting about this list is that the top 3 brands — Itek Energy, SolarWorld Americas Inc. and Mission Solar Energy — all produce their solar panels within the US. Is this a reflection of the high standards of American manufacturing, the satisfaction of buying American-made products, or the improvement in value after competitors were hit with tariffs? The answer is probably a combination of all three factors.
The specific models of solar panels that are most efficient for homes
The importance of solar panel efficiency can be overplayed by manufacturers looking to charge a premium price for the most efficient modules.
Solar panel efficiency is taken into account when a panel is rated at a specific wattage. That means that a 300 watt solar panel with a high efficiency rating and a 300 watt panel with lower efficiency, with all else equal, will produce the same amount of power. It's just that the more efficient panel will use slightly less space.
Of course, there are some situations where efficiency matters, for example if you are working with a very small roof. If that's you, getting the highest efficiency panels available will allow you to maximize solar output.
Here are the most efficient brands of solar panels based on the highest efficiency panel they offer:
Table 5. The 5 most efficient models of solar panels by manufacturer
Chris Meehan over at SolarReviews has written a detailed post that explains solar panel efficiency and lists the 15 most efficient models.

See how much electricity solar panels can produce for your home
What solar cell technologies do the best solar panels use?
There are three types of technology utilized in the solar panels available on the market today. These are monocrystalline, polycrystalline, and thin film amorphous. It is difficult to say which technology is best because there is often a tradeoff between maximum cell efficiency and value. You can see the pros and cons of different types of solar cells, and decide which one is best for your needs.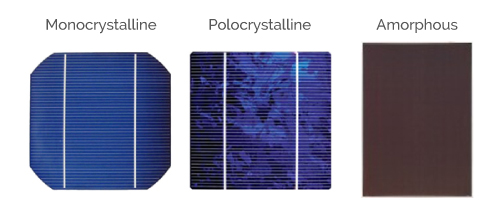 Image source: Coastal climate control
What are the five best manufacturers of polycrystalline solar panels
Regarding volume, there are far more polycrystalline solar panels produced than monocrystalline modules.
Polycrystalline modules are typically less efficient than monocrystalline modules, but they are also usually much more cost effective. Sometimes they can be as much as 30-40% cheaper than the most efficient brands of monocrystalline panels but produce a similar amount of power per panel.
This cost difference is why polycrystalline panels are the most popular globally even though they are not the most efficient panel type.
What are the five best brands of monocrystalline solar panels?
The best brands of monocrystalline solar panels are also the most efficient solar panels on the market.
You can head over to SolarReviews to learn more about solar panel efficiency, and see which other brands are highly rated for efficiency.
The best solar panels in terms of cost and value for money
The Tier 1 Chinese solar panel manufacturers dominate our list of the best value solar panel brands. The only exception in the list below is REC Solar, which is a Singaporean company. Each of these companies is large and has established a reputation for excellent manufacturing quality:
The solar import tariffs imposed at the start of 2018 have chipped away at their cost advantage but they are still cheaper compared to some of the best premium solar brands.
You've chosen what you think is the best manufacturer of solar panels - what else do you need to consider?
There is a range of other factors to look at when deciding about solar panel installation. Take all of the following into account when planning your system:
Solar system size: How large a system you need depends on the size of your home and your energy requirements. Check out this resource to calculate the number of solar panels you need and how much space they would take up.
Local tax benefits and incentives: The 30% solar tax credit is available everywhere, but there are lots of additional incentives offered by state governments and utilities. New York, for example, offers thousands of dollars of state tax credits on solar panel purchases. Check what incentives are available in your state and use them to reduce the cost of your solar panels
Brand availability in your area: Your preferred solar installer may not stock your first choice solar panel. If that's the case, check our SolarReviews for information and reviews about the solar panels they are offering you. If your heart is set on a specific brand of solar panels, find the brand on SolarReviews and scroll down the page to find a contractor in your area.
Finding a reliable solar installer: The booming solar industry has attracted a lot of great installation companies but also large companies with impersonal service as well as fly-by-night operations. Safeguard your investment by checking consumer reviews on SolarReviews before settling on an installer. Better yet, request free, no-obligation solar quotes from multiple installers through Solar-Estimate.org's solar calculator. We'll ensure that you are only contacted by professional, pre-screened solar installers that have a track record of successful installations and positive reviews.

Get a fixed quote for solar panels from a local installer
Note: All rankings in this article were compiled based on expert opinions, consumer reviews and solar installation data. Neither Solar-Estimate.org nor SolarReviews was paid for any of the reviews or rankings.