Solar Tax Credit
While the solar tax credit has made solar significantly more affordable for homeowners, it will begin to decrease in 2020. We'll show you how you how much you can save with the solar tax credit, what's changing, and how these changes could impact the US solar industry.
What is the Solar Tax Credit?
Last updated on June 7, 2019 by Evan Nicoles
The federal solar tax credit, formally known as the investment tax credit (ITC), is a credit equal to 30% of the qualified costs of installing a photovoltaic (PV) solar system. The ITC was established as a part of the Energy Policy Act of 2005 in an effort to boost the US renewable energy market.
How Does it Work?
The total value of the solar tax credit can easily be calculated by taking 30% of the solar system cost. There is no limit to the value of the credit.
See example
If your residential solar system is installed in 2019 and costs $20,000, your tax credit would be $20,000 x 30% = $6,000.
It's important to note that the federal solar tax credit is a nonrefundable tax credit. This means that you only get a refund up to the amount you owe in federal taxes.
See example
If you owed $5,000 in federal taxes and had a $6,000 solar tax credit, you would take $5,000 of the credit in the first year, and then carry over the remaining $1,000 of the credit to the following taxable year.
The solar tax credit is only available for the owner of the system. Therefore, homeowners with a PV system through a PPA (Power Purchase Agreement) or Solar Lease are not personally eligible for the ITC.
See how much this incentive will save you!
Solar Tax Credit Step-down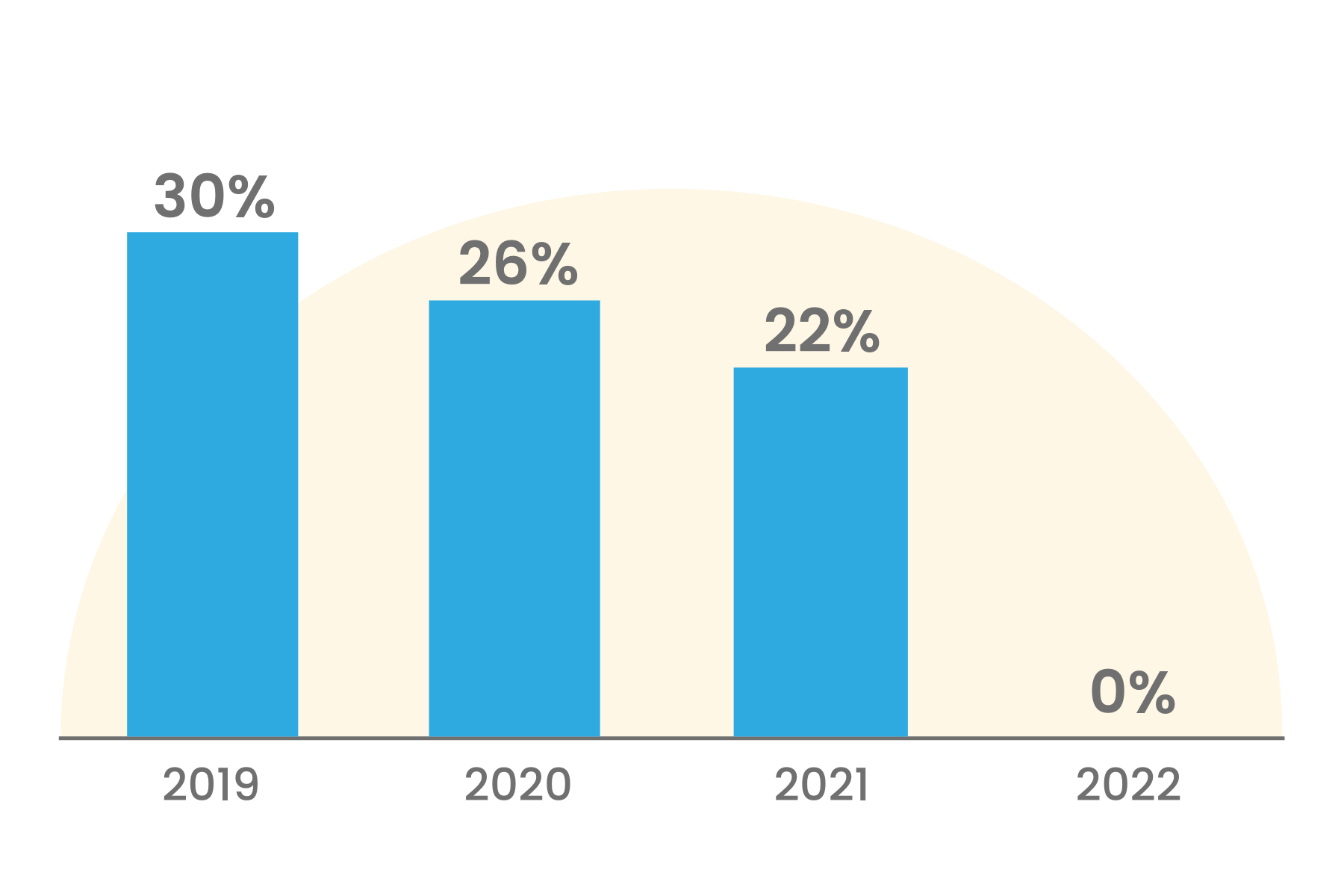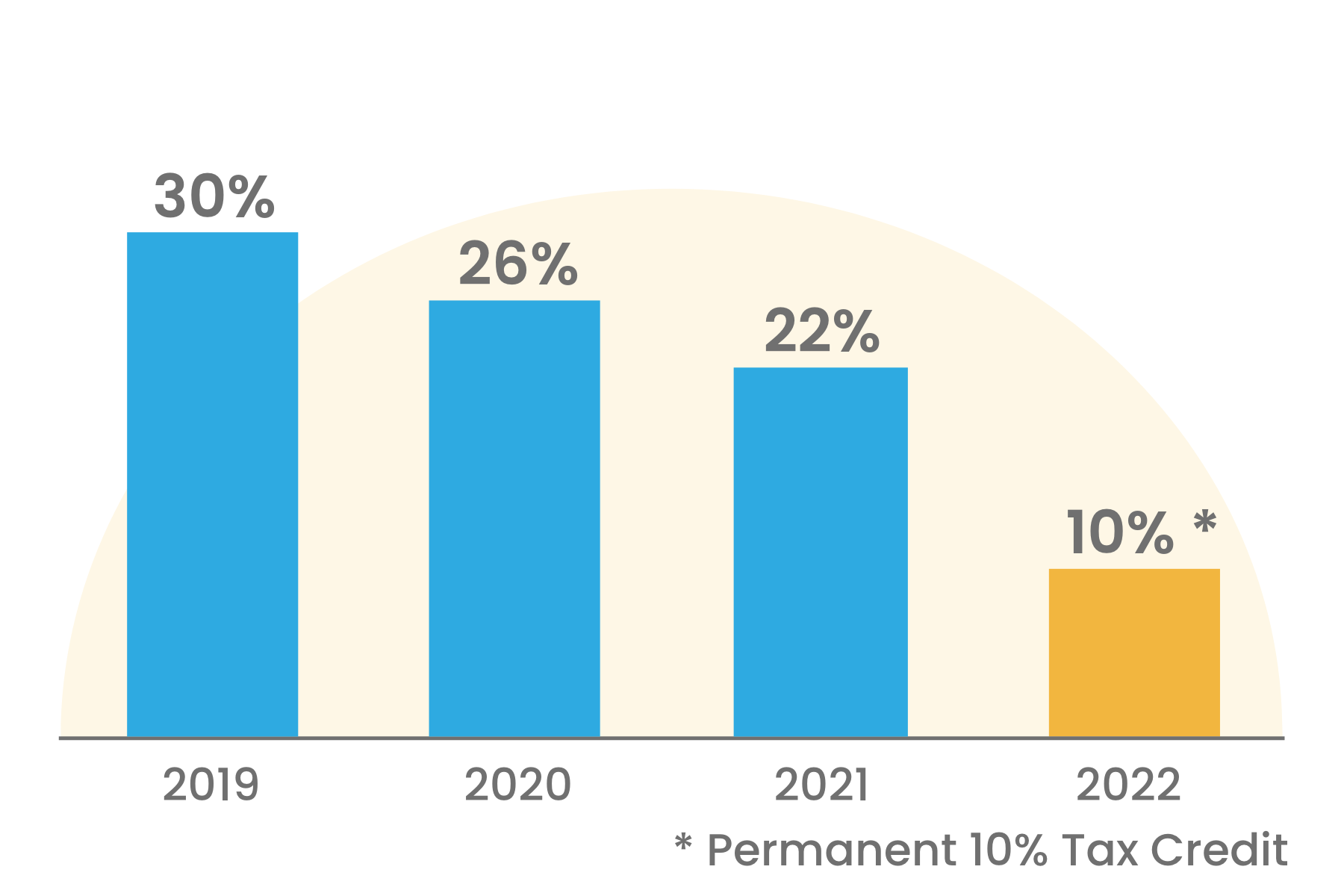 Solar Tax Credit Calculator
How Do I Claim the Credit?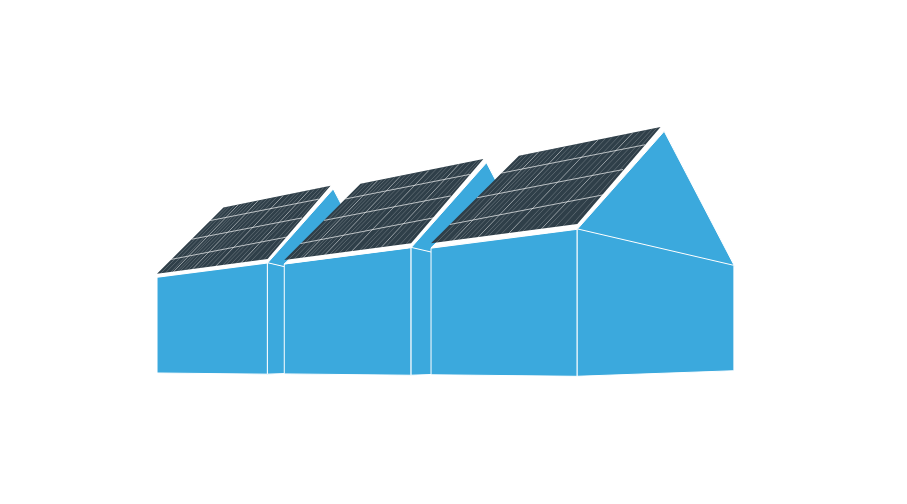 Residential
You can claim the tax credit for a residential solar panel system using IRS Form 5695 (Residential Energy Tax Credit).
Detailed information about Form 5695 can be found on the IRS site here.
The home served by your solar PV system does not have to be your main home.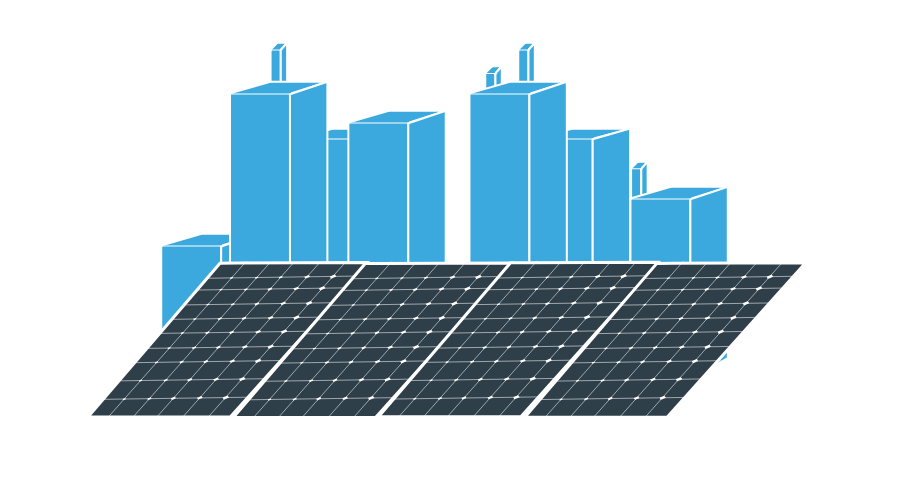 Commercial
You can claim the tax credit for a commercial solar panel system using IRS Form 3468 (Investment Tax Credit).
Detailed information about Form 3468 can be found on the IRS site here.
Note: We are not tax professionals. For formal advice regarding the solar tax credit, consult with a tax professional.
Solar Tax Credit Schedule
| Date Construction Begins | Residential Credit | Commercial Credit |
| --- | --- | --- |
| Before 1/1/2020* | 30% | 30% |
| 1/1/2020 - 12/31/2020* | 26% | 26% |
| 1/1/2021 - 12/31/2021* | 22% | 22% |
| On or after 1/1/2022 | 0% | 10% |
*Must be placed in service before 1/1/2024
How Could These Changes to the ITC Impact the Cost of Solar?
There's a publicly available data set which includes historical pricing of installed solar systems. This data set covers an estimated 81% of US solar systems and is released annually in the Lawrence Berkeley National Labs (LBNL) "Tracking the Sun" report. Solar-Estimate has used this pricing data to show how past economic trends may impact the future.
From this point forward in the solar pricing analysis, there will be references to two different solar prices:
Gross Price: The price of solar before the federal solar tax credit is applied.
Net Price: The price of solar after the federal solar tax credit is applied.
Estimated Prices of Residential PV Solar Systems
The graphs below are showing the annual median gross price per Watt and the annual median net price per Watt from 2001 – 2024. Values for 2001-2018 are taken from the Berkeley data mentioned above, and values for 2019-2024 are projected by using a trendline based on years 2015-2018.
US Residential Solar - Median Price per Watt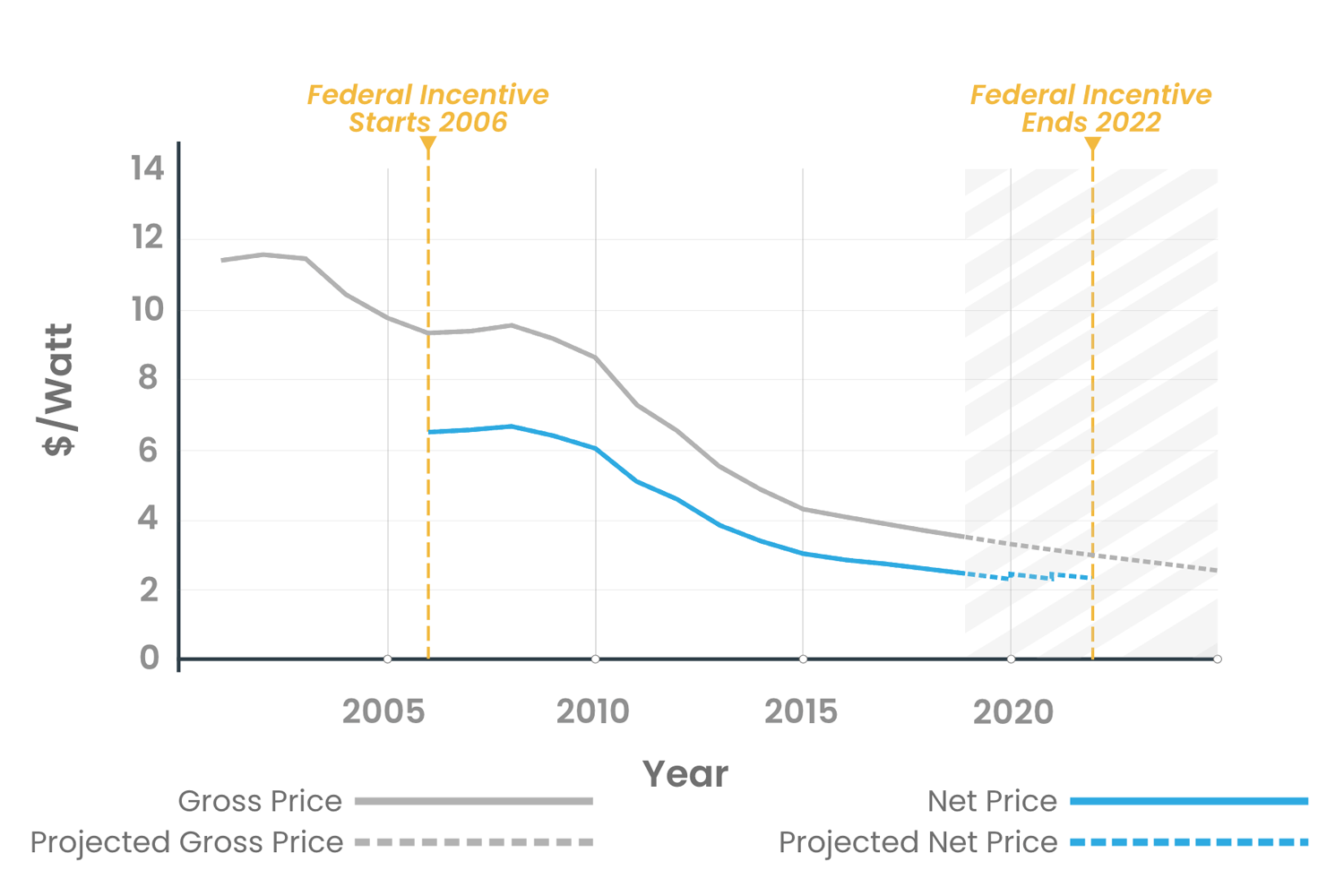 US Residential Solar - Median Price per Watt (Zoomed)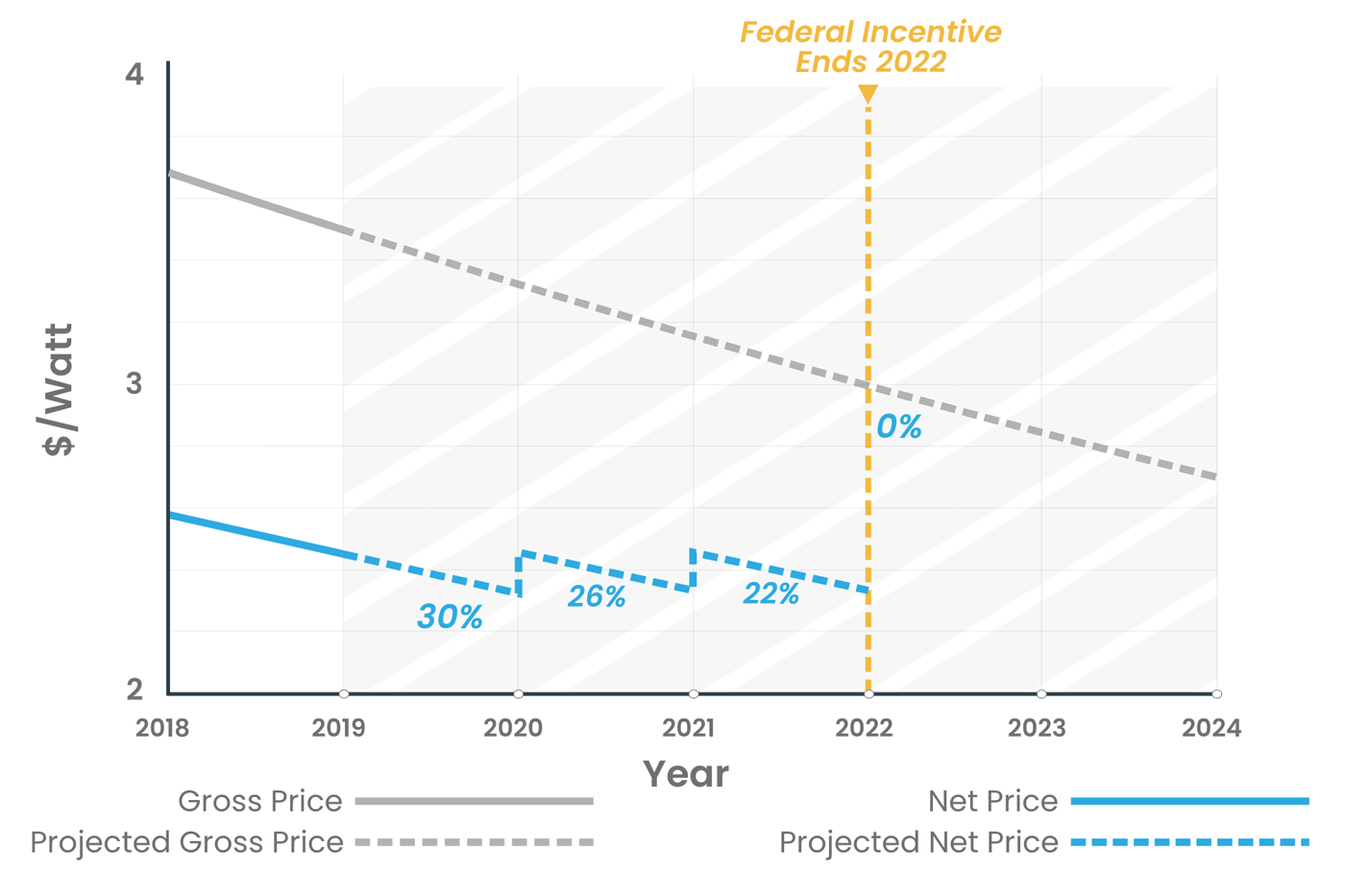 Based on the pricing data shown in the graphs, the best time for a residential consumer to go solar is in 2019. Including the federal solar tax credit, the net prices for residential solar systems are as follows:
Projected Net Prices 2019-2022
| Year | Residential Credit | Net Price |
| --- | --- | --- |
| 2019 | 30% | $2.21 - 2.45 / Watt |
| 2020 | 26% | $2.21 - 2.47 / Watt |
| 2021 | 22% | $2.22 - 2.50 / Watt |
| 2022 | 0% | $2.70 - 3.07 / Watt |
Key Findings
There are two important takeaways from this study:
The best time to go solar is in 2019.

Solar is now cheaper than it has ever been, and 2019 is the last year to claim the full 30% tax credit. While our projection suggests the net price of residential solar will be equal in 2020 and 2019, this is just an estimate and is subject to error.
As a general rule of thumb, any financial advisor will agree that the best time to make a long term financial investment is as early as possible.
It's reasonable to expect the solar installation market to become extremely busy as 2020 approaches - perhaps to the extent that not all interested consumers can be serviced in a timely fashion!

Get a Solar Estimate Now

The net price in 2020 is not going to be significantly higher than it is in 2019.

Based on the projected trendline, there may be no difference between the net price of solar in 2019 and the net price in 2020. If going solar in 2019 is not a financially viable option, the industry is not going anywhere and it will still be possible to get a good net price in 2020.
What Happens When the Solar Tax Credit Runs Out?
The impact to the net cost of solar will be minimal when the ITC steps down in 2020 and 2021.
In 2022, the solar tax credit will expire completely for residential solar. This will result in a large increase to the net price of solar.
The graphs above showcase the projected spike in the net price of residential solar when the tax credit drops to 0% in 2022. The previous reductions in the tax credit were slightly offset by the projected drop in total price, but the complete elimination of the tax credit for residential solar in 2022 will likely cause a notable impact to homeowners wanting solar.
How might solar installers combat the removal of the tax credit to stay in business?
It seems likely that the demand for residential solar systems will peak at points just before the drop in the tax credit. This would also suggest a lull in demand just after the tax credit drops.
For the purposes of this study, it would be too difficult to predict exactly how solar companies adjust their pricing to combat the reduction of demand caused by changes to the tax credit. In order to stay in business, solar installers may lower their margins to combat this drop in demand. This would mean consumers may not see a significant net price hike once incentives are lowered/removed.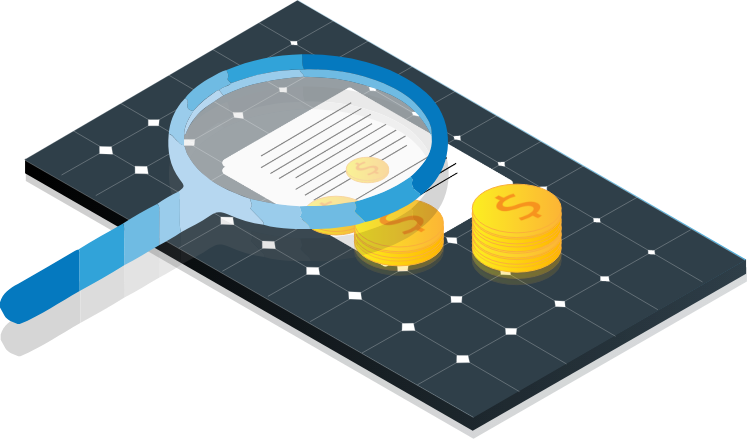 Reductions in Hard Costs vs. Soft Costs
The total installed price for a solar system can be broken down into two parts: hard costs and soft costs. Hard costs include the physical hardware of the solar system such as panels, inverters, and wiring. Soft costs encompass everything else including permitting costs, customer acquisition, and installer margins.
Advancements in technology (specifically PV modules) helped hard costs drop significantly from about 2008 to 2012 which resulted in an overall decrease in solar system prices for several years. While hard costs have come down substantially, soft costs have decreased at a much slower pace and have more room for improvement. Given this, the continued decrease in overall solar system prices will rely on future reductions in soft costs. Soft costs can continue to fall as installers become more experienced, permitting becomes increasingly streamlined, and customer acquisition becomes more efficient.
Solar Prices Around the World
Based on data from other countries such as Australia and Germany, there is still significant room for improvement in the US in terms of price per Watt. According to the LBNL report:
Compared to median US prices, installed prices reported for a number of other key national solar markets are substantially lower. In Australia, for example, typical pricing for residential systems was reported to be around $1.8/W in 2017 (i.e., half the median price observed within the LBNL dataset), while prices in Germany were even lower, at $1.5/W.
While it might not be completely fair to expect equal pricing between different countries with varying regulations and economies, there is potential for solar pricing to drop in the US despite the expiration of the federal tax credit.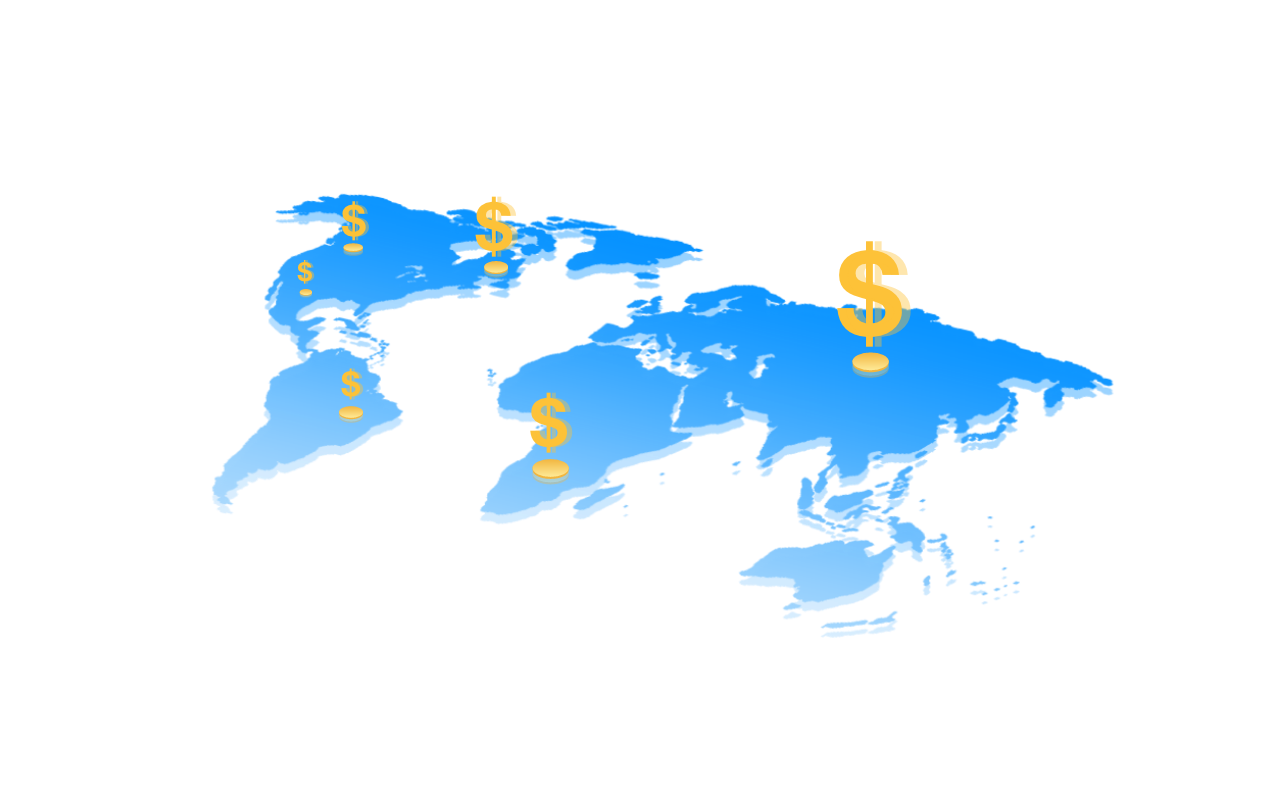 Find out how much the federal solar tax credit could save you
Find out how much the federal solar tax credit could save you
Privacy Secured

We will not sell, trade or rent your personal information to others without your permission.