Our complete guide to solar power in Florida?
Florida solar power facts
Average cost of a 5kw solar power system in 2016
Price shown before incentives
Average payback time
Average lifetime savings
Price shown after repayments of capital
Levelized cost of solar energy
If you don't get solar
The forecast average utility price over the next 25 years
Power production
(per kW of peak DC solar panels)
Cash flow graph based on cash purchase of a 5kw system
Solar companies in Florida that provide pricing through the Solar-Estimate marketplace
14
---
Get the facts about installing solar panels for your home in Florida?
Solar power in Florida
To state the obvious Florida has a lot of sunshine and so solar panels installed on your home in Florida will produce a lot of energy compared to other parts of the country.
However, despite this the solar market has struggled to gain momentum until recently because of regulatory difficulties and the fact that Florida has relatively cheap power.
However, solar panels have fallen in price quite a lot in recent years and so more and more people have been installing solar panels on their homes and businesses.
In fact the average cost charged by solar energy installation companies in Florida is the lowest in the nation at just $2.90 per watt for cash purchased systems and $3.30 per watt for systems sold through a solar specific loan arranged through the installer.
Estimate your solar savings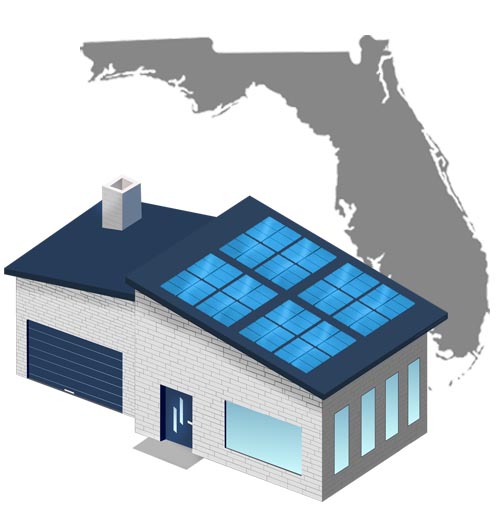 Compare solar quotes from the top solar companies in Florida
Best brands of solar panels
To find the best brands of solar panels you can use America's most trusterd solar panel comparison and reviews website, SolarReviews.
However, reviews of solar panels can be a bit meaningless because most consumer owners have not had any issues and so whilst solar company reviews are very important when choosing solar installers they are of less use when choosing solar panels.
For more information to help you make an informed decision about this topic, I would recommend this article about buying solar panels.
Compare solar quotes from the top solar companies in Florida
I want to buy a solar panel kit and install it myself
How much electricity will solar panels produce in Florida
Solar panels produce different amounts of energy in different locations.
Around the Tallahassee area solar panels installed on a south facing 20 degree pitch roof will typically produce:
1,351 kWh per year per 1kw of peak DC (direct current) capacity
For more information about how your location, roof direction and roof tilt affects solar power production use the solar panels calculator and enter your address below.
What rebates, solar tax credits and other solar incentives are available in Florida
Solar Incentives in Florida
The largest solar incentives in Florida are the Federal 30% Solar Tax Credit and the net metering law giving you the full retail value of each unit of solar power you generate.
There is not much in Florida in the way of other upfront rebates or performance incentives but one area where Florida is leading the nation is in the development of cheap financing options for solar.
---
Net Metering
More people are realizing that solar panels are a great insurance policy against rising utility power costs over the years.
However, the popularity is limited to customers of the publically owned utilities because these companies are required to by the Florida Public Utilities Commission to offer full 1 for 1 net metering to their customers.
This means that if you generate more solar power during the middle of the day than what your house needs, and thus export surplus power to the grid, the utility is required to give you the full retail value of that excess power.
To put it another way for each kWh (kilowatt hour) of solar power that you export to the grid in the day you get to use another kWh of power for free at another time (say night time) when your solar is not producing enough energy to run your home.
---
Florida leads the nation in solar loan offerings
Florida is one of only two states in America to have an active and funded PACE loan program.
PACE loans are when there is a partnership between a city or county and a private financier to offer loans to homeowners to buy solar panels.
These loans tend to carry fairly normal interest rates (around 4.9%-5.9%) but the unusual thing about these loans is that they are repaid through your property tax assessment and stay with the house if you sell it rather than the consumer.
This is great for people that want to go solar but don't know how long they will live in their current house.
Currently both Renew Financial and YGRENE Works currently have residential and commercial PACE solar loans available in Florida.
Regardless of what you want to know about the economics of installing solar panels for your home or business in Florida we have a solar calculator that can show you exactly the information your require.
You can either use our full monty solar calculator that shows you everything you could possibly want to know or you can use one of our range of smaller calculators for specific solar calculations that focus on providing you only with the specific information you require.
---
What you can find out about installing solar panels in Florida using our full monty solar calculator
This solar calculator requires you to input your address, utility company, your average monthly power spend - It tells you:
If you want to see all of the above but also see live pricing, the three best solar deals available in your city and get binding quotes from each of these solar companies then use this solar panels calculator. This calculator requires you to also input your name and contact details because most of our 200+ installer partners will only authorize the sharing of their live solar pricing where we have validated that you are a real homeowner with a home in their service area. We respect the privacy of your data and only share your contact details with the solar companies you ask us to get binding quotes from.
How much do solar panels cost in Florida
Cash purchased solar system
Before 30% solar tax credit
Financed solar system
Before 30% solar tax credit
Lease/PPA
Av. 15 year term, 2.5% price escalator
What are the pros and cons of buying solar panels for your home in Florida
Florida offers excellent financing option on solar systems, more solar irradiation and the 30% solar tax credit and 1 for one net metering on all public utilities making solar in Florida an excellent and affordable investment.
The only real con is that private owned utilities may but are not required to offer net metering. However, there are still really good incentives without net metering.