Cost of solar in Miami, FL
Electricity Consumption in Miami
Electricity Consumption by Florida residents averages 1081 kWh per month. It ranks #11 in the nation for savings from installing solar panels on the home.
Find local city information
Solar power in Miami, Florida
Great sunshine and amazing incentives make Miami one of the greatest cities in America to install solar. As a Miami resident you most likely purchase your power from Florida Power and Light (FPL). Once again this month FPL put up their residential rates and this is set to continue in following years. There has never been a better time as an FPL customer to install solar.
Do Florida Power and Light offer any upfront rebate for installing solar?
The statewide Florida Solar Energy Incentive Program unfortunately is no longer taking applicants. The good news is, the price of installing solar has fallen drastically over the last 10 years to the point such rebate programs are no longer required.
Does FPL offer net metering to their solar customers?
As a utility regulated by the Florida Public Service Commission FPL are required to offer net metering to their solar customers.
How does net metering work?
If your solar system is producing more energy than what is needed in the home the excess power is sold to FPL via through the grid. FPL are required by law to value each kWh sold to them at the retail price you pay for power.
Each kWh of exported power offsets the cost of another kWh at a time your solar system couldn't service the electric demand of your home. This concept is referred to as "one-for-one" net metering.
What makes net metering such a great incentive is because most homeowners use little power during the day, this means more power sent to the grid and credited by FPL.
What if my solar system exports more energy than my home uses in a month?
If more energy is sold to FPL in a month than what your home draws from the grid FPL will carry the remaining credit over to the next months bill still at full retail value.
If credit still remains at the end of the yearly billing cycle each kWh is valued at the avoided-cost rate (3¢-4¢) and deposited directly into your account.
The "avoided-cost rate" is how much it would cost FPL to make or purchase the power from another source.
How much does solar cost in Miami?
The cost of installing solar depends on your usage and how much of your power bill you want to eliminate. A typical 2,500sq foot family home in Miami uses about 1,678kWh per month, your typical bill on this usage would be $172/mo.
To eliminate a $172/mo electric bill would require a system size of 11.5kW. A system this size would cost about $33,120 and $23,184 after claiming the 30% federal solar tax credit.
The 30% federal solar tax credit
If you have a federal income tax liability you are eligible to claim 30% of the cost of installing solar as a tax deduction. This incentive is available until the end of 2019.
What if my tax liability is less than 30% of the cost of my system?
You may elect to receive the 30% tax credit in increments over several years if your income tax liability in a particular year is less than 30% of the cost of your solar system.
Miami-dade's PACE financing program, how does it work?
PACE stands for Property Assessed Clean Energy and is essentially a solar lease agreement however, with a twist. Instead of paying a third party directly for the loan in monthly installments, PACE is paid for through a property tax increase.
A big drawback to installing solar is if you choose to move houses before your system has had enough time to pay for itself. Since PACE is paid for through property taxes if you decide to move houses the new homeowners will continue paying for the solar system. PACE means you can receive the benefits of solar without the feeling of being financially tied down to your property.
Even if you are not convinced about solar we recommend that at the very least you use the solar panel calculator for Miami to find out:
Estimate your solar savings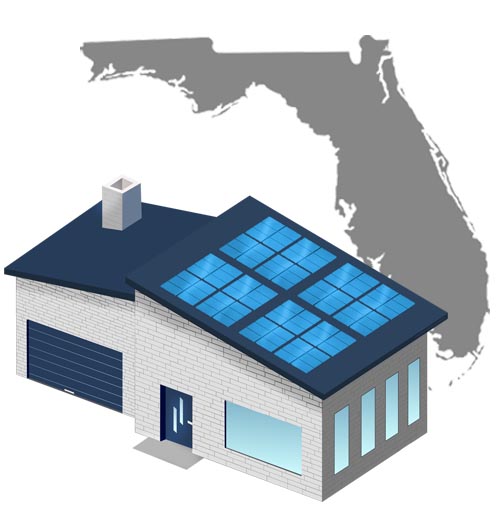 The average cost of installing residential solar panels in Miami, Florida in 2020 is $2.65 per watt. The average system size in the US is 6 kilowatts, which means the average price of a solar system in Miami, FL is $13,250.
(before claiming 26% tax credit and other rebates)
What does the cost of a real solar system look like?
Facts about installing a 15.96kW solar system in Miami, FL
This system would offset 100% of your energy usage if your typical monthly bill is $266, however your situation may vary so try our Miami solar calculator to get a result tailored to you.
Net cost of system
Cash - after 26% solar tax credit
levilized cost of solar energy
If you don't get solar
The forecast average utility price over the next 25 years
Cash flow graph based on cash purchase of this 15.96kW system
Life-time savings on this system over the next 25 years
$100,201
(Prices shown after repayments of capital)
---
Solar companies in Miami, FL that provide pricing through the Solar-Estimate marketplace
41
---
Average total cost of solar panel installation in Florida
| | | |
| --- | --- | --- |
| 3kw | $6,216 | $6,713 |
| 4kw | $8,140 | $8,791 |
| 5kw | $9,990 | $10,789 |
| 6kw | $11,766 | $12,707 |
| 7kw | $13,468 | $14,545 |
| 8kw | $15,096 | $16,304 |
| 9kw | $16,650 | $17,982 |
| 10kw | $18,130 | $19,580 |
Going solar in Florida
Check out all of the ways energy providers of Florida can help you be more energy efficient and save money.
The following programs are available:
Please keep in mind that the best source of up-to-date information on incentives are the solar installers who specialize in your area.