South Dakota ranks #47 in America for savings from installing solar panels on your home
Our complete guide to solar power in South Dakota
Solar power in South Dakota
Last fact checked on July 31, 2019 by Catherine Lane
There is quite a bit of room for improvement when it comes to solar power in South Dakota. There are hardly any state-based or utility-based incentives for installing solar. Also, there is no net metering policy in place, so utilities are not required to compensate customers for the excess energy their solar systems produce.
The bright side is that South Dakota does offer a property tax exemption for renewable energy systems. This can save homeowners a lot of money when it comes to their property taxes.
Additionally, South Dakota residents can take advantage of the 30% federal tax credit.
Estimate your solar savings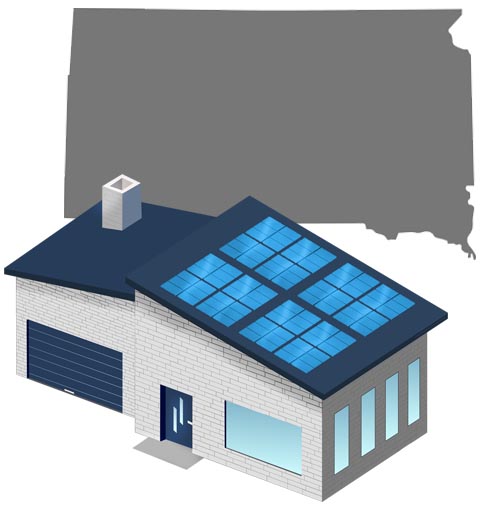 South Dakota solar power facts
Average cost of a 5kw solar power system in 2020
Price shown before incentives
Average lifetime savings
Price shown after repayments of capital
levelized cost of solar energy
If you don't get solar
The forecast average utility price over the next 25 years
Cash flow graph based on cash purchase of a 10.39kW system
This 10.39kW system would offset 100% of your energy usage if your typical monthly bill in South Dakota is $124, however your situation may vary so try our solar calculator to get a result tailored to you.
---
---
Compare solar quotes from the top solar companies in South Dakota
How much do solar panels cost in South Dakota
Cash purchased solar system
Before 26% solar tax credit
Financed solar system
Before 26% solar tax credit
Lease/PPA
Av. 15 year term, 2.5% price escalator
Best solar companies in South Dakota
Find local city information
Best brands of solar panels
To find the best brands of solar panels you can use America's most trusted solar panel comparison and reviews website, SolarReviews.
However, reviews of solar panels can be a bit meaningless because most consumer owners have not had any issues and so while solar company reviews are very important when choosing solar installers they are of less use when choosing solar panels.
For more information to help you make an informed decision about this topic, I would recommend this article about buying solar panels.
Unlock live pricing on the best solar panel brands!
How much electricity will solar panels produce in South Dakota
Solar panels produce different amounts of energy in different locations.
Around the Pierre area solar panels installed on a south facing 30 degree pitch roof will typically produce:
1,451kWh per year per 1kw of peak DC (direct current) capacity
For more information about how your location, roof direction and roof tilt affects solar power production use the solar panels calculator and enter your zipcode below.
See how much electricity your solar panels could produce
I want to buy a solar panel kit and install it myself
What rebates, solar tax credits, and other solar incentives are available in South Dakota?
Renewable Energy System Exemption
South Dakota homeowners have the opportunity to save on their property taxes when they install a solar system on their home, thanks to the Renewable Energy System Exemption legislation. When a solar system is installed on a home, the value of the home increases, and so do the property taxes. With this statewide policy, the renewable energy system installed will be assessed, and then the first $50,000 or 70% of the assessed system cost, whichever is greater, is exempt from property taxes.
---
Renewable, Recycled and Conserved Energy Objective
South Dakota's renewable portfolio standard was enacted in February 2008. The legislation established a voluntary goal stating that 10% of all retail electricity sales in the state should be obtained from renewable energy sources. This standard is out of date and not very ambitious. Not to mention, the standard is voluntary, so utilities are not required to meet it. Because of the weak renewable portfolio standard, utilities are not pressured to create rebates to incentivize their customers to go solar.
Regardless of what you want to know about the economics of installing solar panels for your home or business in South Dakota we have a solar calculator that can show you exactly the information your require.
---
What you can find out about installing solar panels in South Dakota using our full monthly solar calculator
This solar calculator requires you to input your address, utility company, your average monthly power spend - It tells you:
If you want to see all of the above but also see live pricing, the three best solar deals available in your city and get binding quotes from each of these solar companies then use this South Dakota solar panels calculator. This calculator requires you to also input your name and contact details because most of our 200+ installer partners will only authorize the sharing of their live solar pricing where we have validated that you are a real homeowner with a home in their service area. We respect the privacy of your data and only share your contact details with the solar companies you ask us to get binding quotes from.
Unlock live pricing in your state!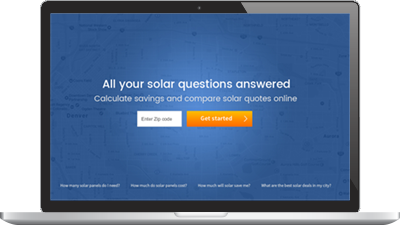 Going solar in South Dakota
Check out all of the ways energy providers of South Dakota can help you be more energy efficient and save money.
The following programs are available:
Find your local rebates and incentives
Your city may have further incentives to offer. Please keep in mind that the best source of up-to-date information on incentives are the solar installers who specialize in your area.