Are Suniva solar panels the best brand for your house?
Written by Andrew Sendy
Updated August 12, 2021
6 minutes read
Categories: Ground mounted solar, Monocrystalline solar panels, Polycrystalline solar panels, Solar 101, Solar efficiency, Solar energy, Solar panels, Solar power

Image source: Sunvia
Amidst a slew of controversy, legal proceedings, a trade case, bankruptcy filings, solar manufacturer Suniva may soon be back on its feet—and with it, a line of commercial solar panels ready for the consumer market.
We review Suniva's role in the solar energy industry, the current state of the U.S. solar market, and their solar panel offerings.  We provide the information so that you can decide is Suniva is the best brand of solar panels for your home.
What's been happening with Suniva?
Suffice to say, Suniva isn't a popular name in the solar industry.
Suniva has been an industry leader in U.S. solar manufacturing since 2008. It was one of two solar panel companies (along with SolarWorld) advocating for the now-implemented 30 percent import tariff on solar panels and crystalline silicon photovoltaic pv solar cells.
Suniva and Solarworld filed the initial Section 201 petition back in April 2017 (shortly after declaring bankruptcy), and in January, U.S. President Trump implemented these tariffs on all foreign manufacturers.
Suniva (a company based in the U.S., yet Chinese-owned) had claimed that foreign manufacturers were flooding the U.S. market with inexpensive solar modules, making it impossible for stateside manufacturers to turn a profit. Suniva was not considered a super high quality manufacturer and although the efficiency of Suniva modules was okay they weren't up their with the leaders like Sunpower and Panasonic in terms of being a manufacturer of high efficiency. Suniva has traditionally been considered more the cost effective US manufacturer.
While others in the industry doubted this assertion, the tariffs passed. Suniva was locked in bankruptcy proceedings until June 2018, when it was acquired by SQN Capital Investment who took ownership of Suniva's technology, manufacturing capabilities, and licenses. SQN is currently seeking partners to revitalize Suniva and has pledged to restore the company's solar manufacturing capabilities.
How much do Suniva solar panels cost?
The average cost of a Suniva solar panel system comes out to $3.20/watt, before the 30 percent federal tax credit. This calculates out to $19,200 for a 6kW system before the tax credit is applied, and $13,440 after the tax credit.
$3.20 per watt
before 30% federal tax credit
$19,200
before tax credit
How does this compare to average prices across the U.S. as a whole?
According to data taken from Solar Reviews' collection of U.S. solar installations, the average cost of solar panels per watt in the U.S. is $3.83/watt. This means that a basic 6kW solar solution will cost $23,653 before the 30 percent tax credit, and $16,557 after the tax credit.
Based on these numbers, Suniva offers an affordable solar panel solution when compared to industry averages.
Solar panel costs vary across cities—use the Solar Reviews calculator to learn exactly how much a solar solution will cost for your home.
How efficient are Suniva solar panels?
A solar panel's efficiency rating indicates its ability to capture sunlight and convert it into usable electricity. Thus, the more efficient a solar panel, the more power it can generate for your home.
Suniva's solar panels range in efficiency from 16.7 to 17.6 percent, depending on which option you choose:
OPT270-60-4-1B0 – 270W – 16.63%
OPT275-60-4-1B0 – 275W – 16.95%
OPT280-60-4-1B0 – 280W – 17.26%
OPT285-60-4-1B0 – 285W – 17.57%
Now, as noted above, Suniva's price is lower than the industry solar panel average. This is reflected in its efficiency ratings, and is certainly something to consider for your own solar solution, as we'll discuss below.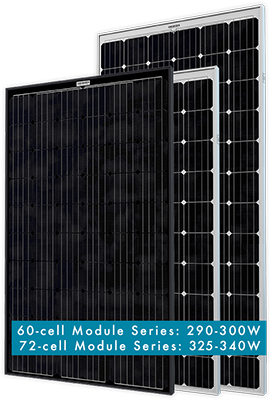 Image source: Sunvia
What makes Suniva panels different from other solar panels?
Suniva solar panels are considered mid-range, mid-price solar options in the U.S. market. Their solar panels don't reach the sky-high efficiency rates of SunPower, Panasonic, or LG, ( and they don't make the high powered solar modules in the range of 300-360 watts these other companies do) but by the same token, their price tends to be more affordable.
When it comes to purchasing solar panels with limited efficiency, it's important to take into account the size of your home and the available space you have for a solar installation. If you opt to go with lower-efficiency panels, you'll need to install more to receive the same total energy output as their higher-efficiency counterparts.
Where can I find the best price for Suniva solar panels?
The total price tag for Suniva solar panels will depend on your location, the size of your system, and what other features (such as mounts) you opt to purchase.
We recommend browsing the Solar Reviews marketplace of certified installers as you look for options. Different installers will offer different quotes, along with different options for your solar installation. Shop around and do your research before committing to an installer.
How does Suniva's solar warranty stack up to others?
Suniva offers a 10-year warranty on its solar panels, which is pretty standard in the U.S. market. Higher-end brands offer warranties in the 15- to 25-year range, but for the relatively low price tag of Suniva panels, the basic 10-year warranty is expected.
Where can I find the specs for Suniva solar panels?
Those interested in the technical details of the Suniva solar panel series can find spec sheets on the company's website.
What else do I need to know about Suniva solar panels?
Suniva has been embroiled in controversy over the past few years, and the jury is still out on when they'll resume full manufacturing operations. However, things are looking up for the company since their acquisition by SQN, so fans of the Suniva series can be optimistic about the future.
Additional Resources
Read more about Suniva's petition against the solar industry here.