How does the new Duke Energy solar rebate in North Carolina work and how can I get it?
Written by Andrew Sendy
Updated August 12, 2021
10 minutes read
Categories: Solar 101, Solar efficiency, Solar incentives, Solar panels, Solar rebates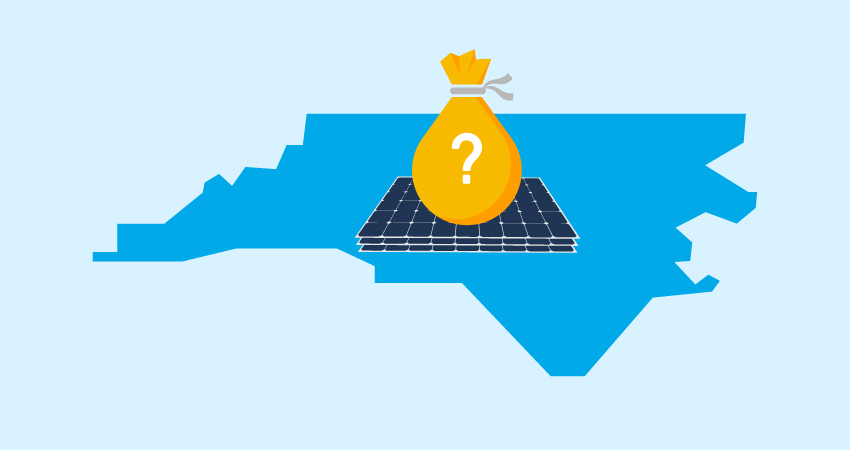 Customers of Duke Energy in North Carolina received good news this summer when the North Caroline Utilities Commission approved $62 million for a program that helps homeowners install solar energy solutions. This incentive is expected to triple the private solar market in the state by 2023.
Under this program, residential customers could receive up to 60 cents per watt for rooftop solar systems of 10 kW or less.
Since a typical 6 kW residential system costs up to $30,000, that's a sizeable rebate of $3,600. And that's not all—by taking advantage of other benefits available, homeowners can reduce the payback time on a system significantly!
While the funds for 2018 have been fully allocated already, Duke Energy will be accepting new applications for the incentive from the first day of 2019.
What are the best solar rebates, incentives, and tax breaks to go solar in North Carolina?
In addition to the new solar incentive for residential owners, Duke Energy provides a rebate for non-residential clients that is worth 50 cents per Watt up to $50,000. Nonprofit clients get 75 cents per watt up to $75,000, which means landlords and community housing associations can also benefit from this initiative.
Low-interest, revolving loan options with an interest cap of 8% are available to NC residents.
The Federal Investment Tax Credit (ITC) for solar offers an additional 30% of the cost on top of the other benefits for consumers who purchase their system outright, either using cash or a solar loan.
NC residents benefit from a property tax exemption, which means the added value from your solar installation is excluded from your assessment for property taxes.
Residents in the City of Asheville receive a rebate on their building permit for the installation of solar systems. This rebate applies to both residential and commercial premises.
NC's net metering policy awards credits for extra energy produced by a residential system, which you can use on occasions when the system generates less power than you consume. These credits are available to both Duke Energy and Dominion Energy customers.
Which solar system is right for your home?
Choosing the right solar system for your North Carolina home can be challenging. With more than 100 different brands of panels on the market, which are available in Tier 1, 2 and 3 panels, it's difficult to know where to start.
As of 2018, the three solar manufacturers whose panels score top ratings are:
SunPower,
LG, and
Panasonic.
These ratings are based on efficiency, price and the 25-year warranty available from each brand.
Solar panels are categorized into premium, standard or economy, depending on their efficiency, the track record and financial strength of their manufacturer and other factors.
SunPower has a maximum efficiency rating of 22%, which compares very favorably with the industry average of 16% to 18%.
Getting the right system also depends on the energy usage of your household, how much you currently pay for energy, and the weather in your part of the state.
The best way to determine which system is right for your home is to get quotes from several top-rated NC solar energy installers and compare the information they provide.
Which installer should you use for your solar system?
When you know what solar system is right for your home and you've run the numbers to see what your payback time will be, choosing the right installer becomes your next important step. The right installer can mean the difference between a smooth, problem-free installation and years of difficulties and unanswered communications.
Spend some time and effort asking questions before you commit yourself to an installer.
Ideally, you want a company that is open and transparent about the products they sell, and that works to inform you and help you choose the best system for your needs.
Look for a professional estimate that shows all the expenses, as well as outlining the specifications of the system you're getting.
The installer should also be able to advise you regarding the financing options available, and the various rebates and incentives that apply in your area.
Ask for contactable references so you can check their work record, and how well they perform.
Determine whether the contract includes an after-sales explanation on how the system works and if you'll be able to contact them with any questions you have down the line.
Be sure to find out what your responsibilities are to keep your warranty valid, who will be your contact for servicing warranty claims, and what your out of pocket costs will be. These costs could include the return shipping of defective panels and equipment!
Are the conditions ideal for solar in North Carolina?
Some states are better candidates than others for going solar, but North Carolina is reported to be number two in terms of solar capacity.
Not only is the weather a factor, with an average of 213 days of sunlight each year compared with 205 days for the national average, but these other factors make solar even more attractive:
NC has a Renewables Portfolio Standard ("RPS") that requires utilities in the state to source 12.5% of their energy from renewable sources like solar by 2021.
Electricity prices in NC are in the higher price range, which means you reap higher savings when you generate your own energy.
Duke Energy Progress has reasonably good interconnection standards, although there is a lot of room for improvement with the case of the smaller municipal utilities and power co-ops many of whom have set rules that almost prohibit solar
Financial options are favorable, with the revolving, low-interest loans, property tax incentives and net metering policies mentioned above.
Although conditions sales tax credits and state solar rebates would improve things even more, the Duke Energy solar rebate program make installing a solar energy system a very viable proposition in NC.
What are the benefits of going solar in North Carolina?
Going solar in North Carolina offers great benefits for homeowners.
Apart from the advantage of saving on monthly energy bills, you'll have the security of knowing your home is safe from power outages.
You'll reap the long-term benefits of reducing your environmental footprint and lowering emissions across the state, and your real estate resale value increases substantially.
What is the average solar payback time in North Carolina with the Duke Energy solar rebate?
The average payback time for a solar system in North Carolina depends on your circumstances.
You can view a typical NC customer's calculation here, or you can use our solar calculator to determine your savings and the potential payback period.
It's worth taking note that customers with higher monthly energy bills usually experience a shorter payback period because the cost of the system per watt decreases for larger systems.
How do you go about securing the Duke Energy Solar Rebate?
The Duke Energy rebate is released in funding rounds, so you have to contact a solar company and arrange for quotes well in advance.
When the rebate window opens, the solar company will lodge your application within hours.
Rebate allocations for 2018 were taken up in literally hours after the window opened - so ensure you have an edge with a quote in hand before the next round of funding.
Solar companies in North Carolina will usually offer you a solar agreement that is conditional upon you receiving the rebate so you are only bound if they are able to secure you the Duke Energy rebate.
Get ahead of the queue now by gathering solar quotes using our online solar estimator!