Searching for the Best Solar Installer in the City of Angels
Written by Andrew Sendy
Updated August 13, 2021
4 minutes read
Categories: Solar financing, Solar panels, Solar power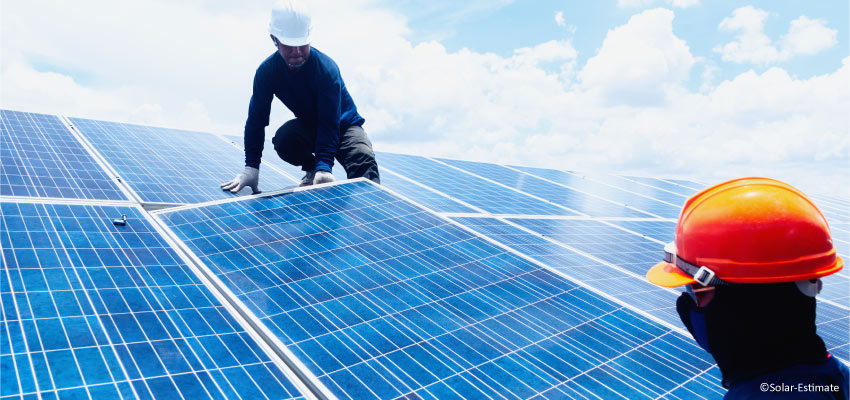 An enviably comfortable climate, with plenty of sunny days, numbers among the things that attract so many to Los Angeles, and keeps residents from moving elsewhere. All that sunshine also makes Los Angeles one of the more attractive places in the U.S. to install a residential solar energy system. More solar energy capacity has been installed in Los Angeles than any other U.S. city, the Los Angeles City Planning Commission pointed out in a May 25, 2017 letter recommending that the city amend the Los Angeles Municipal Code to require that solar photovoltaic (PV) systems be installed on all new single-family and low-rise residential buildings. The city government has enacted various other solar incentives in its own right, adding to those available state and nationwide.
Pioneering, third-party solar leasing and installation companies, such as SolarCity, Sunrun and Vivint, have taken residential solar PV nationwide, establishing their presence and expanding their businesses in key states across the U.S. — California, Hawaii, Massachusetts and New Jersey prominent among them. These companies used a PPA model (power purchase agreement )to offer home-owners a zero down method of getting solar panels installed on their homes. With this model, the solar company retains ownership of the panels and sells the power they generated onto the consumer at a slightly lower rate than what the consumer was buying power from the grid. This solar financing method was popular from 2012 to 2015 when solar was still at $5 per watt or more.
However, recently the cost of solar in Los Angeles has fallen to between $3.00 and $3.50 per watt and now, building and property owners looking to install a solar energy system are increasingly likely to turn to a solar loan to purchase.
Allowing them to own the solar panels and systems installed rather than lease and sign a power purchase agreement (PPA) with a third-party provider. Solar installation companies active in LA, such as Baker Electric, Semper Solaris, NRG Solar and Sullivan Solar, as well as home builders, such as Petersen Dean, are vying for a larger share of LA's lucrative solar energy pie as a result.
A Shift in Residential Solar Financing Preferences
Angelenos looking to install residential solar PV systems can take advantage of numerous city, as well as California state and U.S. federal, financial incentives. The Los Angeles Dept. of Water and Power (LADWP), for example, has been running its Solar Incentive Program since 2000. Revised to comply with the statewide California Solar Initiative (SB1), the Los Angeles utility relaunched the program on Sept. 1, 2011, following a brief suspension earlier that same year. The latest, 10-year, $313 million LADWP Solar Incentive program establishes separate goals for residential and non-residential participants, with incentive levels declining at a scheduled pace over the program's term. In addition, LADWP runs both solar and renewable energy net metering and feed-in tariff (FiT) programs whereby home and building owners with solar or other renewable power generation capacity are compensated for the energy they send on to the utility grid
Furthermore, Angelenos looking to install a solar PV system on their roof or property are spoiled for choice. There's an abundance of solar energy installation companies to choose from in the City of Angels —  from smaller, local providers that concentrate almost solely on installing PV systems in the greater Los Angeles area to the likes of SolarCity, Sunrun and Vivint, who number among the largest solar energy finance and installation companies in the U.S.
The shift in financing preferences from third-party solar leases and PPAs to solar loans and systems purchases has upended the market, however. The market-leading positions established by solar lease and installation companies, such as SolarCity, Sunrun and Vivint, are under siege.
Five, 5-Star LA Residential Solar Installers
As the name suggests, Semper Solaris was founded and run by a veteran of the U.S. Marine Corps. Joining construction industry veteran John Almond, former U.S. Marine Corps Captain Kelly Shawhan launched Semper Solaris in 1989. Semper has expanded considerably since, acquiring an enviable reputation in the process. The company has offices in Los Angeles and across Southern California, racking up 4.9 out of a possible 5 stars based on 101 customer assessments of their work, according to Solar Reviews' eight-point solar installer ratings methodology.
As of mid-November, Canoga Park could boast of being home to two Solar Reviews' 5-star residential solar installation businesses — Imperial Solar and NRG Solar. Twenty-one customers have written reviews of their experience hiring Imperial Solar to install their residential PV systems. All 21 rated the company as "excellent" overall, awarding Imperial with 5-star grades on seven of eight criteria, and 4.95 on one.
Thirty-three customers have written reviews of their experience having a residential solar PV system installed by NRG Solar. All 33 gave the Cayoga Park-based company an excellent overall ranking. NRG Solar garnered the highest, 5-star grades in six of eight criteria, scoring 4.97 and 4.92 on the remaining two.
Based in Burbank, CA, Green Conception's work helping customers finance and install residential PV systems has also been good enough to warrant an overall 5-star rating from Solar Reviews' reviewers. All 42 gave Green Conception an overall grade of "excellent," awarding the company 5 stars for Price as Quoted, Quality of Products and After Sales Support; 4.98 stars for Sales Process, Quality of Advice, Installation Quality and Professionalism; and 4.90 stars for On Schedule.
Also rated "excellent" overall on Solar Reviews by 20 customers, Palisades-based Blue Sky Energy earned the highest, 5-star rating in five of eight categories: Quality of Advice, Quality of Products, Installation Quality, Professionalism and After Sales Support. Reviewers gave the company grades of 4.95 for Sales Process and Price as Quoted and a grade of 4.84 for On Schedule.
Now well-established as a nationwide, and global, leader in solar and renewable energy, California's residential solar PV market shapes up as one of, if not the most competitive in the nation. Given its size, diversity and the institution of its own set of financial incentives, Los Angeles, in turn, is one of the most competitive markets in California. The shift from third-party solar leases and PPAs to solar loans and outright ownership is raising that up a sizable notch, and those aiming to install residential solar PV systems in the City of Angels are benefiting as a result.
For a full list of solar companies servicing Los Angeles visit Solar Reviews.