Calculate your solar savings while South Carolina solar incentives remain
Written by Andrew Sendy
Updated August 13, 2021
6 minutes read
Categories: Solar 101, Solar incentives, Solar panels, Solar power, Solar financing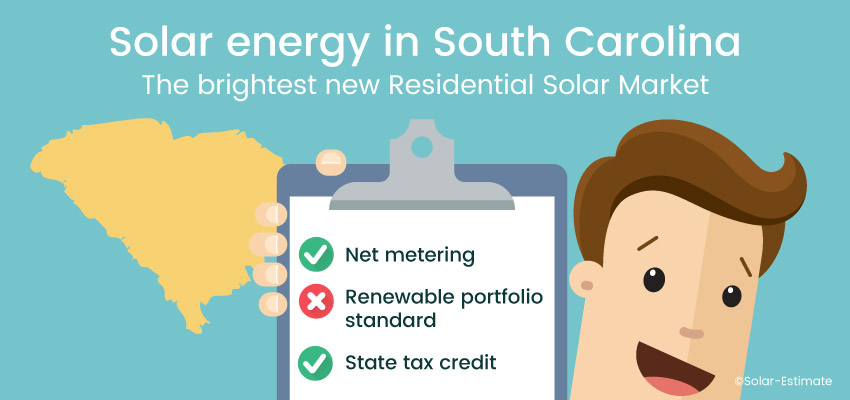 The brightest new residential solar market
Solar energy installations and capacity in South Carolina have taken a turn for the better since the enactment of the state-distributed Energy Resource Program Act in 2014, and they have been rising since. A long, difficult road still lies ahead for a level playing field to be established, and where South Carolina residents and businesses can realize the full value and benefits of the state's solar energy resources.
As in many U.S. states, particularly in the southeastern U.S., entrenched vested interests, in concert with state legislators and regulators have been able to constrain the growth of distributed, behind-the-meter residential and small business solar power generation capacity. These regulations leave the state's energy future largely in the hands of investor-owned utilities (IOU).
News that IOUs South Carolina Electric & Gas and Santee Cooper would abandon construction of two nuclear power plants with a revised price tag of $11.25 billion at 40% completion – leaving their customers to shoulder the burden of recovering billions of dollars in sunk costs – has added fuel to the political debate over South Carolina's energy future.
Results of a South Carolina voter poll released in the wake of the news showed overwhelming support for solar, as opposed to coal or nuclear energy, as the power generation source of choice on the part of South Carolina residents.
Behind-the-meter solar energy in South Carolina
31 solar energy incentives exist in South Carolina. 14 of them have been enacted by the state government.
In addition to the Distributed Energy Resource Program, which includes net metering and allows for third-party residential solar leasing, South Carolina residents investing in a small-scale residential or commercial solar energy system can take advantage of a 25% state tax credit. Adding that to the 26% federal solar investment tax credit would result in homeowners being able to deduct 51% of total installation costs from their income taxes.
South Carolina utility Duke Energy had issued approximately $5 million in rebates to customers who had invested in solar power via its Solar Rebate Program as of September 2016. Duke launched the program in the wake of enactment of Act 336; the state-distributed Energy Resource Program Act. The legislation raised production limits for onsite, behind-the-meter solar energy installations, as well as permitted utilities to invest in solar power projects and recoup their investment costs by passing them onto ratepayers.
"The response to the rebate program has been fantastic", stated Duke Energy South Carolina President Clark Gillespy. "This shows our customers want options to help them participate in a sustainable solar energy marketplace."
Using the Solar Estimate calculator, we determined that given an average monthly utility bill of $150, the owner of a two-bedroom home on Montagu Street in Charleston's upscale 29401 zip code should produce around 9,890 kilowatt-hours (kWh) of emissions-free renewable energy over its useful life; resulting in an estimated net profit (energy cost savings less the cost of equipment and installation) to the homeowner of $57,878 over 25 years.
Moreover, our local solar installers guide shows that there are 38 solar energy installation companies doing business in the 29401 zip code. Many of them have garnered our highest four or five-star ratings for their work.
That notwithstanding, South Carolina residents and businesses continue to face high hurdles when it comes to investing in local solar energy resources. 29 U.S. states have enacted renewable power mandates that require utilities to obtain significant, increasing percentages of electricity from solar and other local, pollution-free energy resources. South Carolina has not.
Solar opposition from entrenched interests
Furthermore, South Carolina's state government and regulators have capped the amount of solar energy that utilities need to acquire at a low level. Bureaucratic red tape, e.g., the paperwork and time required to obtain permits for utilities to connect behind-the-meter solar energy systems, adds substantially to barriers.
Moreover, South Carolina's investor-owned utilities continue to lobby strongly against any legislative efforts designed to spur solar energy growth in the state, particularly when it comes to their customers investing in behind-the-meter solar power capacity.
For example, South Carolina's IOUs for the past two years have lobbied strongly in opposition to a policy that could make solar cheaper for state residents. The proposed bill would have raised the amount of solar and renewable energy acquired by in-state utilities. It also would have raised the state's solar tax credit, which died in the state senate.
According to public records, South Carolina's largest IOUs and its electric cooperatives association have invested $2.2 million in lobbying state lawmakers in the past two years. A state House of Representatives sub-committee shot down a bill that would have allowed businesses that invest in onsite solar energy capacity to reduce their property taxes by 80% and ensure that property taxes would not be assessed on residential solar energy systems.
An ill-fated investment in nuclear power
The debacle that resulted from South Carolina Electric & Gas and Santee Cooper's ill-fated decision to invest in building two new nuclear power plants has raised the heat on utilities, industry regulators, state legislators, and South Carolina's governor. The two utilities racked up costs of around $9 billion to build two nuclear reactors near the existing V.C. Summer nuclear power plant in Fairfield County.
They recently decided to abandon the project after construction had reached the 40% mark, leaving their customers to foot the bill. The plant was originally scheduled to come online in 2018, and construction and regulatory delays pegged the commissioning date in 2021 at the earliest, with an estimated cost of $25 billion – more than double the original $11.5 billion projection.
The utilities' decision to invest in building new nuclear power generation capacity stands in direct opposition to the majority of South Carolina voters. Two in three South Carolina voters believe the state should rely more on solar energy for power generation as opposed to increasing reliance on coal and nuclear power, according to a poll conducted by The Tarrance Group for Palmetto Conservative Solar Coalition and The Alliance for Solar Choice.
"We are facing an energy crisis in South Carolina," said Palmetto Conservative Solar Coalition founder and former U.S. Representative for South Carolina Gresham Barrett. "Our friends and neighbors have made it clear that they want more access to solar energy and that they will hold those policymakers accountable if they oppose this viewpoint. As we look toward our state's energy future, let's embrace independently funded, affordable, clean energy solutions like rooftop solar and grow the thousands of jobs that already come with it."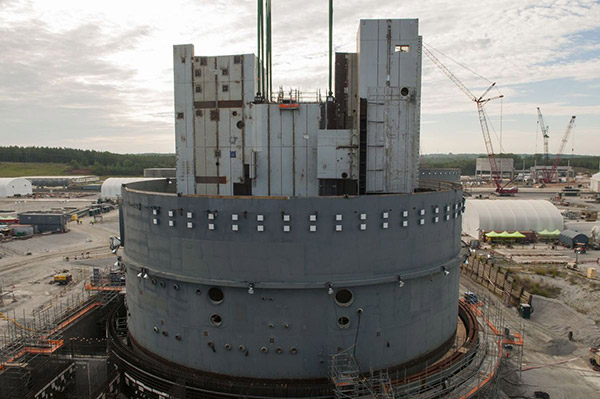 SCE&G already moving to charge its electric customers for their nuclear project's failure. Image source: The Post and Courier
South Carolina solar bright spots
Some South Carolina city and municipal leaders have joined in to turn the tide and spur greater investment in and deployment of solar energy systems and capacity. Columbia Mayor Steve Benjamin, Greenville Mayor Knox White, Anderson Mayor Terence Roberts, and Charleston Mayor John Tecklenburg met to discuss a plan to prepare their cities for the increasing impacts, and costs, of climate change. Benjamin announced plans to transition Columbia to 100% renewable energy by 2035 and encouraged others to do likewise.
South Carolina solar energy proponents and supporters pointed to Cypress Creek Renewables announcing it would invest $1.5 billion to build more than 80 solar energy projects with a combined power capacity of 2 gigawatts (GW) in South Carolina. This would provide a clear indication of the multiple benefits of spurring greater investment in solar power in South Carolina.
Designed to provide affordable, reliable and pollution-free solar energy to 600,000 South Carolina homes, Cypress Creek Renewables expects to create nearly 10,000 construction jobs. The solar energy project developer is also partnering with Greenville Technical College to build a training center and train as many as 7,000 new solar industry workers, which would bring South Carolina's solar energy workforce to 10,000 over the next decade.
"South Carolina's solar industry, like every industry in our state, is growing and bringing new jobs and investment to our state. This new partnership between Cypress Creek Renewables and Greenville Technical College is an important step towards strengthening our energy workforce and creating opportunities for South Carolinians," South Carolina Governor Henry McMaster stated.
"The failed V.C. Summer nuclear project should make the lesson clear: competitive options for low cost electricity that can be brought online quickly, flexibly, and without incredible complexity should be encouraged," McMaster said. "It is coincidental that Cypress Creek's announcement of a 2 GW commitment is about the same capacity as V.C. Summer's new reactors would have had, yet it serves to underscore that where the path of V.C. Summer failed, solar power is delivering. Solar is delivering the power, the jobs, and the environmental benefits that nuclear couldn't."