Solar Marketing: Can I generate my own solar leads through online marketing?
Written by Andrew Sendy
Updated August 12, 2021
5 minutes read
Categories: Solar efficiency, Solar energy, Solar leads, Solar panels, Solar power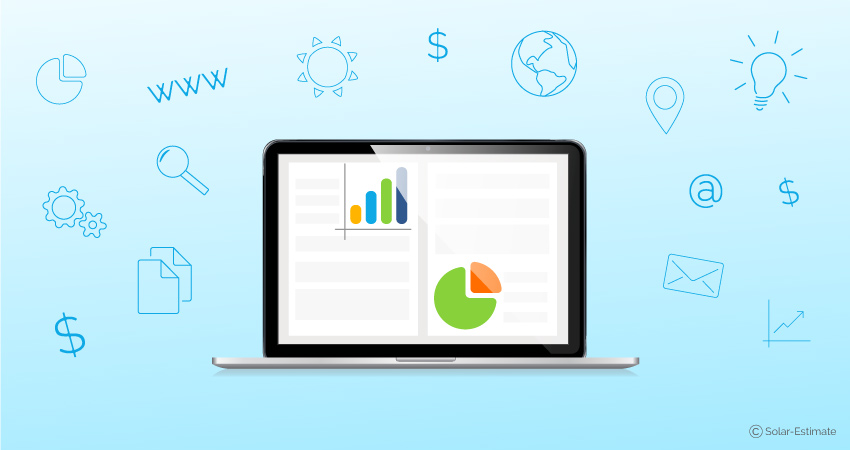 The residential solar business is now very competitive in terms of the amount one has to spend on marketing to generate a lead.
If you have been frustrated with your lead return, you're not alone. Many of our solar partners are now asking: is there a better way to source leads? Is there a better way to generate the leads themselves, or a better company to buy them from?
Why is it so hard for small solar companies to generate their own leads?
The problem is that solar lead generation companies are spending so much on online marketing that it is almost impossible for small, independent solar energy companies to generate any volume of high-quality leads. The large solar lead generation websites like SolarReviews and EnergySage are generally at the top of almost all web searches that relate in any way to solar.
The reason for this is simple: these companies that provide lead services to the solar industry use good content to generate and monetize leads all around the country. If you were to invest the same amount of money and rank #1 in Google for a specific expression, chances are 90% of the leads that flowed from that ranking would be people outside of your service area.
How do I generate my own organic solar power leads
It is tough to generate any volume of solar sales leads from an individual website without spending a lot of money on content creation, journalism and link building.
Lead generation companies have teams of 20 or 30 people solely working on their websites. Having marketing efforts centered around your own website is great but you are looking at a long-term pay off as you build up content and traffic. That means years before the site generates any useful volume of qualified solar leads.
Websites need to build domain authority before search engines display them in their search results — and solar panel installation is one of the most competitive segments for search engine placement because of the amount of margin in solar jobs. The reason all successful solar companies buy leads is that this gives them the volume they need. Smart companies know that tapping into an honest source of leads (if you can find one) is far more cost effective than building their own marketing arm and then waiting years for quality results!
If I have to buy solar energy leads how can I make sure I get a good result?
There are really only three companies in America that have a large volume of organic solar leads being SolarReviews.com, EnergySage, and Clean Energy Experts (owned by Sunrun).
The problem is that there are another 50 or so companies running around saying that they generate a decent volume of genuine new solar leads. Most of these companies are frauds trying to recycle old leads. However, once you learn how to catch them out, you will have learned how to succeed with buying leads because from that point on you will only buy genuine leads. Buying genuine leads is, of course very profitable (see this for yourself with the solar leads return estimator).
How do I spot fraud when buying solar leads from lead generators?
Fraudulent lead vendors typically say they generate leads from social media, telemarketing, and web advertising. This is to avoid you ever pinning them down to see where their call to action appears and what it actually says. These guys typically have a database of 200,000 or so old leads from 4 or 5 years ago, and they are just trying to get whatever they can for them.
The way you catch them out is to ask what website(s) or web advertising they use to generate their leads. Then you can use websites such as semrush.com or similarweb.com to view how much traffic their site gets. Usually, their sites will have little to no traffic as they are just a front for scamming people. For a lead vendor to source, only ten leads a day requires traffic of about 30,000 people per month.
How do I spot fraudulent telemarketing leads?
Some of these lead vendors are such scammers that they will hire their own staff to pretend to be potential solar buyers on the phone. Ask these "buyers" how many windows the front of their house has or the model of car in the driveway. If you hear them scurrying to look up Google Maps — they're probably a fraud.
Another good thing to ask is what school district their house is in. Fraudulent telemarketers tend not to know this either. Protect yourself — learn more about how to avoid bad solar leads and where to find the best solar leads.