Tesla's Magic Model 3 Numbers, $35k Standard Option, Less Than a Month Wait
Written by Chris Meehan
Updated August 12, 2021
5 minutes read
Categories: Solar efficiency, Solar energy, Solar power, Tesla, Electric vehicles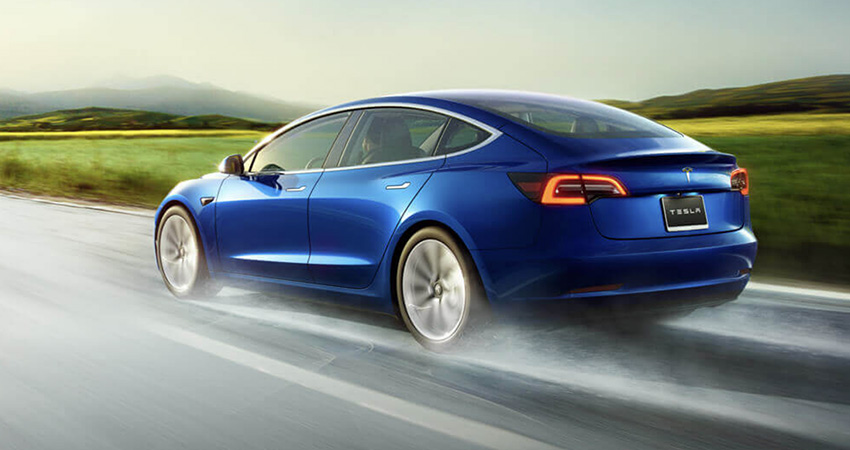 Image source: Tesla
Tesla is finally living up to CEO Elon Musk's promise on its Model 3 by offering the "Standard" version of the vehicle that starts at $35,000—before incentives. It's a long-time coming for the first new auto manufacturer in the US to meet mass production in decades, but the company is now making the Model 3 at reliable scale, cutting wait times for most models to below two weeks, a far cry from the more than 6 months customers were waiting just last fall.
With incentives—even though Tesla has produced more than 200,000 EVs and buyers no longer qualify for the full $7,500 federal tax credit, they can currently receive a $3,750 federal tax credit through the end of June 2019—dropping the base price to $31,250.
The price drops further with some state rebates, like Colorado's $5,000 EV rebate, which would drop its price to $26,250 in the first half of the year. Tesla also estimates further savings for the Model 3 compared to a gas car over the first six-years of ownership at $4,300 in Colorado. That drops that base cost down to $21,950 for the base model. That's assuming charging the Model 3 would cost $30 to $50 a month, compared to $150 to 200 a month in gas costs.
Still, it's been a tough road to reduce the entry price for electric vehicles and create a high-capacity, low-cost battery back. Musk first introduced the idea of the Model 3, a high-volume lower cost, long-range EV in 2014—pretty much the Model T of EVs, and expected to start selling the vehicle in 2016.
Things didn't exactly work out that way. The Model 3 is the first vehicle built on Tesla's next-generation platform, which was designed for high-volume manufacturing but ran into production problems early on. As such, the first models didn't reach customers until 2017, and those were the higher-priced premium versions with dual motors, which fetched prices of $51,000 or more. Even then wait times for the vehicles were longer than a year for some early reservations as Tesla struggled to make production goals.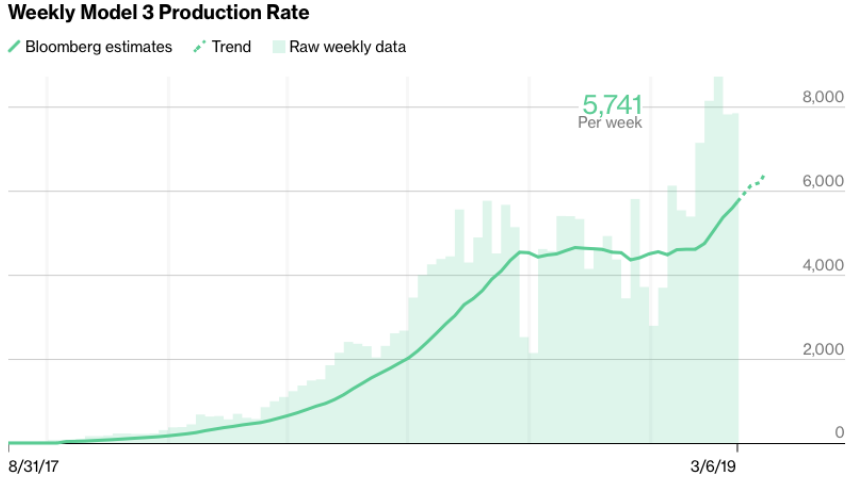 Image source: Bloomberg
How long will it take to get a Model 3?
Now it seems that Tesla and the Model 3 are hitting on all cells (as it were), producing an average of 5,700 or more Model 3s a week, not to mention its other vehicles, the Model S and Model X SUV. That's according to the Tesla Model3 Tracker by Bloomberg, which has been tracking the vehicle's production trends since 2017 (Tesla doesn't offer official figures).
Tesla also anticipated that production will increase to 7,000 units a week at its Fremont, CA, facility and it will produce 3,000 more Model 3s a week in China by the end of 2019. Given those rates of production, Tesla now estimates delivery time for the Model 3 to be between two and four weeks, depending on the model.
In addition to the lowest-cost Standard Range option—it's cheapest in black (again harkening back to the Model T and Henry Ford's famous quip: "Any color as long as it's black"), which has a 220 mile range, Tesla also introduced a new Standard Plus model with a 240 mile range. The latter starts at $37,000. Its Long Range Model 3, can get an EPA-estimated 325 miles per charge and starts at $43,000 before incentives.  
What about other EVs?
With the introduction of the Standard Range Model 3 Tesla also lowered the entry price for electric vehicles below that of its strongest competitors, including the Chevrolet Bolt and the Nissan Leaf Plus, which have comparable range. The Bolt starts at $36,620 and has a 238 mile range, while the Leaf Plus starts at $36,550 and has a 226-mile range—Nissan offers a $29,990 version of the Leaf, but it has a range of 151 miles.
While both the Chevrolet Bolt and Nissan Leaf are still eligible for full federal tax credits, Chevrolet will soon approach the 200,000 EV threshold and Nissan, which has now sold 400,000 Leafs worldwide, is likely to hit that 200,000 EV threshold in the US, soon, too. Chevrolet said it will hit the tax credit step-down threshold in April 2019.
How's Tesla's Standard Model 3 Different?
Thankfully the Model 3 Standard Range and Standard Plus retain many of the features that have made the Model S so tantalizing from day 1, including autopilot options, its safety features, which received five-star safety ratings from the National Highway Traffic Safety Administration (NHTSA). It will also achieve 0-60 mph in 5.6 seconds and has a top speed of 130 mph. While it's still a far cry from the 0-60 mph time of 3.2 seconds in and the top speed of 162 mph in the Performance version, it's still impressive for a relatively inexpensive car, particularly an EV.
For comparison, the Leaf has a 0-60 mph time of 7.4 seconds, and the Bolt goes 0-60 mph in 6.5 seconds, and both those vehicles have a top speed of 90 mph.
The new Standard options come with more basic interiors. The Standard Range has cloth seats with manual adjustments and a basic audio system. The Standard Plus gets Tesla's Partial Premium Interior with heated 12-way adjustable power seats in the front. The plus also gets upgraded audio, fog lamps and more.
Where can I test drive the Model 3?
This gets a little more complicated. To cut costs for the Model 3, Tesla is cutting other services. Namely, almost all sales will go online, and the company will close some stores and reduce staffing, which will make it much tougher to test drive a Model 3—or any of its other models as well.
"I wish there was some other way of doing it, but we have a binary choice.…Have a $35,000 car and have less people, or not have a $35,000 car," Musk stated in a press conference about the announcement. Some high traffic stores will remain open as information centers and galleries, while sales will transition online. "People just want to buy things online."
Those galleries also should still serve as centers where people can also purchase other Tesla services, like its Powerwall chargers and rooftop solar and energy storage systems. However, there are other options for solar systems for your home, which you can find using SolarReviews.com, as well as energy storage systems and even EV chargers.