Are "free" solar panels ever really free?...Why are more people opting for solar loans in 2020?
Written by Andrew Sendy
Updated August 12, 2021
5 minutes read
Categories: Solar panels, Solar incentives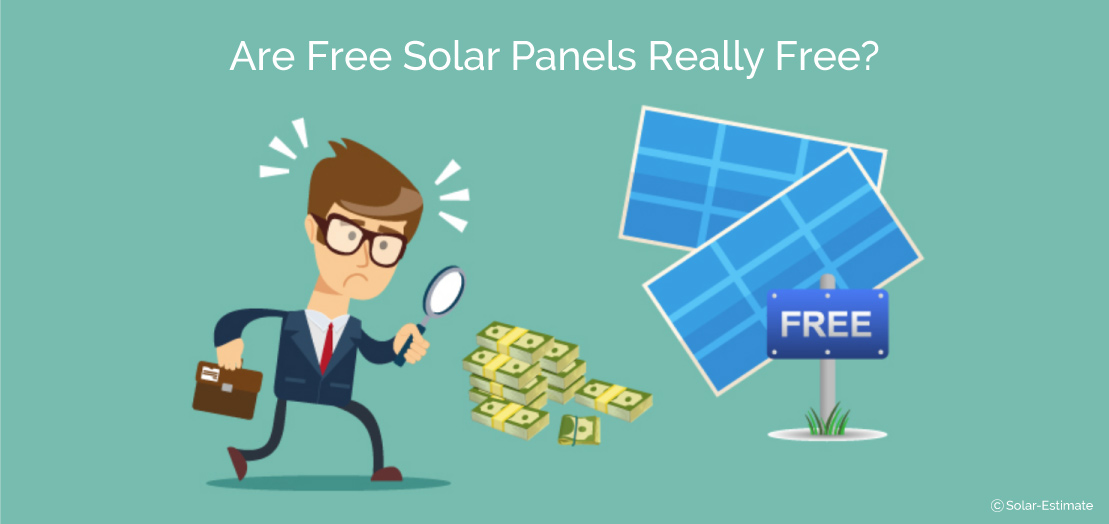 From a young age, we are taught to be wary of things that sound too good to be true. So when you see advertisements for "free solar panels" it is natural to be a little skeptical of these claims.
As it turns out free solar panels are not free, this is simply an advertising slogan used to refer to a contract where a solar company installs solar panels on your rooftop without charging you an upfront amount for the system. Instead, the solar panel installer will charge you a monthly fee for a contract term that is usually either 15 or 20 years.
The idea behind free solar deals is that the homes that install such systems will be saving money on their electric bill each month and that these savings will be more than the monthly payment to the solar company. The homeowner will make a profit without needing to make a financial outlay.
Not surprisingly many people jumped on these deals from 2012 to 2016, but in recent years more and more people have realized that these free solar system deals can actually cost them a lot of money because they forgo the opportunity to make a much larger saving, and to take advantage of substantial tax credits, by buying their own system.
These free solar offers did a lot to promote renewable energy and bring the savings potential of solar power to the attention of average homeowners but they are becoming less and less popular in 2020.
What are the different types of free solar panels deals?
Free solar panels deals were pioneered by large solar companies such as Solarcity, Sunrun, and Vivint. They are known as "third party owned" (TPO) solar systems because the solar panel installation companies retain ownership of the solar panels during the term of the agreement. There are two types of third-party owned residential solar agreements being:
Solar Leases- no upfront outlay by the homeowner, the solar company takes care of maintenance and the homeowner pays a fixed monthly amount to the solar leasing company;
Power Purchase Agreement- no upfront outlay by the homeowner, the solar company takes care of maintenance and the homeowner pays the solar company an amount per kWh of power generated by the system. This cost per kilowatt hour is generally between 14-17 cents per kWh depending on the state and so is usually cheaper than the peak rate for electricity in the states where PPA's are offered.
What are the advantages of these third-party owned free solar offers?
The two advantages are:
That there is no upfront cost; and
That the solar company is responsible for the maintenance of the system
What are the disadvantages of these free solar power offers?
The disadvantages are;
These contracts run for 15 to 20 years;
The homeowner does not get the benefit of the 26% federal solar tax credit or any state or utility rebates or tax credits (where applicable);
These contracts have to be assigned when you sell your house;
These contracts often contain escalators so that the amount you pay to the solar company goes up over time; and
The savings to the homeowner are only a fraction of the savings if they buy a system outright or with a normal loan.
How do I compare the return on investment from buying solar panels with the savings on a free solar offer?
With a third-party owned solar lease or PPA agreement, the savings are easy to work out because it is simply the difference between the amount charged by the utility company for power, less the amount charged by the solar company for solar electricity. These savings are usually only a fraction of what you can save over 25 years if you buy a system. The solar calculator below will calculate how many solar panels you need to power your home, how much they will cost with a cash purchase or loan and how much the solar panels will save you over 25 years.
Why are fewer people opting for TPO free residential solar energy deals?
The economics, and financing, of residential solar, is undergoing a shift, fueled by the ongoing decline in installed costs and the continued availability of the 26 percent federal solar investment tax credit (ITC).
Contributing to a shift towards taking out a loan to finance a home solar installation as opposed to signing a lease contract, growing numbers of TPO solar lease customers have come to realize that the leasing companies have been retaining the lion's share of the value derived from a home solar system when it is purchased by way of a lease or power purchase agreement.
The ongoing decline in installed solar costs is making home solar more affordable for more Americans. Coupled with the scaling down of the maximum the ITC that's driving a shift from TPO solar leases to solar loans. The ITC is scheduled has begun decreasing as of 2020, dropping down to 10 percent in 2022 and holding at that level thereafter.

How many solar panels will I need to power my house? .
People Power: Customer Pushback from free solar power offers has changed the way solar is sold
Solar energy industry analysts, along with some homeowners, quickly realized that TPO solar lease companies were retaining most of the value derived from the installation of a home solar energy system, and they expressed their criticism publicly.
CleanView Capital's Fishbein has been a solar advocate for 10 years, doing pro bono work as a tax attorney and equipment finance specialist for the New York chapter of the American Solar Energy Society (ASES, NY). Recalling the experience that led to CleanView's creation a couple of years ago, Fishbein said:
"Many [solar customers] told us they were not happy with solar industry finance, including third-party-owned solar lease [providers] – they believed that too much value was being retained by the lessors [the TPO solar lease providers] as opposed to their customers...We [ASES, NY] saw tremendous pushback as more and more customers got to know that."
A shift away from TPO solar leasing to use of loans to finance residential solar installations where the customer owns their solar panels has gained momentum since. Tesla SolarCity financed more residential solar energy installations via loans last year than they did via TPO leases, Fishbein noted.
Other major players such as Vivint Solar and Sunrun who were big in third-party owned solar leases and PPA agreements have now also moved to offer loans and outright purchases of solar systems. Vivint solar reviews and Sunrun Reviews support Fishbein's observations that customers of the large leasing and PPA solar companies have been unhappy compared to customers of local solar companies.
Why solar loans are taking over from the third party owned free solar deals?
In 2020 there are far more solar loan providers than there ever has been before offering a variety of zero down and other loans that allow you to buy solar when you do not have the ability to pay cash.
There are two main differences between third-party-owned solar leases and purchase of solar panels funded by a solar loan.
In the case of a solar loan:
They can also gain full ownership of the ITC and any state or local incentives or subsidies.
The homeowner is responsible for the maintenance of the system as they own it.
Similar to TPO solar leases, solar loans with zero down payment are available. A homeowner may be able to have a solar PV system installed and start producing their own emissions-free electricity for free as a result. Of course, the cost becomes apparent shortly thereafter, when they have to begin making monthly loan payments.