What are the best electric lawn mowers in 2020?
Written by Andrew Sendy
Updated April 02, 2020
10 minutes read
Categories: Electric vehicles, Solar batteries, Electric lawn mowers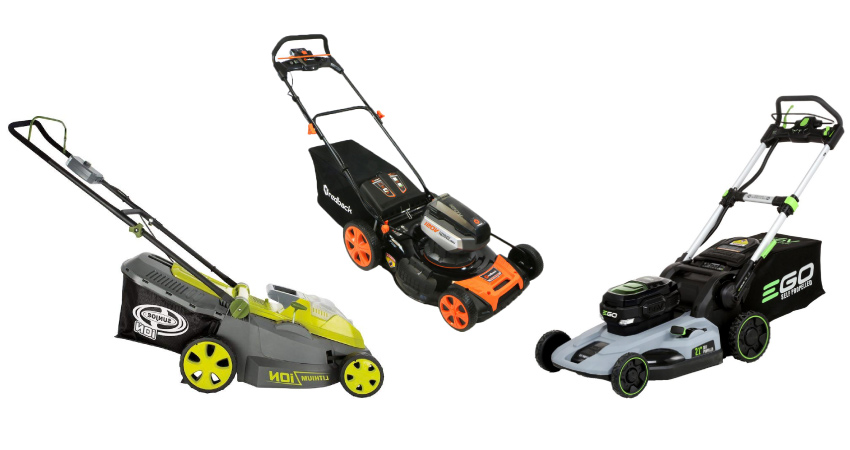 Home Depot - Redback, Home Depot - Sun Joe, Home Depot - EGO
Electric cars have become increasingly popular, thanks to their eco-friendliness and inexpensive operation. But the trend of replacing gasoline with electric is not just isolated to vehicles. The way people mow their lawns is also changing, with electric lawn mowers now accounting for about 15% of all mower sales.
What is an electric lawn mower, and how does it work?
A conventional lawn mower burns gasoline, a non-renewable fossil fuel, to generate power that propels the mower and spins the blades. As the gas burns, exhaust, which contains compounds like carbon dioxide and carbon monoxide, is released into the air.
Electric mowers work differently than gas mowers. There's no gas tank to fill — just a battery. You plug the battery in to charge, which takes an hour or two and then push a button to turn the lawn mower on. There's no pull-start to struggle with, and no smoke to emerge from the engine. The blades simply start spinning, powered by electricity stored in the battery.
Once the mower is running, you mow your lawn just as you would with a conventional gas mower. When you're done, just push the button again to turn the mower off.
How do you charge an electric lawn mower?
Exact instructions vary between models. Usually, you charge the battery either insider the mower or separately from the mower. To charge the battery while in the mower, just plug the mower into a wall outlet, using an extension cord. Alternatively, you can remove the battery from the mower, plug it into a charger, and then connect the charger to the wall outlet with a charger plug.
Most battery power lawn mowers and their compatible chargers have a green light that comes on when the battery is fully charged. For best results, fully charge your electric lawn mower battery before each use.
How long do electric lawn mowers run off one charge?
Most electric mowers have at least a 30-minute run time, which is long enough to mow a moderate-sized yard. The EGO 21-inch 56-Volt Cordless Battery Walk Behind Push Mower, for example, has a 45-minute run-time. Redback offers a 21-inch, 120-Volt electric model with a 60-minute run time, which is a good choice for larger yards.
How do you choose an electric lawn mower?
Electric mowers are becoming quite popular, so there are hundreds of models to choose from. As you consider your options, here are a few features to consider.
Run time
It takes 30 minutes to mow the average 1/3-acre lawn, so homeowners with small yards only need a mower with a run-time of 30 minutes. On the other hand, if you have a medium size or large size lawn, you'll need a mower with at least 60 minutes of run time.
Charging time
Pay attention to how long the mower's battery takes to charge. You'll find models with charge times as short as 30 minutes and as long as 3.5 hours. The longer the charge time, the more you'll have to plan ahead.
Voltage
The higher the voltage, the more powerful the mower. A 40-volt mower should work well for a small urban yard, but you'll need a more powerful 80- or 120-volt mower for tougher grass and larger spaces.
Bagging options
Mowers that mulch the grass clippings and collect them in a bag are most convenient. Some models also give you the option to discharge clippings out the side.
Corded versus cordless
Corded electric lawn mowers don't have a battery. They must be plugged in the entire time they operate, and their range is about 100 feet from the outlet. Cordless mowers are more versatile, though also more costly.
What are the best electric lawn mowers on the market for 2020?
EGO 56-Volt Cordless Walk Behind Self-Propelled Mower
With a 60-minute run time and 60-minute charge time, this powerful lawn mower from EGO is a good all-around choice for the average homeowner. It folds up for compact storage and is backed by a 50-year limited warranty. Choose whether to mulch, bag, or discharge grass clippings.
Price: $549 through Home Depot
Sun Joe iON16LM 40 V 16-Inch Cordless Lawn Mower
With a 40-minute run-time and compact design, this mower is a budget-friendly choice suitable for small yards. It's surprisingly quiet, so you can mow without disturbing the neighbors. The iON16LM is backed by a full 2-year warranty and weighs just 37.3 pounds.
Price: $257 on Amazon
Redback 21 in. 120-Volt Lithium-Ion Battery Walk Behind Push Mower
A powerful 120-volt brushless motor makes this mower a top choice for thick grass. It has a 60-minute run-time and is backed by a 5-year warranty. Handles make cutting height adjustments a breeze.
Price: $449 through Home Depot
Greenworks 20-inch 40V Twin Force Cordless Lawn Mower
Innovative smart cut technology allows this mower to adjust its power based on the thickness of your grass. Dual blades yield a precision cut, and a backup battery ensures you don't lose power mid-mow.
Price: $353 on Amazon
Ryobi 28 inches 100 Ah Battery Electric Rear Engine Riding Lawn Mower
With 2.5 hours of run-time, this electric riding lawnmower makes quick work of the largest yards. It features LED headlights, a USB phone charger, and cruise control for comfort and convenience.
Price: $2899 through Home Depot
What are the benefits of an electric mower?
Gas mowers account for about 5% of U.S. air pollution. By choosing an electric mower, you are helping to reduce emissions and promote cleaner air.  You'll also save money on fuel, especially if you generate your own electricity via solar panels. 
Electric mowers are also easier to start, lightweight, and easy to store. They're quieter than gas models, making them a polite choice for urban homeowners. You don't have to worry about changing the oil or storing gasoline, either.
Do yourself and the planet a favor. Upgrade your lawn mower to an electric model in 2020.