Will Someone Introduce a Tesla Killer Electric Vehicle in 2018?
Written by Chris Meehan
Updated August 13, 2021
4 minutes read
Categories: Electric vehicles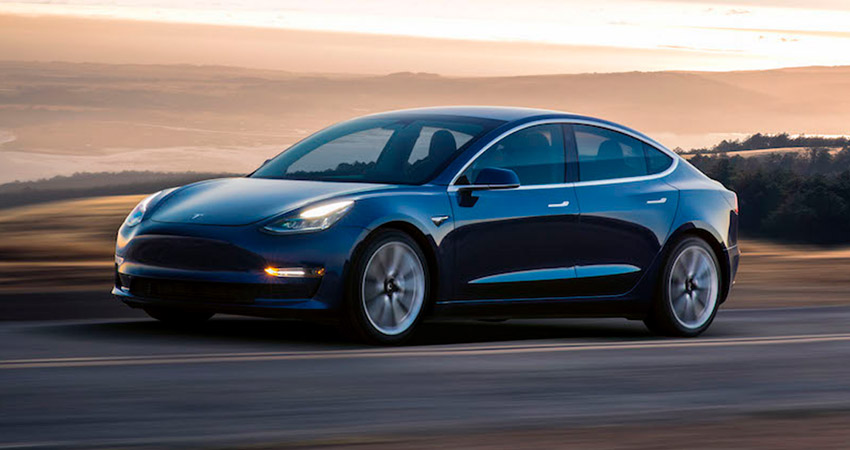 Image source: Tesla
The battle for electric vehicle dominance is charging up, led by Tesla Motors, Nissan's Leaf, and the Chevrolet Bolt. But most major car manufacturers are introducing EVs in 2018 or 2019, and all have future plans to. What will upend Tesla's dominance?
It might ultimately be Tesla's production capacity. The carmaker, known for its luxurious Model S and Model X is still facing some constraints as it ramps up production of its first mass-produced car, the Model 3. With a range of 220 miles or 310 miles, depending on model, and a base price of $35,000 (It should be noted, this and all prices in this article are not including the federal tax incentive of up to $7,500 per EV).
Tesla, which is also expanding into home energy storage with its Powerwall 2 and rooftop solar products said it had received more than 500,000 pre-orders for the vehicle by August 2017, but it also said it had roughly 63,000 cancellations. Elon Musk, Tesla's CEO anticipates being able to produce 5,000 cars a week eventually, but it's nowhere near close to that in February 2018. Bloomberg, which created a Tesla Model 3 Tracker, estimated that its production is at about 1,052 vehicles per week. Not bad for a car company that launched its first factory-made model, the Model S, in 2008.
At the same time, the company is facing unprecedented competition in the EV space as Mercedes, Fiat, Chevrolet, Ford, BMW, Honda are introducing EVs to compete with Tesla. In fact, the Department of Energy Alternative Fuels Data Center lists 54 different new EV makes and models for 2017 and 2018.
Here's a look at Tesla's strongest competition in 2018.
| | 1. The 2018 Nissan Leaf will probably remain one of Tesla's main competitors in the EV space. With a 40 kilowatt-hour (kWh) battery, the car has a decent range for a local commuter car of 151 miles and starts at $29,990. The Nissan Leaf is the only EV that has seen more than 300,000 units produced worldwide even though Tesla is close to that figure with more 286,000 EVs produced by the end of 2017. |
| --- | --- |
| | 2. The 2018 Chevrolet Bolt EV has been widely heralded as the EV car Tesla's Model 3 needs to beat. It starts at $37,495 and has a 238 mile range, thanks to a 60 kWh battery. In February 2018, for instance, Consumer Reports named the Bolt as the top compact green car of the year. It sold 23,297 Bolts in 2017. |
| | 3. The 2018 BMW i3s is another compact EV and starts at $48,000. It has a 33.2 kWh battery giving it a range of 114 miles. BMW's been offering this model for a few years but redesigned it for 2018 and added a new trim package. The German automaker plans to add a battery upgrade to extend its range. |
| | 4. The 2018 Ford Focus Electric starts at $29,120 and has a 33.5 kWh battery giving it a range of 115 miles. While it looks like it could compete with the Leaf on price, it's only available in certain states in 2018, like California, New York, and Oregon. Ford, however, has announced plans to invest $11 billion into EVs and hybrid vehicles to have 40 electrified vehicles by 2022, 16 of them will be EVs. |
| | 5. The 2018 Kia Soul EV has a starting price of $33,950. The vehicle has a range of 111 miles and a 30 kWh battery. Both Kia and its sister company Hyundai are offering EVs, and have more planned for 2019, but Hyundai's EV, the Iconiq, is currently only available in California. |
| | 6. If you thought all EVs were little bugs of vehicles, you might be thinking of cars like the Smart Fortwo Electric Drive Coupe. The $23,900 base price of this compact EV has a range of 124 miles thanks to its 17.6 kWh battery. Smart's been known for years for its distinct urban-minded vehicles, as such it's not as concerned with a range of 100s of miles. |
It's still a small field of vehicles compared to the range of vehicles offered throughout the auto industry, but expect more competition in the future. Most of it coming from traditional automakers who see the promise and need to offer EVs. But there are also some interesting startups looking to make waves in the EV market, like Bollinger Motors, which has been testing prototypes of its Bronco-ish Jeep-ish EV across the US in 2017 and 2018 on the road and off-road.