Hanwha Q Cells solar panels expert review. Are they the best solar panels to buy for your home?
Written by Andrew Sendy
Updated August 12, 2021
4 minutes read
Categories: Solar panels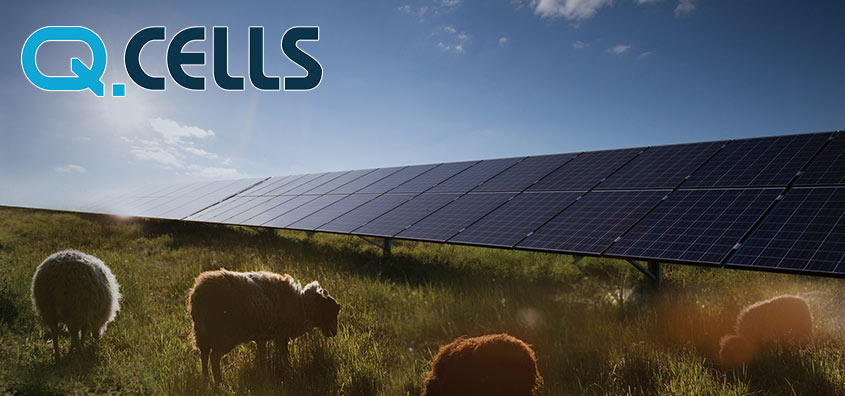 Image source: Q Cells
Hanwha Q Cells solar panels have been available in the US residential solar market for a few years, yet despite their solid reputation - they haven't attracted a significant portion of market share. Recently Hanwha Electronics announced that it was buying back the shares of the Hanwha Q Cells joint venture that it didn't already own - effectively absorbing it into the wider Hanwha group. 
Hanwha Q Cells is one of the largest photovoltaic manufacturers in the world based out of Seoul, South Korea and Thalheim, Germany. The group had recently also flagged plans for expansion to the U.S. and other markets. Let's review the solar panels offered by Hanwha Q Cells, whether they might be a good fit for your home and how this delisting of the entity affects the attractiveness of their panels.
What are Hanwha Q Cells solar panels?
Hanwha Q Cells offers mid-range solar panels that are relatively efficient and affordable compared to other premium options on the market.
According to the company's website, a key differentiator of the Q Cells line is built-in Q.ANTUM technology. This technology involves photovoltaic production based on Passivated Emitter Rear Cell (PERC) technology. PERC creates passivation of the solar cells' rear sides, which occurs by installing a reflective layer that captures previously unused sunlight and returning it to the cell, where it can be converted into solar electricity.
The result is that the Q Cells solar panels achieve a respectable level of efficiency - better than the stock standard polycrystalline solar panels offered by the Chinese manufacturers.
How efficient are Hanwha Q Cell solar panels?
Solar panel efficiency refers to how much solar energy a panel can absorb and convert into usable power. Generally speaking, the most efficient solar panels come with higher up-front costs but produce an acceptable return-on-investment (ROI) in the long haul because of forecast higher production. You should consider these factors carefully before making your decision.
Efficiency-wise, Hanwha Q Cells are a mid-range solar panel. Depending on the model you select,  Hanwha Q Cells efficiency runs between 16 to 19 percent. Compare this to the industry leader from SunPower, the SPR-X21-345 which run at an average efficiency of 21.5 percent.
The Q Cells series can't quite match this level, but given that the average solar panel efficiency is between 15 and 18 percent, the Hanwha Q Cells are a competitive entry in terms of overall efficiency.
Power Output
Efficiency is only part of the equation when it comes to choosing solar panels. You should also be aware of how much power each panel produces, a measurement known as the Watt Peak (WP) rating.
Let's look at one of the Q Cells series options, the Q.PEAK DUO BLK-G5. According to Hanwha, this solar cell offers a WP output of 300 to 320 Watts.
Going back to our earlier comparison, the SunPower SPR-X21-345 produces 345 Watts. With these numbers in mind, we can see that the Q Cells series offers a comparable amount of total power to SunPower options, despite its lower efficiency rating.
Working with qualified solar panel installers is the best way to navigate these issues and find the solar solution best suited to your home.
How much do Hanwha Q Cells solar panels cost?
For most buyers, the final decision comes down to cost. And while the cost of your solar installation will vary based on the installer, home size, and upgrade you add to your system, we can provide some estimates based on what we know about Hanwha Q Cells.
Hanwha Q Cells are generally priced between $2.95 and $3.52 per Watt in installed systems. If we take the median value—$3.24—and apply to a typical 5kW solar panel system, the initial cost will come out to $16,175. Of course, every U.S. consumer is eligible for the 30 percent federal tax credit, which brings the total system cost down to $11,322.
But keep in mind that these are just estimates, and don't take into account any upgrades, inverters, or additional batteries you may want for your home. Your exact solar costs will depend on where you live and what state-level solar rebates may be available - see Solar Review's state-by-state rundown of solar panel costs for more information.
How does the warranty for Hanwha Q Cells solar panels compare?
Of course, you should always consider your solar provider's warranties before deciding on a solution. Hanwha guarantees its solar panels with an inclusive 12-year product warranty and a 25-year linear performance warranty.
These warranties means that users are guaranteed at least 98 percent nominal power during the first year of use, with a maximum degradation of 0.54 percent per year. This comes out to a promise of—at the minimum—85 percent total nominal power for the first 25 years of use. 
Are Hanwha Q Cells solar panels a good choice for my home?
Overall, solar solutions offered at Hanwha Q Cells are a solid choice for most consumers. With mid-range efficiency rates, power outputs, and pricing, they're a good all-purpose option.  
However, homeowners with limited roof space may want to explore other options. When space is an issue, homeowners generally do better with high-efficiency panels that provide the most amount of power for the least amount of real estate. Hanwha Q Cells solar panels aren't the most efficient options available in this regard, but thanks to their built-in PERC technology, they offer solid results for a reasonable cost.
What's the latest news for Hanwha Q Cell solar panels?
Hanwha Q Cells are a renowned international brand and are experiencing rapid growth. The company plans to open a U.S. manufacturing facility by the end of 2019, which will help them avoid the costly solar tariffs on U.S. imports.
As Hanwha Q Cells already offer a competitively-priced product, we expect stateside manufacturing to play a prominent role in the company's U.S. growth and adoption overall. Stay tuned to the Solar Reviews blog for more information and news on cutting-edge solar panel solutions as they develop.