Finding the best residential solar companies in San Diego, California
Written by Andrew Sendy
Updated August 13, 2021
4 minutes read
Categories: Solar panels, Solar power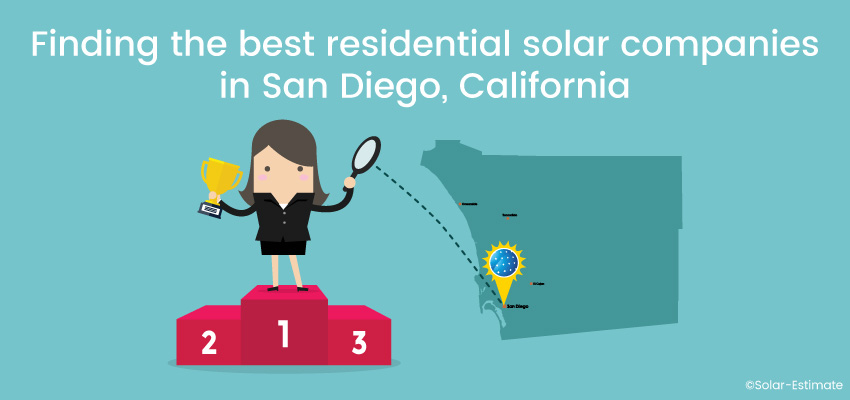 Having one of the sunniest climates in the U.S., it's not surprising that San Diego, California is one of the best cities in the nation to install solar photovoltaic (PV) power systems. Economics adds to the value of solar energy for San Diego residents – the cost of purchasing electricity from San Diego Gas & Electric ranks among the highest in the nation. In addition, the vision, and ability to realize the vision, of a state and an economy powered primarily by emissions-free, renewable energy resources is a critical element that has made San Diego a solar energy leader among U.S. cities, and California a leading solar energy state.
San Diego ranked first in terms of installed solar energy capacity and second in installed solar energy capacity per capita in major U.S. cities in 2016, according to a report from the Environment California Research & Policy Center. San Diego's solar power capacity surged 60 percent higher in 2016, vaulting the city ahead of Los Angeles, which had held the first-place position for three years running, according to the report.
Solar Reviews delved into the question of what value the installation of a solar PV system offers San Diego residents in part one of this two-part series. We dig into this question further here in a second, final installment, making use of the solar energy information resources and pricing tools available on Solar-Estimate.org and here on this site to find the cheapest, and best, residential solar energy installation businesses and offers on the market.
What does solar energy look like in San Diego?
California ranks second in the U.S. in terms of the savings a residential solar PV system can yield. At an estimated average $15,900, California ranked fifth nationwide when it came to the cost of a 5-kilowatt solar panel installation as of January 2018. If purchased in cash, the current average installed cost of such a PV system in California came to $3.18 per watt before factoring in the 30 percent federal solar investment tax credit. That cost rises to $3.56 per watt if financed via a loan and $0.156 per kilowatt-hour if installed as part of a solar lease or power purchase agreement (PPA).
All things considered, it takes an average 6.8 years for a residential solar system to pay for itself in California. Over the average system lifetime, solar energy owners can expect to save an average $28,900 over each PV system's lifetime.
San Diego residents that install solar energy systems enjoy some of the highest rates of return, and fastest payback, on their investments in the U.S. That's with or without qualifying for the federal solar investment tax credit, which is being rolled back from a current 30 percent and is slated to expire come 2022. San Diego residents, as do all California residents that contribute power to the grid, can reduce their utility bills substantially, if not completely, by participating in California's net metering program. They can add to that by qualifying for other state energy efficiency and renewable energy incentives, such as the Self-Generation Incentive Program.
As highlighted in a Solar-Estimate blog post, investing in a residential solar energy system in San Diego can pay for itself in as little as five years. That affords their owners the prospect of enjoying 20 or more years of free electricity.
SolarReviews makes use of customer reviews to rank residential solar companies in San Diego, as well as other cities in California and throughout the U.S. SolarReviews recently identified the Top 20 Residential Solar Installers in San Diego. Vivint Solar, Cosmic Solar and Horizon Solar Power, now known as Solar Spectrum ranked first, second and third, respectively in terms of numbers of reviews but not necessarily in terms of customer service. Of these companies only Cosmic Solar enjoyed what we would regard as an elite customer service ranking. Semper Solaris is also a company with an office in San Diego that has developed an elite reputation.

Image credit: Semper Solaris
Who are San Diego's top five residential solar installers?
Searching the database on Feb. 17, 2018, the following San Diego residential solar installers rated tops among their peers. All rated a perfect, or nearly perfect, five stars according to SolarReviews' ratings criteria:
Semper Solaris
Cosmic Solar
Solar Symphony
SunLux Energy
Keegan Electric
Semper Solaris founders and staff pride themselves on taking the same streamlined, service-oriented approach to installing residential solar PV systems, as well as battery energy storage, for customers as they did when serving in the U.S. Armed Forces. "Semper Solaris is a stand-up company from start to finish and production...We are incredibly happy with the results and have immediately witnessed the cost savings," Semper Solaris' solar homeowner Dan Jackson says in a YouTube video.
The Jacksons ran their air-conditioning non-stop for three straight months during the summer without having to purchase any electricity from their local utility. They expect to have a zero utility bill this winter when they use solar PV-generated electricity to heat, as well as light and otherwise power, their home.
"We have been truly blessed to meet a good company that was able to meet our needs and do it in a budget that fit our needs as well. I'm 100 percent confident Semper Solaris is doing the same thing for other customers as well," Dan Jackson says in a YouTube video.
Customer reviews of their experiences working with Cosmic Solar, Solar Symphony, SunLux Energy and Keegan Electric to install solar energy systems on their homes were similarly positive. You can read through them all here on SolarReviews, as well as obtain a live quote from a local residential solar energy systems installer.