Consumer financing: Medallion Bank vs. Greensky Credit
Written by Catherine Lane
Updated April 02, 2020
9 minutes read
Categories: Solar financing
Solar has the potential to save homeowners a lot of money in the long term. But sometimes it's hard to look past the large upfront cost of a residential solar system. By offering financing to your customers, you have the ability to bring in more sales to your solar installation business.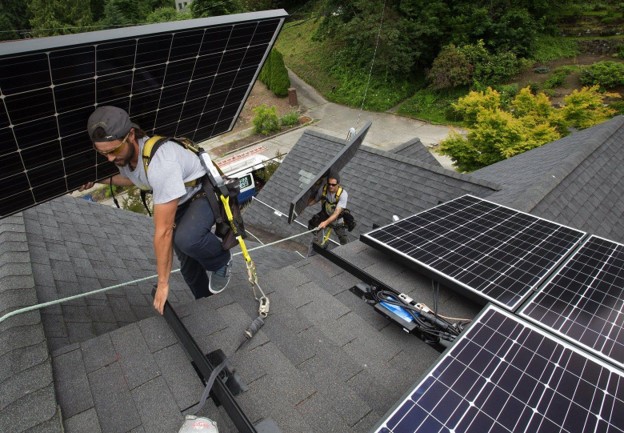 Solar installation companies can gain more customers by offering consumer financing options. Image source: Puget Sound Solar
There are two popular financing companies that assist solar installation businesses in doing just that: Greensky Credit and Medallion Bank.
In this article, we'll explore what options these two companies offer, and which one will be the best fit for your business.
How do consumer finance companies like Greensky and Medallion work?
When a business offers financing options, like loans, to its customers, it is known as consumer financing. Financing allows your customers to enroll in an affordable payment plan, rather than pay the full price of a solar system outright.
Consumer financing options like Greensky financing work to convert prospective customers from simply looking and thinking about making a purchase to actually buying your products and services.
Businesses can choose to offer consumer financing in one of two ways:
The business can run credit checks, offer financing to their customers, and manage payment collection themselves, or
Use a third-party financing firm to provide financing options for customers.
Providing in-house consumer financing without the help from a third-party firm can be very time consuming. Not only that, it adds legal responsibility to your business because you're now involved with consumer credit information.

Loans can make installing solar more accessible to homeowners. Image source: Solar-Estimate
Third-party consumer financing firms partner with financial organizations like credit unions, banks, and leasing companies in order to provide financing options to your customers.
Using a third-party financing firm works similarly to using a credit card:
Your business hires a financing company and pays a small fee on all financed transactions.
The financing company then puts the full amount of the purchase in your account so you can complete the service for the customer.
The customer receives the services immediately, and pays back the financing company in small monthly payments.
How do consumer finance companies benefit you, the installer?
Partnering with financing companies has many benefits for a solar installation business.
Many potential customers want the long-run savings from solar, but are either unable or unwilling to pay the high upfront cost.
Consumer financing is designed to help businesses facing this very dilemma. It helps businesses that sell high-priced products and services - such as a solar installation - by offering their customers an easy payment solution.
They enable more consumers to afford an installation
By offering consumer financing, solar installers increase their opportunity for potential business by allowing consumers to make purchases they otherwise couldn't afford. For example, if someone is considering solar but they don't have the cash to buy a system outright, they will probably look for solar installers who offer financing options.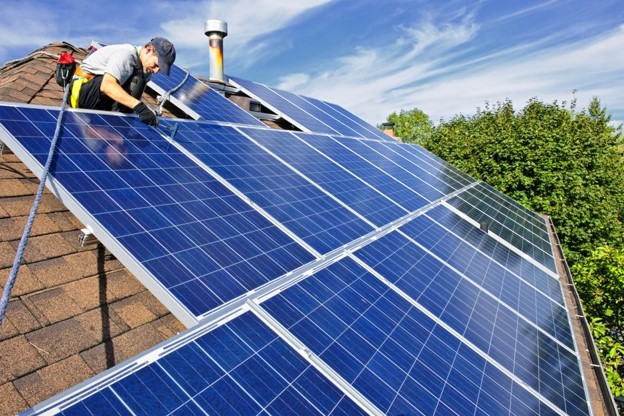 Residential solar panel installations can get expensive. Offering consumer financing makes purchasing solar easier for customers. Image source: City Lab
Financing companies handle the loan and payment logistics for you 
Financing companies have experience in financing options, so you as the business owner don't have to worry about the logistics. The financing company will be responsible for collecting payments from customers and dealing with credit information legalities.
So although you have to pay fees to the financing company to use their services, it can save you a lot of time and a lot of future headaches.
It's convenient for the customer, and in turn, is beneficial to you 
A customer who feels as though their needs are being met will keep coming back. Therefore, customers who intend to finance a purchase will appreciate the fact that they won't have to find financing elsewhere.
If your installation company doesn't offer financing, you could be overlooked by hundreds, even thousands, of potential customers.
Two consumer financing industry leaders, Medallion Bank and Greensky Credit, offer their consumer financing services to solar installers and have the potential to help attract more customers and achieve higher sales. 
Find out which of these consumer financing companies could be the right fit for your solar installation business.
What is Greensky Credit?
Greensky Credit is a third-party service provider and program administrator that connects banks with consumers in need of home improvement loans.
Greensky loans are funded by financial institutions like federally-insured federal and state-chartered banks. They offer loans up to $65,000.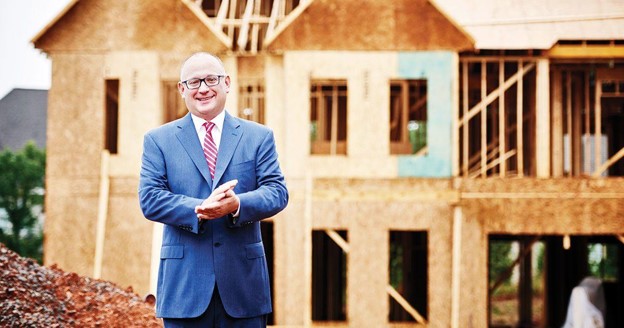 David Zalik, CEO of Greensky, is the man behind Greensky's success as a home improvement lender. Image source: Forbes
In order to take advantage of Greensky's services, a solar installer must apply to a part of their merchant network. Greensky does not outline what qualifications you need to be accepted into their merchant network; however, they do provide what is required of your business once you are accepted in their program agreement document.
Once approved, you must participate in Greensky's mandatory solar merchant training. Upon completion, you will be able to use Greensky financing to provide your customers with various loan options for their solar system.
You can provide two different types of loans with Greensky Credit:
Deferred-interest loans
These loans have a promotional period that can range anywhere from 6-24 months. If the customer pays off the entire balance of their loan before the end of the promotional period, they will not have to pay any interest charges.
Reduced rate loans
This option is best for customers who need a longer period of time to repay their loan. These loans have a lower APR and can have a repayment period of up to 12 years.

Greensky makes providing customer financing a painless process. Image source: Daily Forex Report
When a customer agrees to a Greensky loan, their Greensky account number can be used like a credit card with your payment processor. The money will be deposited into your account, and then it is the customer's responsibility to pay back the loan to Greensky.
Every time a customer chooses a Greensky financing option, your business will be charged a transaction fee. Greensky does not specify what the transaction fee is equal to until you are accepted into their merchant network. Each month, you will receive an invoice for all of the transaction fees that accumulated throughout the previous month.
There is no minimum credit score required of your customers in order for them to take out a Greensky loan. However, Greensky will still conduct a hard credit inquiry, which has the potential to negatively impact their credit score. It's also important to note that a customer's low credit score may impact their interest rate.

You can apply to be a part of Greensky's merchant network here.
What is Medallion Bank?
Medallion Bank is an FDIC-insured bank that provides consumer financing for contractors like solar installers.
Unlike Greensky, Medallion Bank does not have to create partnerships with banks or credit unions because they themselves are the bank providing the loan. Medallion loans up to $65,000 for home improvement projects, including solar installations.

Medallion Bank can help solar installers offer financing options to their customers. Image source: Green NRG Solar
Your business must meet the following criteria in order to work with Medallion Bank:
Be in business for a minimum of two years;
Have a good credit score;
Have a positive Better Business Bureau rating; and
Generate at least $1 million in annual revenue.
If your solar installation company meets the above requirements, you can submit an application with Medallion. Once approved, you will be able to offer consumer financing options for those who may be unable to purchase a solar system outright.
The main loan that Medallion offers is what is known as a standard installment loan. When a customer chooses to use a standard installment loan with Medallion, they can apply using the Medallion Bank mobile app or website, where they can be approved within minutes.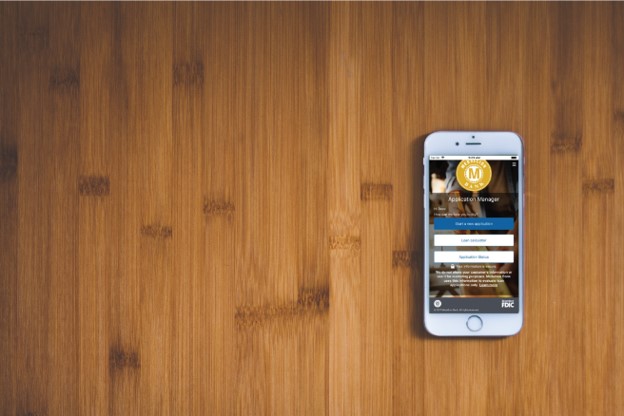 Medallion Bank's easy-to-use mobile app takes the guesswork out of customer financing. Image source: Medallion Bank
Medallion Bank runs a credit check on the customer to determine what interest rate they qualify for. The customer will then have low monthly payments to pay back their Medallion loan.
If your customer has "prime credit", meaning their credit score is 661 or above, you will not be charged any fees by Medallion Bank. So, when you sell a solar panel system to a customer with prime credit, you get the benefit of not having to pay any fees on the transaction!
You can apply to be a Medallion Bank contractor here.
Choosing between consumer finance companies
Both Greensky and Medallion can help you implement consumer financing for your customers. Depending on your business needs, one might be better than the other.
The case for Greensky Credit
Greensky does not have strict application requirements like Medallion does. So, if you have a business that makes less than $1 million per year in revenue or has been open for less than two years, Greensky is the best option for you.
It is important to consider Greensky's deferred interest promotion, as well. Customers might be more willing to take out a loan if there is a possibility that they won't have to pay interest on it. This means more business for your company.
The case for Medallion Bank 
Medallion prides itself on working with reputable companies. Because Medallion Bank's services are only available to those who qualify, the quality of their services may be higher. Plus, you won't have to pay any fees if your customer has a prime credit score. This saves you some money on transaction fees.
Although Medallion does not currently offer a promotion like Greensky does, their installment loan is simple to understand. This simplicity may lead to more customers agreeing to a loan because there is little confusion about how it works.
Both Medallion and Greensky offer quick customer application approval through their websites and mobile apps. This means you can begin working on a customer's project much sooner than if they had taken out a personal loan or home equity loan.
Greensky vs. Medallion: Which is better for your business?
Offering consumer financing has the potential to open up more business opportunities for you. This is because solar system installations can be expensive, and providing loan options brings in more customers. Plus, the more customers you acquire, the more likely they are to refer your company to others.
To provide your customers with an accurate estimate of how much their solar panel installation may cost, use our solar panel calculator tool. In some cases, a solar panel system could be affordable enough that the customer doesn't need to use a loan. That means cash directly in your pocket - no transaction fees involved!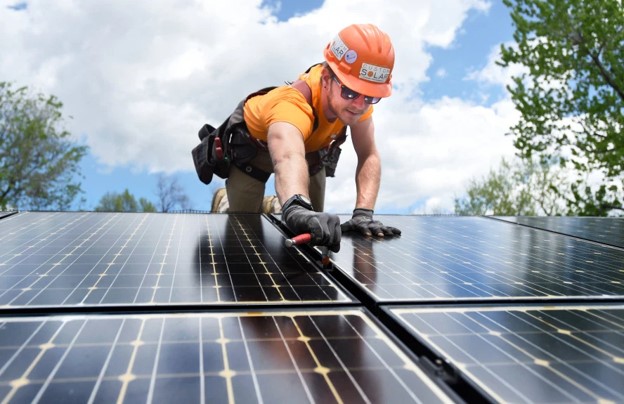 Offering consumer financing options can increase the amount of solar installations your company performs. Image source: Denver Post
However, you need to consider how much working with a third-party financing company could impact your business financially. Many financing programs have setup fees and monthly transaction fees. These costs could add up quickly, so make sure that the potential extra revenue you would get through offering customers financing is worth the extra money you'll be spending.
Overall, consumer financing could potentially increase your revenue and the number of customers you get, but only you know what works best for your company.