How long is the current wait for a Tesla Model 3?
Written by Andrew Sendy
Updated August 13, 2021
10 minutes read
Categories: Electric vehicles, Solar 101, Solar power, Tesla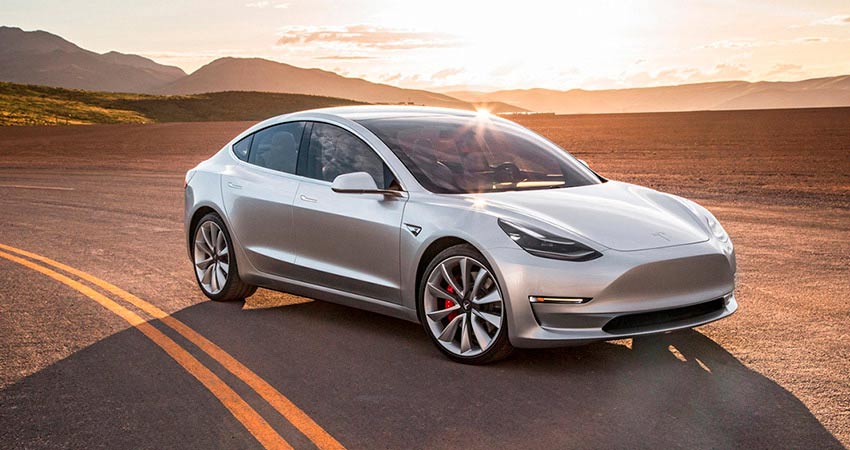 Image source: Tesla
Amidst its continual product launches, delays in manufacturing, and Elon Musk's increasingly hands-on role in the Model 3 rollout, Tesla has been in the news a lot lately. And while each update reveals more about Tesla's process for meeting consumer demand, customers are less interested in shareholder news than in knowing when the heck they'll finally be able to get behind the wheel of their new Tesla Model 3.
Let's review the details and how long you can expect to wait.
What is the estimated delivery date of the Model 3?
At this point, it's hard to say. Tesla offers an estimated delivery date calculator on its website, but it's only available to Tesla customers who already have reservations. Despite this, we can make an estimate based on what we know about Tesla's process:
After reserving a Model 3 with down payment on Tesla's website, your name is placed on a reservation list.
Customers are contacted based on reservation list position; the earlier you reserved, the earlier you'll receive the email containing the next steps.
After receiving the email containing your Vehicle Identification Number (VIN), you will be asked to configure your Tesla for production. Your Tesla will be shipped after this is complete. (Note: Tesla mass produces Model 3s based on specific configurations and features. This means that until your specific order aligns with the company's production schedule, you'll be waiting to receive this email. This may take anywhere from several weeks to a few months, depending on Tesla's schedule.)
After configuration, Tesla ships your vehicle based on your availability and Tesla's own shipping schedule. Tesla offers a window of 3 to 6 weeks for this process, though individual orders may vary.
In truth, Tesla may be as unsure as you are about the delivery date of your order. The company recently fell short of one production goal, aiming to produce 2,500 units each week by the end of March. An internal email from Tesla revealed that they were producing closer to 2,000 units each week—meaning that the company is still struggling to catch up with the massive consumer demand for the Model 3.
As such, unless you get lucky with your order, you'll likely be waiting a couple months for your new Tesla.
What can you do while you are waiting for your Model 3?
Most people that are interested in buying a Tesla Model 3 will also be wanting to generate the electricity to power it themselves using a home solar system.
While you are waiting to get your Tesla you can get your solar installed on your home.
What is the Model 3 reservation list?
The Model 3 reservation is how Tesla tracks their orders, given that Model 3's are still in limited production. Customers who put down a reservation deposit of $1,000 are added to the reservation list and contacted when their turn for a fresh Model 3 comes up. Tesla bases this contact on reservation order, so customers who want to get in early should reserve their place as soon as possible.
How many Model 3's have been delivered?
Using the VINs attached to each Model 3, Bloomberg took a stab at estimating the current number of Model 3s that have been made, as well as the current rate of Tesla's production:
31,059 units produced overall
2,872 units produced each week
And while the exact number of deliveries is harder to pin down, we do know that Tesla delivered 1,550 Model 3's by the end of Q4 2017, with over 800 more in transit.
Where can I get a Model 3?
Model 3 reservations are available through Tesla's website. However, keep in mind that Model 3 deliveries are currently limited to the U.S. and Canada, with international deliveries slated for 2019.
How much does a Tesla Model 3 cost?
The standard Tesla Model 3 costs $35,000. This includes basic options with no upgrades and a battery that offers 220 miles of range.
A longer-range Tesla is also available, retailing at $44,000. This option offers a stronger battery with a range of 310 miles, as well as faster acceleration and top speed.
Model 3 customers can also choose from a variety of premium upgrades to support their vehicles, but these upgrades will understandably bump up the price tag.
The price of a fully-loaded, decked out Model 3 will cost $59,500 before taxes and incentives. Most of this additional cost comes from the variety of luxury upgrades available, which we'll detail below.
Interested in a completely natural energy system from home to car? Click here to find out the cost of solar panels in your city.
What options and upgrades are available?
Standard Features
The standard Model 3 comes with the following options:
220-mile range battery
0 to 60 mph acceleration in 5.6 seconds
Self-driving hardware
Supercharging capabilities
Wi-Fi/LTE capabilities
8-year, 100,000 mile battery warranty
Customization Options
The customization options for each vehicle include the following:
Wheel size (18" Aero or 19" Sport)
Exterior color (Solid Black, Midnight Silver Metallic, Deep Blue Metallic, Silver Metallic, Pearl White Multi-Coat, Red Multi-Coat)
All-Wheel or Rear-Wheel Drive
Autopilot features (Enhanced Autopilot, Full Self-Driving)
Premium Interior
Customers who want the full Tesla experience can pay an additional $5,000 for the premium interior package:
Heated seats and upgraded cabin materials
Two extra rear USB ports
Power options (adjustable front seats, steering column, side mirrors)
Premium audio system
Smartphone docking ports
LED fog lights
Bottom line—is it worth the wait?
While customizations and premium upgrades can significantly raise the Model 3's price tag, (Enhanced Autopilot and Full Self-Driving features run the customer an additional $5,000 and $8,000, respectively!) they may be worth it for those wanting a premium electric experience. And really, that's what Tesla is all about.
If you're interested in giving it a shot, now's the time to start. Tesla's ramp-up of the Model 3 over the past few months means that we'll start seeing more consumer reviews soon. And while early reports are positive, you'll have plenty of time—reservation or not—to let the reviews come in and make up your mind for yourself. And if you do decide to get on the list, consider distracting yourself while you wait with a solar carport project.