How much do solar panels cost in San Francisco in 2018?
Written by Andrew Sendy
Updated August 13, 2021
6 minutes read
Categories: Solar 101, Solar financing, Solar incentives, Solar panels, Solar power, Utilities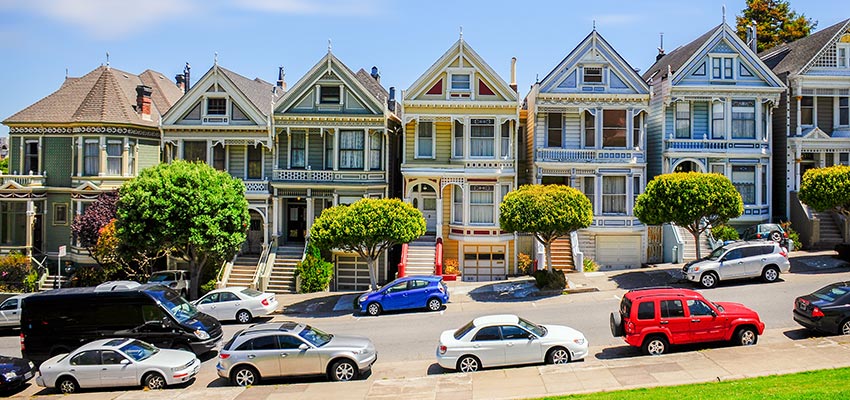 Image source: Shutterstock
How much do solar panels cost in San Francisco in 2018?
You hear it in the news, solar panels are becoming more affordable than ever. But if you don't know the cost to begin with, this means nothing to you. Let's get into the cost of solar in 2018.
Solar panel prices are determined by the capacity of the system, which generally ranges from 3 kilowatts to 12 kilowatts for residential systems. For an average residential home, we will assume a 5-kilowatt system. In San Francisco, solar costs $3.63 per watt. At this rate, a 5-kilowatt system costs about $18,000. Don't let this number scare you, San Francisco has your back.
Solar and San Francisco: An Electric Connection
San Francisco has a generous incentive for solar. The GoSolarSF program offers money back per kilowatt of energy. For 2018, this rebate starts at $300 per kilowatt, but offers $300 additional per kilowatt for business or non-profit uses, and a whopping $2000 extra per kilowatt for low-income residences. This shows San Francisco's commitment to encouraging participation in the solar energy revolution.
The federal government steps in and assists with the Solar Investment Tax Credit. The solar ITC offers a 30 percent tax credit which solar owners claim when filing their federal taxes. It is available for residential homes through 2021, but will decline each year after 2019 by 4 percent and will be eliminated after 2021. For commercial properties, it will stay at a fixed 10 percent after 2021. To maximize your savings, it is in your best interest to switch to solar as soon as possible. Don't walk, run to your nearest solar dealer.  SolarReviews.com publishes a list of the best solar companies that service San Francisco and shows stories and ratings from each companies customers.
You've said a lot of numbers and percentages.
What do the real costs of solar in San Francisco look like?
At $3.63 per watt, check the price chart below.
| System Size | San Francisco Average Cost (before incentives or rebates) | San Francisco Average Cost (after GoSolarSF for residential and ITC) | Payback Time (estimate) | Total Savings over 25 years |
| --- | --- | --- | --- | --- |
| 3 kW | $10,890 | $6,993 | 6 years (assuming $100/month utility) | $22,800 |
| 5 kW | $18,150 | $11,665 | 6.5 years (assuming $150/month utility) | $33,300 |
| 10 kW | $36,300 | $23,310 | 6.5 years (assuming $300/month utility) | $66,600 |
| 12 kW | $43,560 | $27,972 | 6.7 years (assuming $350/month utility) | $76, 860 |
The larger system you have, the more you will save. The payback time stays consistent around 6.5 years. Learn about solar payback on Solar-Estimate.
Despite the appeal of saving more money, it is typically not economical to get a larger system than your home requires because Whilst you are paid full retail rate, less non-bypassable charges of about 2.5 cents per kWh for exported energy if at the end of the year your credits for exported energy is more than your usage you are only paid around 3 cents per kWh for your excess. This end of year reconciliation is known as an annual true up.
There is a program you can enroll in called CleanPowerSF. It is offered by San Francisco Water Power and Sewer (which is the San Francisco Public Utilities Commission). This program offers you the ability to buy 100% renewable power when you buy in power from the grid rather than the usual PG&E power mix which as at 2018 is around 33% renewable energy and 66% energy sourced from fossil fuel burning energy. Under this plan, you  get billed by PG&E but your rates are higher when you buy power but you are given a larger annual true up amount of 8.9 cents per kWh.
Is net metering available everywhere in the bay area?
The NEM 2 program approved by the California Public Utilities Commission requires investor-owned utilities such as PG&E to offer net metering where customers are paid full retail value for excess solar energy fed into the public grid less only non-bypassable charges (around 2.6 cents per kWh).
However, there is an exception for areas of high-density occupation that are serviced by what are known as secondary grids. In the Bay Area, this is the CBD of San Francisco and Oakland. In these areas you have to restrict export to connect solar.
It is only the following zip codes: 94102, 94103, 94104, 94105, 94107, 94108, 94109, 94111, 94133, 94607 and 94612 where net metering is not available.  PG&E recommends contacting EGI for any project in the San Francisco or Oakland downtown areas. In practice, few people in these zip codes have the roof space available for solar anyway and so it is almost always true to say that if you have a free-standing single family home in the Bay Area you will be able to get net metering through PG&E.
Does PG&E offer any other incentives to install solar panels in 2018 in San Francisco?
PG&E has several incentive programs. To start with, there is Multifamily Affordable Solar Housing, or MASH. This rebate applies to affordable housing units that contain multiple families and distributes the savings from the solar energy systems to all the tenants who live in the unit. For units where tenants benefit from less than 50 percent of the solar savings, the incentive is $1.10 per watt. For units where tenants benefit from more than 50 percent, the inventive is $1.80 per watt. MASH, complemented with GoSolarSF, ensures that low-income families aren't left out with solar.
For new homes, the New Solar Homes Partnership's goal is to promote solar electric systems on newly constructed homes. The rebate accepts individual applications, which cumulatively target a certain kilowatt goal. The solar system must be installed in conjunction with the new construction of the home, and must have a meter to measure the amount of energy produced.
The actual incentive amounts are based on the projected output of energy of the system. If your system performs at least 15 percent better than the Building Energy Efficient Standards, you fall into Tier 1 and receive a rebate equal to 75 cents per watt, and if you are 30 percent better, Tier 2 treats you to $1.25 per watt.
The overall incentives go down as the kilowatt goal is reached, which you can see on Go Solar California. It's good news for the greater mission to transform the world to solar energy, since we are at level 9, with a goal of 217,271 kilowatts, with only about 33,000 kilowatts left to qualify. This means 180,000 kilowatts are spoken for, and this program is working!
These are the most common solar incentives from PG&E, but there is a myriad out there. Check out the DSIRE Database of Incentives.
A cheat for finding out all the incentives you might get is simply top contact one of the local solar companies as it is in their best interests to know all of the help you can get to go solar.
I'm still worried about the up-front cost. Are there leasing or loan options for solar in San Francisco?
There definitely are! For starters, if you don't want to own a solar electric system, there are two options: the Power Purchase Agreement (PPA) and solar leases. Both require contracts with month-to-month payments. A PPA allows you purchase clean, green, solar energy at a set price-per-kilowatt. It essentially reduces your monthly utility bill. Solar leases let you lease the solar energy system. For both, these contracts will last around 15-25 years and usually require $0 down payment. While these arrangements do not qualify you to take any incentives or rebates since you don't own your solar system, they do add up to savings month over month because of the expensive cost of grid power in Northern California.
As another option, there is a growing market of solar loan providers. Solar loans allow you to own your system without having to pay the intimidating upfront cost. Since you own your system, you will qualify for all the incentives, and the interest paid on loans is tax-deductible. Loan contracts usually last from 5-20 years, and are available at rates between 3.5-6.5 percent. It is an appealing option to alleviate the upfront costs and be able to reap the rewards of owning your system.
When it comes down to it, paying with cash is definitively the most cost-effective. The solar loan comes next, but you will end up paying more for your system because of the interest paid on the loan per year. Solar leases and PPAs come in third place, since you will be paying a monthly fee for the duration of the contract, up to 25 years, and losing out on the benefits of owning your solar electric system.
Sources:
I'm sold. How do I find the best deal available?
Use the Solar-Estimate calculator to see which companies provide the best solar deals in San Francisco.