How Valuable is a Residential Solar Energy System in Boston, Massachusetts?
Written by Andrew Sendy
Updated August 13, 2021
5 minutes read
Categories: Solar 101, Solar power, Utilities, Solar panels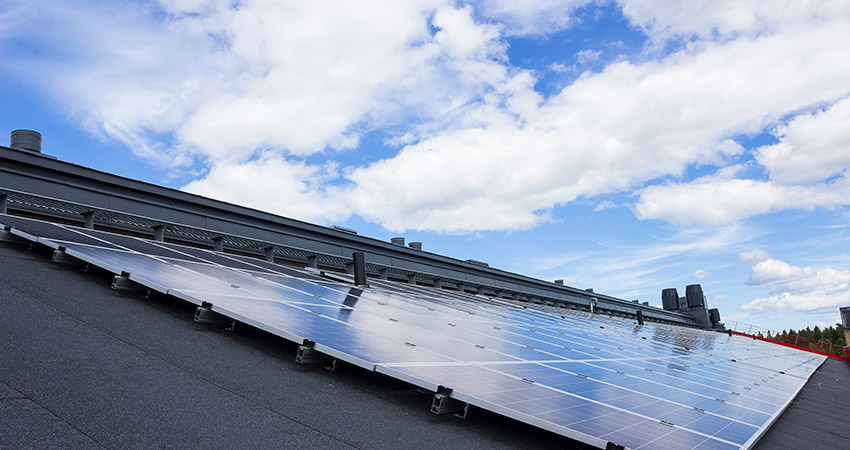 Boston isn't the sunniest location in the U.S. by any means, but Bostonians and other Massachusetts residents have taken a shine to solar energy nonetheless.
Several key factors are fueling the growth of residential solar energy in Boston and Massachusetts. Comparatively high energy bills and a strong suite of state solar incentives figure in at the top of the list. In addition, a Boston residential solar photovoltaic (PV) system actually produces more electricity per year than some might expect.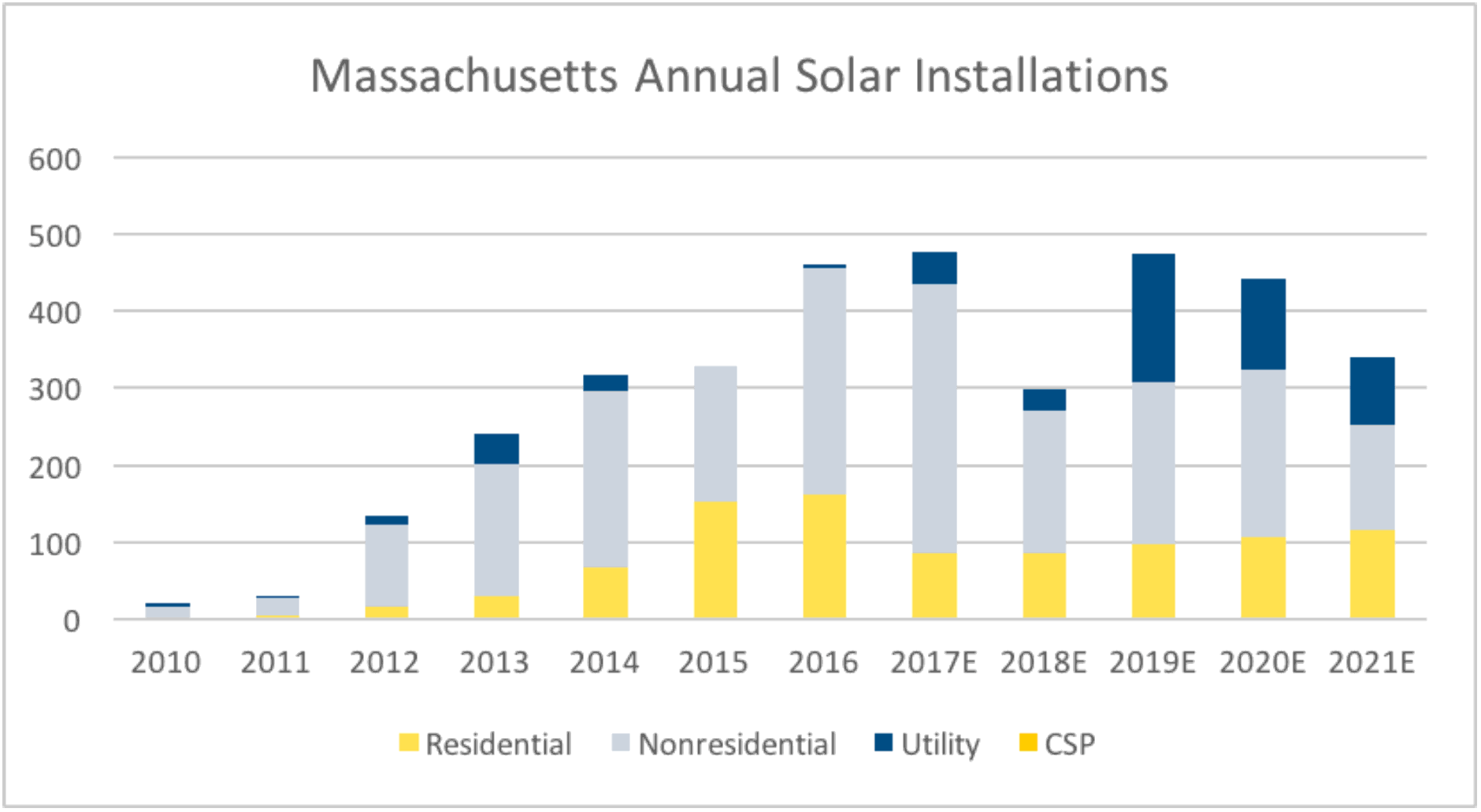 Image source: Seia
Among the 50 largest U.S. cities, Boston ranked second in terms of potential savings resulting from the installation of a residential solar PV system, according to a 2015 study carried out by the North Carolina Clean Energy Technology Center. New York City came in first.
Bostonians, and residents throughout Massachusetts, also benefit when it comes to choice. As per SolarReviews' latest, 2018 ratings, the top 10 residential solar installation companies in Massachusetts racked up an average 4.27 stars based on our five-point residential solar installer scoring system.
We delve further into the value Boston residents can derive, and are deriving, from the installation of a solar PV system in this post.
Residential Solar, Cheaper than Grid Electricity
The NC Clean Energy Technology centered produced two 'Going Solar in America: Ranking Solar's Value to Consumers in America's Largest Cities' reports under the auspices of the U.S. Department of Energy's SunShot Solar Outreach Partnership (SolarOPs). "There are a wide variety of factors that determine how good a deal solar is in your city-upfront cost, solar resource, electricity rates, availability of net metering, incentives, to name a few," highlighted Autumn Proudlove, one of the report's co-authors.
"Right now, buying an average-sized, fully-financed solar PV system costs less than electricity from their local utility for 93 percent of single-family homeowners in America's 50 largest cities, and in most places, is a better investment than many of the stocks that are in their 401(k)," added Jim Kennerly, project manager for the Going Solar in America reports upon release of the second, 2015 report. "Nevertheless, most people are unaware that solar is this affordable for people from all walks of life. We hope that this report will help to close this critical information gap and reduce soft costs."
That was back in 2015. The cost of installing a residential solar energy system has continued dropping since. According to the U.S. Solar Energy Industries Association (SEIA), the cost of solar energy in Massachusetts has dropped a whopping 55 percent in the last five years.
Based on SolarReviews' solar customer feedback, the average cost of installing residential solar panels in Massachusetts comes in at an average of $3.68 per watt. Of course, the best way to get the most up to date prices is to request a quote from a local installer. SolarReviews makes that easy. Just follow this hyperlink to Solar-Estimate.org's Boston solar panels installation pricing engine and site portal. This will show you how much solar energy solar panels produce in Boston, how many solar panels you would need to cover your electricity bill and your savings and payback. It also gets you live pricing from some of the best local solar companies in Boston.
What Is the cost of solar panels for homes in Boston, Massachusetts?
Nationwide, researchers at the Lawrence Berkeley National Laboratory found that back in 2012-2013, home buyers were willing to pay about $15,000 more for a home with rooftop solar panels. The study spanned eight states, including Massachusetts. Furthermore, the researchers found that installing a rooftop solar energy system in Massachusetts can pay for itself in just four or five years.
"The Massachusetts market is driven by net metering and a renewable portfolio standard with a solar goal along with an accompanying SREC (Solar Renewable Energy Credit) market," SEIA highlights in its latest Massachusetts solar fact sheet. In fact, Massachusetts homeowners have taken to solar energy to the extent that the state legislature has had to step in and raise net metering caps several times in recent years, SEIA notes. In addition, the Massachusetts Department of Energy Resources is working on implementing a successor to the state's successful SREC program which is known as the SMART Massachusetts solar incentive program.
Making use of SolarReviews' pricing engine, we determined that the installation of a 4.7 kilowatt (kW) rooftop solar PV system in Boston's pricey 02108 zip code would produce 5,263 kilowatt-hours of clean, renewable electricity per year. This hypothetical Boston solar homeowner would save a net $72,557 over the installation's lifetime.
You can find out a lot more about the costs and benefits of investing in a residential solar energy system in Boston and other towns and cities in Massachusetts by taking advantage of Solar-Estimate.org's pricing engine and reading reviews of actual customers' experiences working with local solar companies to install rooftop solar PV systems.
Finding the Best Solar Installer in Boston, Massachusetts
SolarReviews does its best to make learning about, evaluating and making a decision regarding investing in a residential solar energy system as simple, straightforward and reliable as possible. That includes regularly publishing reviews of the top solar installers in major US cities and all 50 US states.
Boston Solar, RevoluSun and Energy Monster were the first, second and third highest ranked residential solar energy installation companies in Boston as of the date of publication.
You can take your decision-making process a step further by obtaining a live quote from a residential solar energy serving Boston residents. Simply head to SolarReviews' locational pricing engine and portal, key in a few, critical bits of information and we'll connect you with a local solar installation company that will review the suitability of your home for solar and provides live quotes via the SolarReviews website.