How will Trump's solar tariffs affect residential solar panel costs
Written by Andrew Sendy
Updated August 13, 2021
Categories: Solar 101, Solar batteries, Solar batteries storage, Solar financing, Solar incentives, Solar inverters, Solar panels, Solar power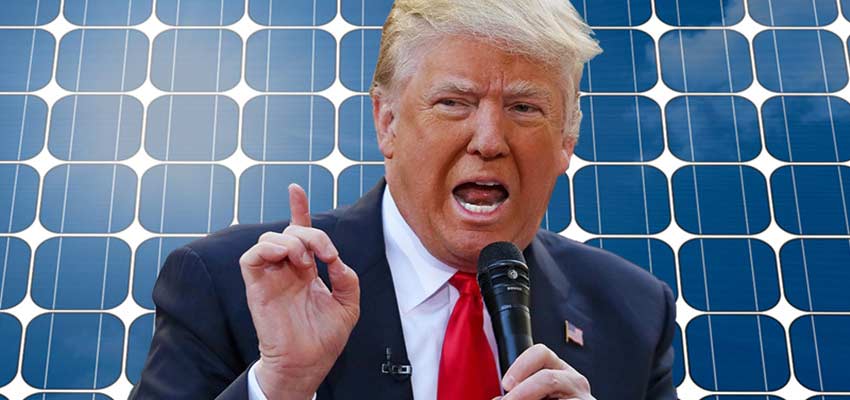 Image source: Slate and Shutterstock
The short answer is that they won't. Here's why the newly implemented solar tariffs will have minimal effect on the cost of residential solar panel installation in the United States in 2018 and 2019. On Monday, the office of the U.S. Trade Representative announced that President Donald J. Trump had imposed the following additional duties on solar panels and solar cells.
The additional tariffs are:
|   | Year 1 | Year 2 | Year 3 | Year 4 |
| --- | --- | --- | --- | --- |
| Safeguard Tariff on Modules and Cells | 30% | 25% | 20% | 15% |
| Cells Exempted from Tariff | 2.5 gigawatts | 2.5 gigawatts | 2.5 gigawatts | 2.5 gigawatts |
While these numbers are definitive, what is far less clear is how these tariffs will cause module prices to rise in each of the three major segments of the U.S. market, which are scheduled to go into effect on Feb. 8.
For those not familiar with the Section 201 trade petition, Suniva and SolarWorld, (two global solar module manufacturers with production in the United States) petitioned the ITC for relief against what it said was unfair competition from overseas imports. The crux of the complaint was that that the Chinese manufacturers had received large amounts of support from the Chinese government over the last ten years and this had damaged US solar module and solar cell producers.
The rationale for imposing tariffs is complete bunk. Most, if not all, of government support for the solar industry in China has now been withdrawn. This decision is designed to assuage the protectionist wing of his party, no matter how well they dress up this pig. President Trump is pretending to protect U.S. manufacturing jobs, though in reality the decision will cost nearly 23,0000 U.S. jobs in the downstream segments of the industry, according to estimates by the Solar Energy Industries Association (SEIA).
While I feel those numbers may be overly dramatic, it's clear this decision will destroy far more jobs than it creates. It's also more about the Trump agenda to be seen to be supporting American manufacturing than common sense.
But political ranting aside, the solar industry is far stronger and far bigger than this one horrible decision. So let's get on with the job and see what this decision really means to the cost and economics of installing solar panels for your home in the United States.
How much will the new solar anti-dumping tariff increase the cost of installing solar panels for your home?
To answer this question we will lean on research published by SolarReviews and NREL on the individual costs that make up the total retail cost of an installed solar system.
While SolarReviews and NREL data vary slightly both show the actual wholesale purchase of solar panels by the solar company makes up only about 30% of the retail cost of an installed system. Here is a graph from SolarReviews showing the breakdown of costs that together make up the retail price on an installed solar system:
Cost breakdown for each component in an installed solar power system
Total 3.08 per watt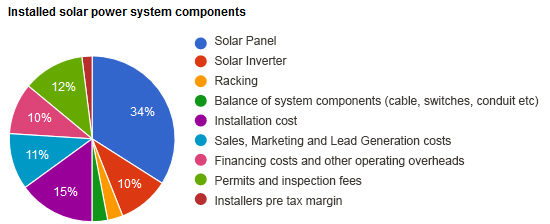 Based on the amounts listed above, you would expect a 30% tariff to add $0.21 per watt to a typical residential system—or 6.8% to the retail cost of a solar system.
That assumes, however, a one-to-one relationship in module costs. Instead, however, the 70 cents average wholesale cost of solar panels in the United States is a blend of the cost of premium panels which can be around 90 cents per watt at the wholesale level (i.e Sunpower, Panasonic and LG) and the widely used Tier One Chinese solar panels such as Canadian Solar, Trina, ReneSola and Jinko, which have been sold during 2017 in larger volumes at the wholesale level for around 50 cents per watt.
If we look at the effect the new tariffs have on the cost of Tier One Chinese modules, selling for $0.50 per watt in 2017, then all things being equal the 30% tariff would add 15 cents per watt to the wholesale cost of panels themselves. This would equate to around 4.9% of the retail price of a solar system based on SolarReviews research.
If this is the case, a 4.9% increase would increase the average residential cost of solar to $3.23 per watt and the cost of an average sized solar system of 6kw (6000 watts) by $900 to $19,380 before the solar tax credit, or $13,566 after the tax credit.
However, it is likely that different brands of solar panels will react differently to the new tariffs, and solar installation companies will make adjustments to their prices. So the real answer may not be as straightforward as the simple calculations above.

See how much solar would cost you
Will the 30% solar tariff in 2018 mean wholesale solar module prices will increase by 30%?
The CEO of ReneSola Mr Li Xianshou (one of the largest tier 1 Chinese solar module manufacturers) has come out today and stated that even with the 30% tariff announced today he thinks that their solar module cost might fall to as low as 40 cents by the end of 2018.
"The tax level is reasonable and acceptable for the U.S. market," Li Xianshou said. "Due to the technical improvements from Chinese manufacturers, the cost of solar modules will continue to drop"
"Even with a 30% tariff, the price could still fall back to 40 cents [per Watt] in 2018, significantly lower than that in 2017," Li Xianshou said. "And [we believe it] would be further lowered in 2019"
In Twitter, M.J. Shiao, lead solar analyst for noted U.S. research firm Greentech Media, said Xianshou's prescription may not be as far-fetched as it might sound.
"Keep in mind that module supply in Q4 2017 was incredibly tight and pricing was heavily inflated," Shiao said. There is definitely room for module suppliers to drop pricing and still feel comfortable. The tariffs will, of course, offset most of those reductions for end customers, though.
Although it involves some guesswork. I expect the wholesale cost of modules in 2018 will rise by around 10% and that the other 20% of the new tariff will be compensated for by technological improvements and fierce competition between the Tier 1 Chinese manufacturers to have more U.S. solar companies install their brands.
But the story doesn't end here. American retail solar installation companies are also changing and these changes will also affect how much the new tariff affects retail solar prices.

See how much solar could save you
What factors specific to U.S. solar companies could reduce the cost of residential solar panel installation in the United States over 2018 and 2019?
Three factors will contribute to a lowering of residential solar installation costs over the next two years:
Increased scale and volume of jobs
Lowering of solar company margins
Lowering of installation-labor costs
With the solar tax credit in place nationally and net metering laws in place in around 30 states, many Americans simply do not know how good an investment installing solar panels on their home is. As we come towards the end of the 30% solar tax credit in December 2019, I predict consumers will rush to get solar installed while this incentive and net metering are available. This will mean that solar companies will be able to spread the recovery of their fixed costs over more jobs. That means the fixed costs per job and per watt will fall.
When solar panels fell in price and incentives were put in place, many solar companies started selling more jobs than they had resources to install. This meant they used sub-contractors. In turn, that meant that electricians who knew how to install solar could charge premiums of more than 100% over what they charged to do other electrical contracting work.
As solar companies matured, they have started to reduce the premium they pay per hour of installation work to electricians and roof workers. However, these hourly rates are still up to 100% higher than rates paid for other similar work, and so I remain optimistic about further reductions in installation labor costs can be achieved.
Summary of residential installed solar system costs will be over 2018 and 2019 given the new tariffs and other factors
Overall, our best educated guess is that rather than the average falls in retail solar costs that we have seen in recent years, we will see stable solar prices in 2018.
We believe the immediate impact over the early months of 2018 from the 30% import duty will be reduced by the fact that many Chinese solar companies moved large volumes of stock into the United States prior to the announcement of this tariff. In some cases, they moved enough stock to meet almost six months of demand.
There will undoubtedly be rises in the wholesale price of modules, but these will be less than 30% as Chinese companies continue to lower costs.
What increases there are in cell prices and module prices at the wholesale level will be offset by increasing volumes for residential installers (ahead of the reduction in the solar tax credit at the end of 2019) that will lower the amount of fixed costs per job and per watt sold.
This lowering of fixed costs per job, solar company margins per job and installation costs through the greater use of internal electricians and roof laborers will at least compensate for the increase in wholesale module prices, meaning that despite the new tariffs, the retail cost of installed residential solar power systems will remain flat in 2018 at $3.08 per watt. This equates to $18,480 for an average-sized 6kw system before the 30% solar tax credit, and $12,396 after the tax credit is claimed.
This will be the first year that solar panel installation costs haven't fallen in the last decade, but it is still a remarkable performance by the industry to adapt and to absorb such a big hit.
What sectors of the solar industry will suffer most because of the new import duty?
Whilst I believe the residential solar industry will ride out these import duties without major hardship, the utility-scale sector may face severe constriction.
According to NREL research, the average cost of utility-scale solar in the United States in 2016 was only $1.44 per watt compared to SolarReviews' research on residential projects showing a cost of $3.08 per watt. NREL listed the utility-scale cost per watt for 2017 at only $1.30 per watt DC.
Utility-scale projects are usually many megawatts of solar. This scale is why they are so much cheaper on a per watt basis than residential projects.
The problem is, these projects have much less room for further cost efficiencies so increases in the wholesale cost of solar panels caused by the new duty will increase the cost of these projects.
However, as stated above, the 30% tariff will be partly absorbed by stock shipped into the United States before the imposition of the tariff and be partly absorbed by the improving efficiencies of the solar manufacturers, and so the effect of the 30% tariff will probably be more like a 15% to 20% increase in the cost of wholesale solar modules purchased in utility-scale quantities.
As solar panels make up approximately 40% of the cost of a utility-scale project, we can expect increases in the cost of utility-scale projects of around 6% to 8% in the second half of 2018.
How will the new tariffs affect the savings from installing solar panels and the payback times for consumers?
As we have said, we don't expect the new tariffs to lead to any meaningful increase in the cost of residential solar energy systems over 2018. Rather, the new tariffs will take away cost reductions that would have happened without the tariffs as they absorb the efficiency improvements that will happen across the solar supply chain during 2018 and 2019.
For those wanting to get an idea of solar savings, costs and payback if you were to install solar on your home the solar panels calculator takes into account your location, your utility provider, your power usage and your climatic conditions to work this out for you.