A guide to buying DIY solar panels for your home
Written by Andrew Sendy
Updated August 12, 2021
5 minutes read
Categories: Solar 101, Solar panels, Solar power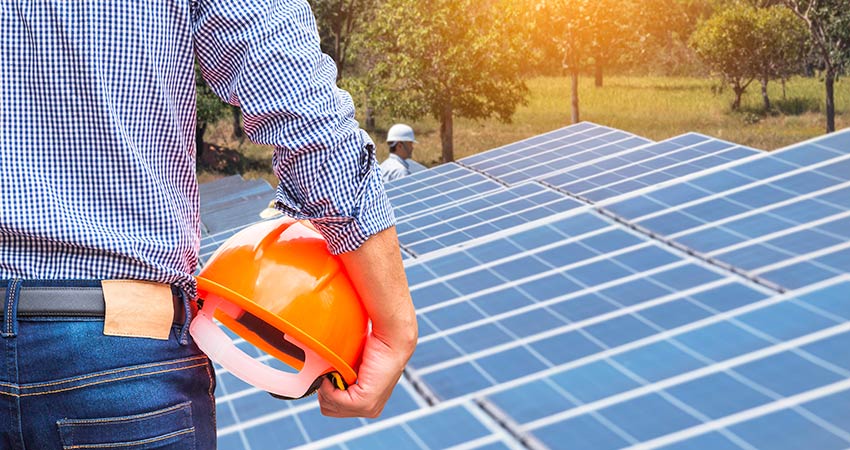 Installation of solar panels on homes is now one of the most popular home improvement projects in America. In early 2019, we passed 2 million solar homes and the industry forecasts 4 million home will have solar by 2023.
The benefits of installing a home solar power system are obvious, no power bill (or at least a much reduced one), increased home value and a nice win-win in terms of a cleaner environment. So for many homeowners, it's no longer a question of whether or not to go solar, it's more a question of minimizing the initial investment to get the shortest possible payback period.
Not surprisingly, many now ask whether they can save money by buying solar panels as a kit online and arranging installation and permitting themselves as a DIY project.
Can I buy residential solar panels and install them myself?
YES, you can.
However, the feasibility of doing so depends on where you live, the rules of your local utility and the eligibility rules of any solar tax credit or incentives that may be available at your home.
Planning your DIY Home solar system
The very first thing to do if you are considering doinga DIY solar project is to either seek a solar quote from a local solar company from a local full-service solar company or at least use an online solar calculator to estimate the cost of a solar system from a full-service solar company.
A full-service solar company is a licensed solar contractor who will quote you to supply the necessary solar equipment, install the system on your home and take care of all permits and inspections required by your city planning office and your utility. This may seem odd to call a solar company when you are wanting to do a DIY solar installation, but there are a couple of good reasons to do so.
Why should you do this?
As far as do-it-yourself projects go, DIY home solar is a fairly complex project. Solar systems are highly regulated by a mesh of local, state and federal rules and codes. The installation itself involves the joint dangers of working at heights and dealing with electricity and the process of applying for (and ensuring eligibility for) any applicable rebates, tax credits or other solar incentives can be complex.
Talking to a full-service company first serves two purposes:
It's a free education on what is involved in solar panel installation in your area; and
It provides a cost benchmark against which you can compare the total cost of your DIY project once you have costed that out.
It is highly unlikely that you would choose a DIY solar project over a professionally-installed system unless it saved you a significant sum of money.
How much money can you save by going for a DIY home solar power installation?
You will find that it is possible to buy solar panel kits, with reasonable quality equipment for around $1.20-$1.80 per watt depending on what is included in the kit. When you compare this to the average cost of solar panels installed by solar companies which are around $3.20 per watt, there is a possible saving of $10,000 to be made on the average 5kW residential solar power system.
Unfortunately, this is not your total savings. You will need to hire a qualified licensed contractor to install your home solar system. A licensed installer will most likely charge you around $4,000–$5,000 for installation, reducing your savings by quite a bit.
So after your installation is complete you will have saved around $5000–6000 by doing a DIY install on an average size home. However, this is before we take the 30% solar tax credit into consideration.
Your total savings is reduced by the value of this tax credit (provided you pay federal income tax). So your net total savings will be around $3500–$4000, which is still pretty good as long as you don't have too many hiccups along the way.
What are the different ways you can do a DIY home solar panel installation?
There are two ways you can go about doing your DIY solar project:
You can buy the solar kit and have a licensed contractor install the system for you (the easier of your two choices); or
You can buy the solar kit and install the system yourself.
Option 1 is by far the easier way to go to get your solar panel system installed. You won't save as much using a professional installer, but you can be certain that it will be done correctly and you will have peace of mind if there are any problems with your system in the future.
Whilst you won't have the warranty support you would get with a full-service solar company, at least the manufacturer can't dismiss any potential warranty claims you may have on the grounds that it was not installed by a qualified person.
Depending on where you live, your utility may also require that the system be installed by a licensed solar installer in order to give you permission to connect the solar system to their utility grid (through a new bio-directional meter). It may also be a requirement of claiming certain state and utility solar incentives that you have the system installed by a licensed contractor.
Where can I compare DIY solar panel kits websites?
SolarReviews published a solar panel kits comparison table showing more than 1000 different solar kits from 8 leading websites that sell this type of equipment. This page also contains information about how to compare these websites. Sometimes the kits include racking and sundry electrical; some websites include free delivery; and some companies offer a design and advice service for their kits, while others don't.
| | System Size (kW) | Panel | Inverter | Price | Cost Per Watt | Website |
| --- | --- | --- | --- | --- | --- | --- |
| | 87.69 | | | $13,556.85 | $0.15 | wholesalesolar.com |
| | 0.40 | | | $349.99 | $0.87 | hqsolarpower.com |
| | 0.20 | | | $179.99 | $0.90 | hqsolarpower.com |
Learning to install solar panels yourself
If you decide you want to do the installation yourself (either all of it, or part of it), you should take the time to do some research and gather as much information as you can so you can tackle your DIY solar project with confidence. It is rare for anyone other than an electrician to try and do this with a grid-tied system, but quite a lot of people want to do off-grid systems this way.
(Please note Solar-Estimate.org does not recommend solar panels be installed on homes by unqualified persons. It can be extremely dangerous in terms of both the installation and the ongoing operation of the system) There are a number of courses you can take to help you along the way (remember, knowledge is power).
There are also a number of DIY solar installation videos online but the quality and reliability of these videos is highly variable and we would suggest you use a reputable training provider.
There are many pitfalls for someone with limited experience, and training can avoid expensive mistakes or damaging your solar equipment.
What are some other types of common DIY solar power projects
There are many different applications for using solar energy in your home. Some of the more common ones are garden lighting or heating your swimming pool with the power of the sun. You will find that there is a huge range of effective and affordable DIY options on the market which can both meet your needs and are easy to install. However, if you are considering a much larger project, such as installing solar for your entire home, this job can then become a lot harder, and you will need to have quite a bit more knowledge of electrical systems to do this on your own.

See how much solar costs in your area
What are some common mistakes when doing a DIY solar project?
The main reason most people opt for DIY solar is to keep the cost down. One of the biggest mistakes you can make is trying to save money when purchasing your solar kit by buying cheap panels.
The financial benefits you receive from your system is directly linked to the quality of the solar panels you have working for you. Instead of going out and purchasing the cheapest solar panel kit on the market, compare what different solar contractors are using, the type of systems they recommend, and what will give you the best value for money in the long term. Sometimes the extra money you spend now pays dividends down the track.
Another mistake people can make when buying cheap solar panels is thinking that hiring a contractor to install the panels will be easy to find. In most cases, solar installation contractors will only install equipment they have worked with in the past. Instead of shopping around for a solar installer to install the panels you have purchased, your time would be better spent comparing solar installers recommendations for equipment prior to purchasing your solar panel system.
You can browse the top 100 solar contractors nationwide for 2019 based on consumer reviews (the top installers for each state are listed on this page, too). By comparing information from several solar panel system installers and exactly how much you qualify for in incentives by using these contractors, you can make a more informed decision about installing solar panels on your home.
Why DIY solar may not be eligible for rebates
Unfortunately, while the 30% federal tax credit for solar installations has been extended through until the end of 2019, additional rebates offered by local and regional agencies may not be eligible on a DIY project.
You will find that state by state, the parameters to qualify for rebates vary for energy efficiency and renewable energy rebates. But while this may be the case, the one common thread you may find amongst most of them is that these additional rebates and incentives (in some cases, low-interest loans on renewable energy installations) only apply to people who have used qualified contractors to do their installations. So while you can save money on one hand, you can potentially lose money on the other.
Having overcome all these obstacles and pushing through with your DIY project, you will find that in many cases local utilities won't allow you to be tied into the grid system (making this an off-grid solar system), which means if your DIY solar panel system is not producing enough electricity, there's no back-up. There are also many states which will not allow DIY solar panel systems in the first place. Before making any purchases, be sure to check what the laws and requirements are for your state.
By investigating the options for both DIY and contractor-installed solar power, you can make the best informed decision about your solar installation.