An expert review of Renogy solar panels
Written by Andrew Sendy
Updated August 12, 2021
10 minutes read
Categories: DIY solar, Solar 101, Solar efficiency, Solar energy, Solar incentives, Solar panels, Solar power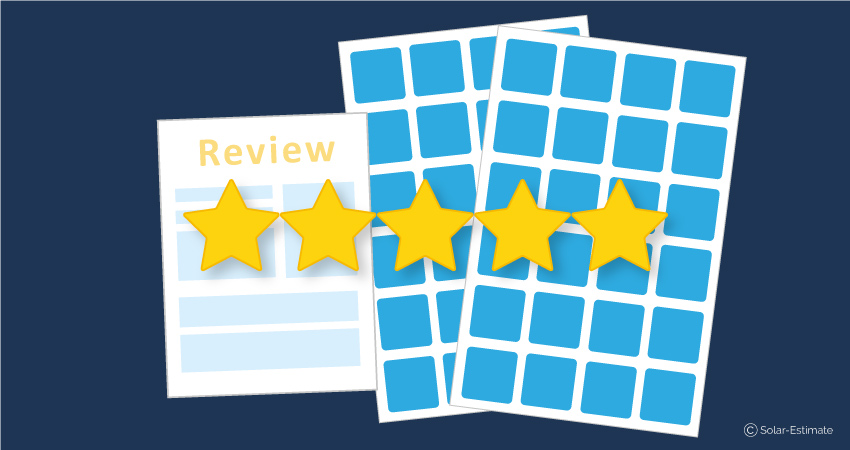 Renogy, a renewable energy company based out of Canada, has quickly risen up the ranks of solar companies and has made waves in the relatively new industry. Renogy, unlike other companies, offers a variety of solar panel kits for a variety of applications. They offer packages that can be used in residential homes, rural settings, on boats and even in tiny houses and RVs.
As a differentiating factor, Renogy also offers kits direct-to-consumers, allowing the weekend warrior to try their hand at solar energy. While do-it-yourself kits are becoming more popular, it is always best to consult with a professional installer before making any solar decisions. The DIY angle, however, does make Renogy an intriguing option.
You are likely wondering, however, if the Renogy kits offered online are a worthwhile solar option for you. Well, we have all the information you'll need to make an informed decision. If the information below isn't enough, we invite you to speak with a qualified professional to ensure the kit you choose is the best equipment for your unique power consumption profile.
What is included in the Renogy starter kit?
Renogy offers a variety of different starter kits. They range in size from 10-watts up to 320-watts. The standard home will need a system that is about 250-watts in most cases. If you are looking to power an RV, motorhome, boat or tiny house, a smaller kit will likely work.
Regardless of the size of the kit, Renogy gives consumers the basics of what they will need to get started. The average kit includes:
Renogy 100 Watt 12-Volt Monocrystalline Solar Panels
Renogy Wanderer Charge Controller
9-inch MC4 adaptors
Branch connectors
Z-mounts
The packages do not include an inverter, a deep-cycle battery or additional hardware that is needed to get the system up and running. A qualified installer can help you find the necessary hardware to get your system up and running.
How much will a Renogy solar power system cost?
The pricing associated with an entire system is mainly dependent on a variety of individual factors. The cost of installation, inverters, and mounts are generally not included in estimated pricing statistics that are available online, but you can assume that the average Renogy system to power a small home will cost between $8,500 and $15,000 depending on the different factors.
According to Renogy, the system averages a cost of between $1.73 and $2.05 per watt. The average 5kW system, based on those figures, should cost about $8,600 before tax rebates.
The tax credits and rebates available to you are dependent on the area you currently reside. After tax credits, however, the average consumer can expect the system to cost around $6,000 before inverters, mounting and labor costs are factored in.
What is the Renogy warranty?
Renogy ensures that their systems will work without defect for 10 years. The company's warranty covers any system that suddenly stops working or is experiencing issues during those ten years. This warranty is the industry standard.
Most other solar energy companies offer the same 10-year warranty against defect. The solar panels do not provide warranty coverage for extreme weather that is outside of the panel's rating.
There are some companies that offer much longer cover: 12, 15- or 25-year warranties. Sunpower, for example, offers a 25-year warranty, while Solar World offers a 20-year warranty. LG and Panasonic also offer 25-year warranties.
[For an explainer about solar panel warranties and a comparison of warranties from the top solar panel manufacturers, click here.]
Is the Renogy kit enough to power my home?
The average Renogy starter kit will not be enough to power a home off-grid completely. Most traditional residential kits will not be large enough or produce enough power to ensure your home is entirely off-grid. If you are looking for total off-grid systems, a much larger system and a large backup battery will be needed.
The Renogy 100-watt kit, however, is large enough and efficient enough to power dedicated devices off the grid. For example, one may choose to use the Renogy 100-watt kit to power cable and internet, taking those devices completely off-grid. This is a typical application for people who have tiny homes or country cabins that they are interested in powering at minimal capacities. For a traditional single-family home, most families will consume too much energy on a daily basis to completely power the house off the grid, especially during winter months.
What is the Renogy kits' best application?
Renogy is one of the few companies that offer kits direct to consumers. While DIY solar kits are not advisable in complicated situations, a small set-up by a qualified DIYer can work well and save the consumer the cost of installation. Renogy happens to be one of the companies that do offer direct-to-consumer kits.
If you are a weekend warrior with a working knowledge of electrical and you live in an area that allows for solar panels to be installed without a licensed technician, the Renogy system may be one of your best options. Please note that high-end solar companies often do not offer direct-to-consumer systems, meaning you will be limited to the brands you can employ in your setup.
Renogy is also a solid option for small homes, or for individuals who are interested in powering specific hardware off the grid, like cable and internet. Renogy is a good fit for tiny houses, cabins, and motorhomes. The size of the system may not be large enough to power a larger home efficiently, however.
Are there any negatives to the Renogy solar panel kit?
No solar panel kit is created perfectly, and individual kits will work better in some situations or climates than others. While the Renogy system is a viable choice for many homeowners, it is important to consider the system does have some limitations.
Renogy's smaller kits are likely too small to power a home off-grid
Renogy's output is low, and it can take several days to charge a deep-cycle battery completely
The starter kits and premium kits do not include everything you'll need to get started if you are planning on DIY projects.
While the negatives of Renogy's starter and even premium kits do warrant consideration, there is no glaring negative that would steer most consumers away from the system. It is crucial that you are aware of the limitations of the system and pick a solar installation kit and plan that fits your specific needs and environment.
The bottom line
Picking a solar panel kit that will work for your home and family is mostly dependent on your specific needs and your power consumption profile. Every home is different, just like every family is different. Your home's positioning, your climate, your power usage, and your personal needs are going to influence what kit is best for you.
With that being said, the Renogy solar equipment is a great starting place for families that are looking to harness the power of the sun and solar energy. The only way to know if the Renogy kit is best for you is to speak with a qualified retailer. A professional quote can help you figure out if Renogy is your best option, or if an alternative solar setup will work better for your needs.