Massachusetts' SMART Solar Incentive Program Stands Out, Lives Up to its Acronym
Written by Andrew Sendy
Updated August 13, 2021
8 minutes read
Categories: Solar 101, Solar panels, Solar power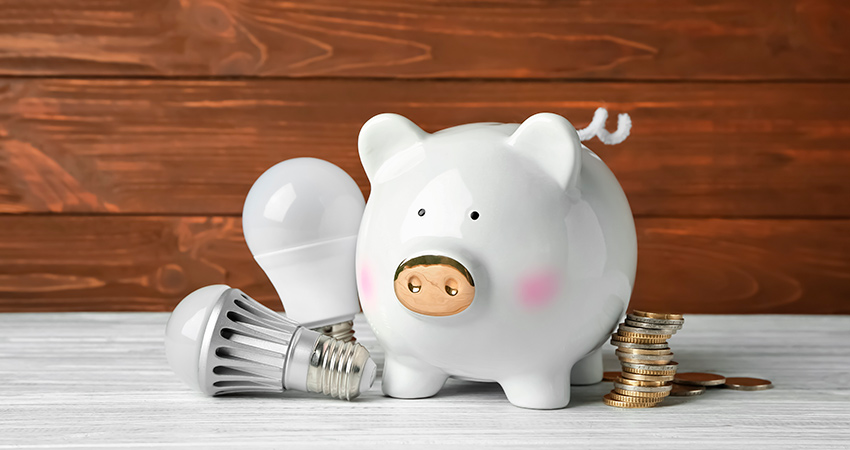 Befitting its acronym, the Solar Massachusetts Renewable Target (SMART) program has been hailed as one of the smartest solar incentive programs in the nation. Why, and how so? We zoom in and take a brief, yet close, look at Massachusetts SMART program in this post to find out what makes it effective, as well as what progress is being made towards instituting the next, impending iteration of the solar incentive program.
Massachusetts doesn't rate highly among U.S. states when it comes to the amount of solar energy that reaches the Earth's surface. However, it does rate highly when it comes to the amount of solar power generation capacity installed statewide (third in the nation), as well as the energy cost savings residents and businesses can and are realizing from solar photovoltaic (PV) systems.
SMART and other state solar energy incentives play a pivotal, fundamental role in the development and growth of Massachusetts' solar energy market and industry ecosystem. Moreover, Massachusetts policymakers and market regulators have made a point of creating an institutional framework of policies, programs, and incentives that make investing in solar energy accessible and equitable for as many businesses and residents as possible.
The Solar Massachusetts Renewable Target Program
Launched in January 2017 to replace Massachusetts' popular SREC II solar incentive program, SMART serves as the keystone for the state's drive to shift to an economy and society fueled by clean, emission-free, renewable energy resources. Scanning and analyzing solar incentive programs around the country and around the world, state energy policymakers and regulators crafted a solar incentive program that incorporates key aspects of California's decade-old Solar Initiative, as well as Germany's decades-old feed-in tariff, according to John Farrell, director of the Institute of Local Self-Reliance's Energy Democracy initiative.
"The core of the Massachusetts policy is a fixed contract price (inclusive of the value of energy and incentive) and a fixed term for solar projects less than 5 megawatts," Farrell explains. "So instead of getting net metering for energy and a solar renewable energy credit as an incentive, the latter of which could fluctuate significantly over the project's life, projects will have a near-certain revenue stream."
The Massachusetts SMART program is about as democratic, and comprehensive, as a state-based solar incentive program gets. It spans solar installations as small as 25 kilowatts (kW) to utility-scale projects of 10 megawatts (MW) and more. All are paid a fixed rate for the emissions-free energy they produce and contribute to the grid.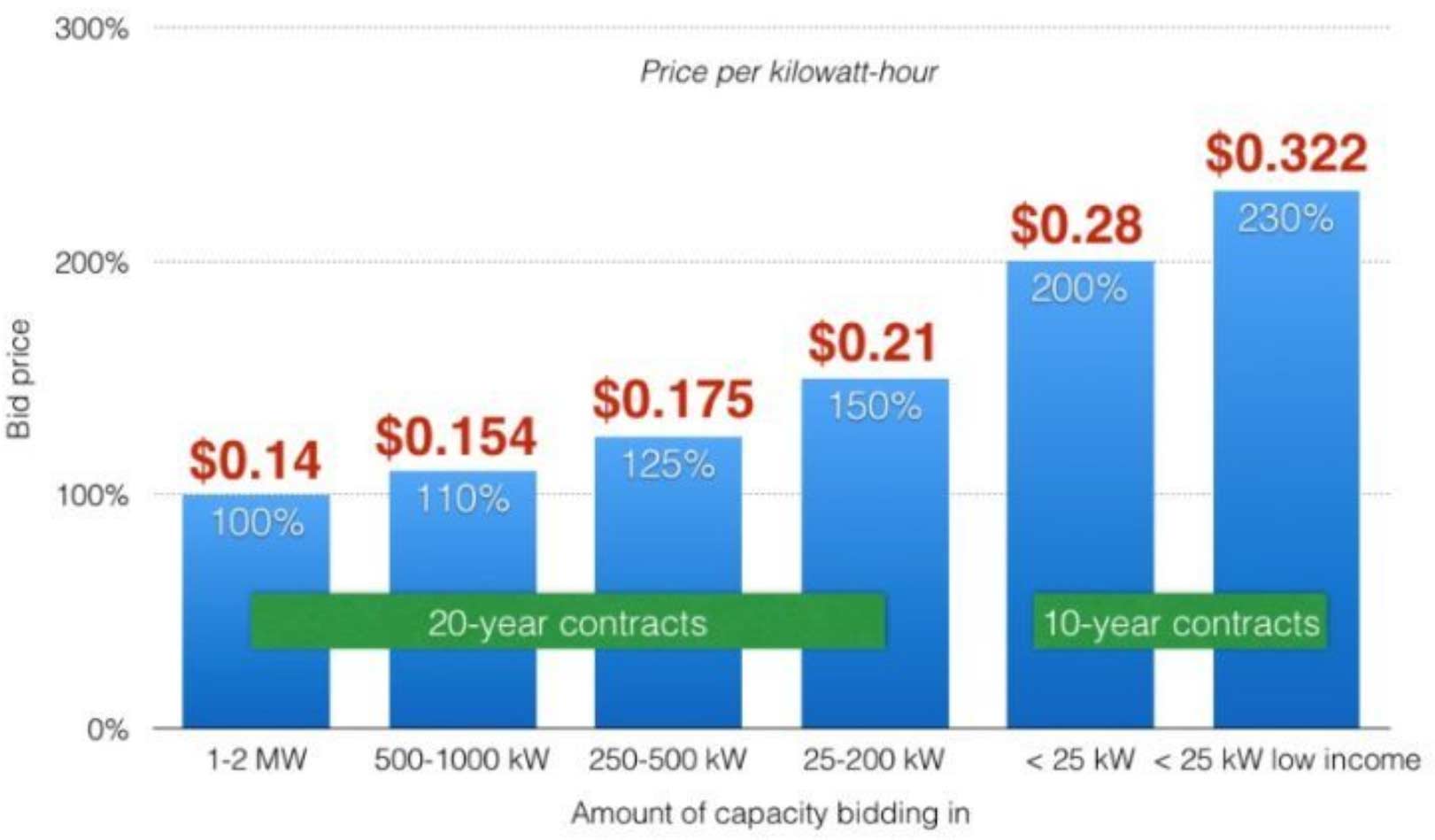 Image source: Massachusetts Department of Energy Resources (DOER)
SMART also includes added incentives that promote the deployment of solar energy systems that have specific, broad-based public benefits. These range from community solar gardens, solar PV systems that serve low-income, public housing and those installed on brownfield sites to solar canopies built on parking lots and projects that integrate battery-based energy storage with solar PV systems.
Moreover, Massachusetts energy regulators have designed SMART so that investor-owned utilities share equally in seeing that program goals are reached. Each utility is required to acquire solar power capacity in proportion to their share of the electrical energy they distribute in Massachusetts.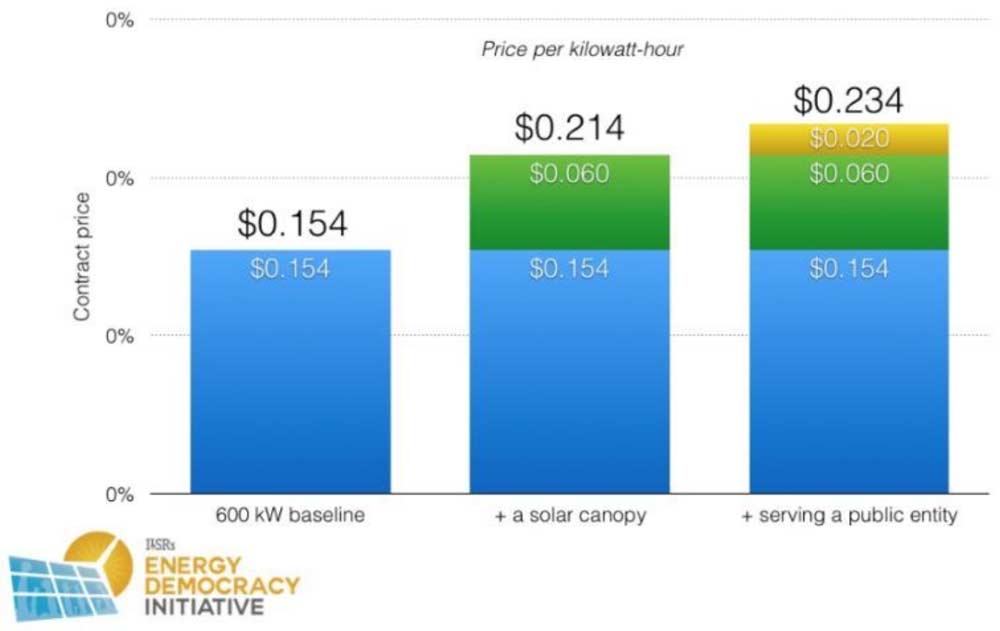 Image source: Massachusetts Department of Energy Resources (DOER)
Aiming for fiscal responsibility, SMART takes a page from previous solar incentive programs, including SREC I and SREC II, in order to take account of expected, ongoing declines in the installed cost of solar power capacity. In addition, incentive compensation rates drop as power generation increases.

Image source: Massachusetts Department of Energy Resources (DOER)
What Makes for a SMART Solar Incentive Program?
These and other attributes make Massachusetts SMART as open, accessible and equitable a state solar incentive program as exists in the U.S. They also distinguish it from other solar incentive programs in the Northeast, which rely primarily on net metering and issuance of solar renewable energy credits (SREC).
One big caveat should be highlighted here. The state's municipal light companies are not required to offer net metering, which puts their customers interested in going solar at a big disadvantage when it comes to earning a return on investment. Furthermore, while those served by municipal light companies were eligible for SRECs, they are not eligible for SMART program incentives.
Furthermore, not everyone is enthusiastic about SMART. SREC II proved to be a very popular, and effective, solar incentive program. Some are of the mind that Massachusetts' regulators and DOER gave away too much to vested utility interests in crafting SMART.
A typical homeowner going solar in 2018 with the SMART program will get $8,000 less from the state than if he or she goes solar in 2017 in time to get SRECs," according to Mark Durrenberger, author of The Energy Miser blog New England Clean Energy's website.
"The cynic in me thinks state leadership bought the utilities' 'cost' arguments hook, line, and sinker. Since solar has cut into the monopoly utility business by a whole 4%, it must be slowed down," Durrenberger adds.
In any event, the Massachusetts Dept. of Energy Resources (DOER), which administers the state solar incentive program, is not accepting new applications for SMART at present, and they don't expect to be able to until May 2018 at the earliest. That's because department officials are in the midst of a SMART tariff review proceeding with the state Dept. of Public Utilities and Public Utilities Commission that will result in the establishment of a new tariff rate schedule.
SMART: An Open, Equitable and Comprehensive Solar Incentive Program
Massachusetts DOER filed its proposed, final version of the SMART program regulation with the Secretary of State in August 2017. The second iteration of the Commonwealth's keystone solar energy incentive program, SMART set a goal of doubling the state's installed solar power capacity to more than 3 gigawatts (GW). Referred to as 225 CMR 20.00, the guiding and informing aim of the SMART program "is to establish a statewide solar incentive program to encourage the continued use and development of generating units that use solar photovoltaic technology by residential, commercial, governmental and industrial electricity customers throughout the Commonwealth," DOER explains.
DOER earlier this year accepted 53.273 MW worth of so-called, Block 1 bids for large scale solar PV projects 1 MW-5MW in scale prior to SMART being temporarily shut down for the solar tariff review. As department officials explained: "The purposes of the RFP [Request for Proposals] were to obtain large amounts of solar for the Commonwealth of Massachusetts at competitive costs, and to use those competitive costs as a baseline for establishing the SMART Program incentives going forward."
Subsequently, on March 12, the department issued three customer disclosure forms for public comment. Massachusetts residents intending to install solar PV systems of 25 kW or less who want to qualify for the SMART program incentives need to complete all of them, as do all utility customers participating in a community shared solar project. Solar PV developers aiming to build out solar PV projects of virtually any size will be welcome to apply for SMART solar incentives when the program reopens later this year, according to DOER. All applications that prove to be eligible and complete will be processed on a first-come-first-served basis.
There are some special requirements for SMART Block 1 projects between 1 MW up to 5 MW, however. Such projects may only apply to Block 1 if they are eligible for at least one of SMART's so-called Base Compensation Rate Adders. These are additional solar incentives, such as building a community or brownfield solar PV project, that are added to corresponding base SMART incentive tariffs for any particular project. DOER opens up a new SMART block for bidding as each distribution utility fulfills the quota from its preceding block. Solar PV project developers that don't meet the criterion mentioned in the preceding paragraph must wait for Block 2 bidding to open.
It's not all a solar homeowner, or solar industry participant, could wish for, but Massachusetts SMART still stands out among U.S. state solar incentive programs for its openness, equity, and comprehensiveness. ILSR's Farrell summed up its strengths as follows: "Clear advantages of the SMART tariff program are predictability and certainty, for both regulators and program participants. These factors ensure the program will be more durable for the long term, even as the renewables marketplace in Massachusetts evolves, rather than merely sparking a short-term boost to renewable generation development."
What is clear is that homeowners and businesses that want to trap the maximum savings from the solar need to get in contact with a local solar company that knows the SMART schedule for their local utility and can get you into the line. The link above can do this or you can look at the SolarReviews list of the best solar companies in Massachusetts and pick a solar installer that stands out to you. But hurry the compensation offered will decline over time as the capacity blocks are installed across each utility territory.