The impact of recent policy changes on solar in 2020
Written by Catherine Lane
Updated August 12, 2021
10 minutes read
Categories: Solar panels, Solar power
should-you-rent-solar-panels-from-teslaThe political landscape of 2019 was interesting, to say the least - especially when it came to the environment and the solar industry.
In this article, we'll untangle exactly what happened in the solar industry last year, and what it could mean in regards to the renewable energy outlook for 2020.
Trump administration reverses renewable energy progress 
From the start of Trump's campaign, he's been abundantly clear that he is pro-coal and anti-renewables.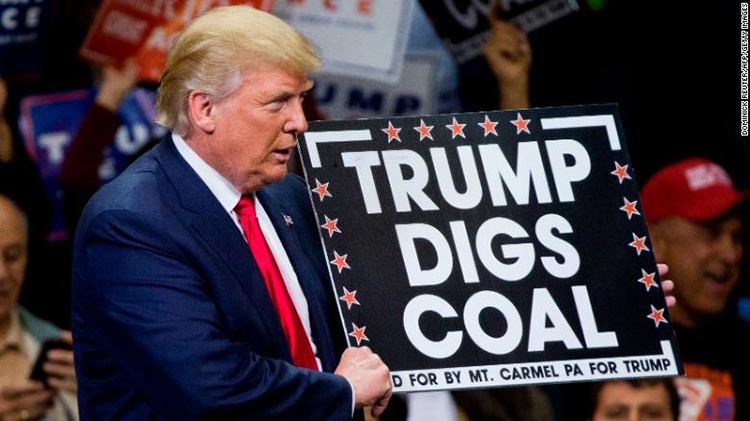 President Donald Trump made saving the coal industry one of his main campaign objectives. Image source: CNN
So far, the Trump administration has successfully undone 58 environmental regulations with 37 still in progress. Some of the most poignant rollbacks include:
Preventing California from setting state emissions standards for vehicles that are stricter than federal standards
Loosening rulings to limit toxic emissions from polluters
Stopping the use of the social cost of carbon for rulemaking
Replacing light bulb efficiency standards
Pulling the U.S. out of the Paris Agreement, a global framework designed to help mitigate and prevent the effects of climate change
While some of these indirectly impact the solar industry, there was one Trump policy put into place that has had a huge impact on the solar industry.
Trump imposes tariffs on solar panels 
In January 2018, the Trump Administration placed a tariff on imported solar panels. This meant that any solar panels that were manufactured outside of the U.S. were subject to a 30% tariff.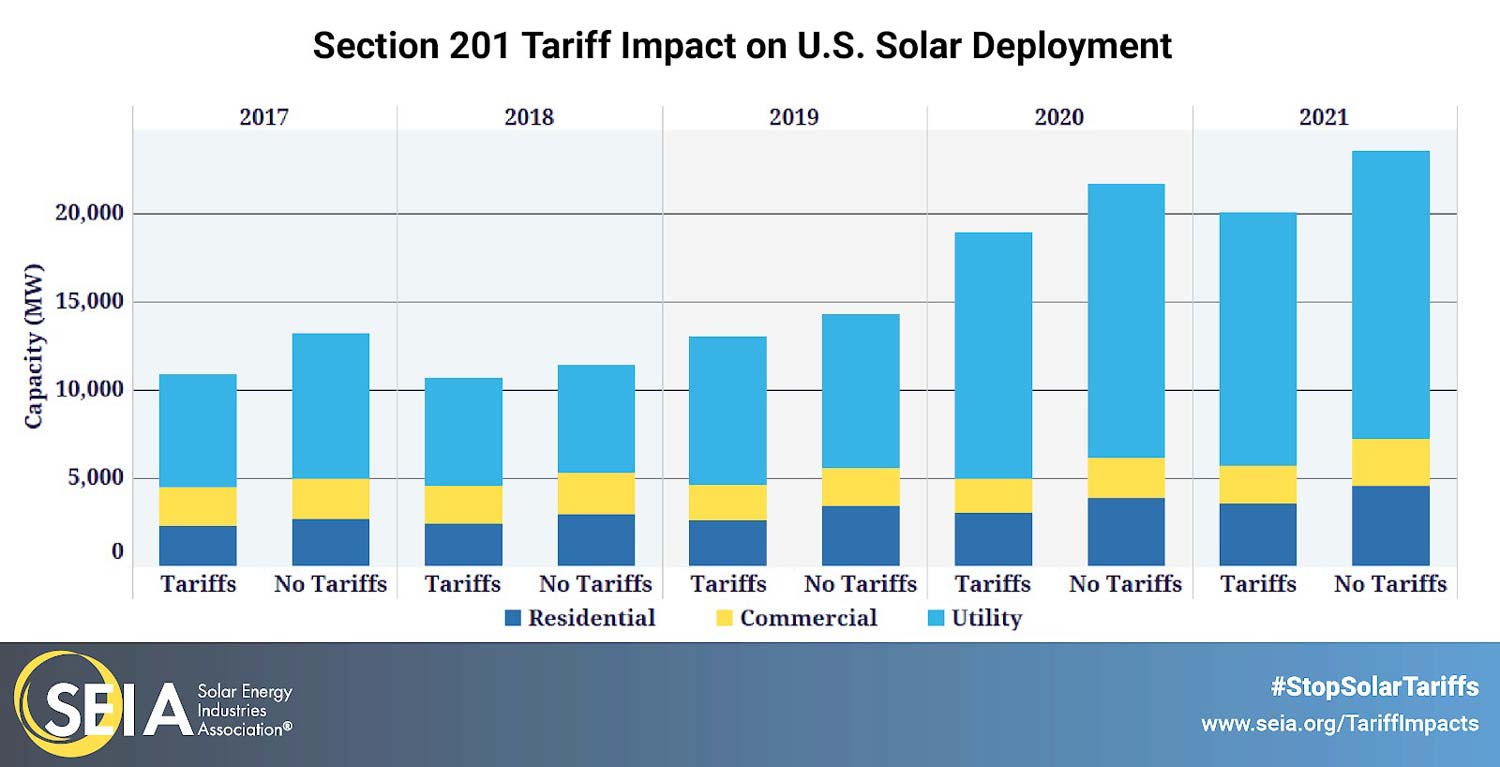 The impact of the Section 201 tariffs on the U.S. solar industry. Image source: SEIA
While the Section 201 tariffs were put into place in 2018, the impact they had on the solar industry weren't fully realized until 2019. According to an analysis done by SEIA, the 201 tariffs have caused a loss of more than 62,000 jobs, $19 billion in investments, and 10.5 gigawatts of solar.
As of 2020, the tariff stands at 20%.
Congress' hits and misses for solar energy policy in 2019 
Despite Trump's support for the coal industry (and his contempt for wind energy), coal is experiencing a downward trend. It is becoming increasingly clear to politicians that climate change is an important topic to many Americans.
The public's growing interest in the climate crisis has led to several bills being introduced to Congress, with some of them having the potential to give solar significant attention.
Despite this, though, solar lost its biggest battle in Congress in 2019 when the extension for the federal solar tax credit was not passed.
Green New Deal will support access to solar 
One of the most notable bills is the Green New Deal, introduced by Congresswoman Alexandria Ocasio-Cortez. The Green New Deal's goal is to transform the U.S. economy to tackle both climate change and inequality issues.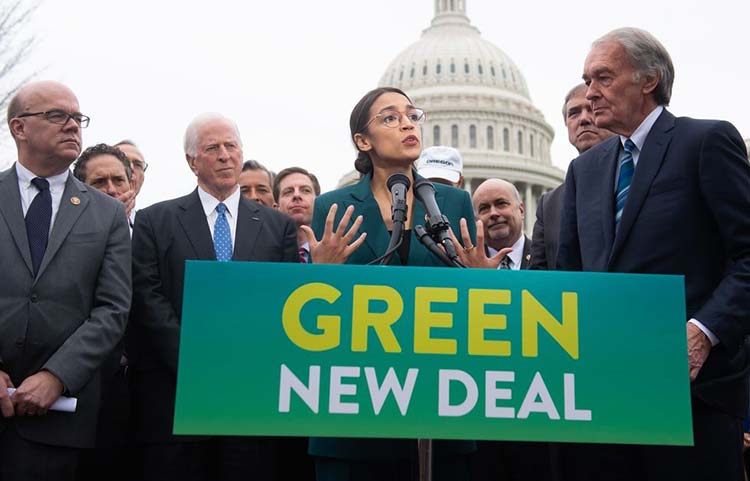 Congresswoman Alexandria Ocasio-Cortez speaking on her revolutionary Green New Deal legislation. Image source: Popular Mechanics
One key point of the Green New Deal is to make solar power more accessible to working class families. Whether it be through community solar or low-cost rooftop solar, the Green New Deal is aiming to make renewable energy accessible to everyone.
If the Green New Deal passes in 2020, it could provide a serious boost to the solar industry.
National Climate Bank to expand solar investments
In July 2019, another revolutionary climate bill was introduced in the Senate, with the legislation proposing the creation of a National Climate Bank.
Some states including Connecticut and California already have climate banks. In fact, green banks have led to $3.67 billion in green investments throughout the country.
Green banks are public financial institutions that combine financing techniques and market strategies with private funding. The money collected in a green bank is then used to mobilize low-carbon infrastructure and other climate-resilient measures.
A National Climate Bank would provide financing to state, local, or regional entities in order for them to implement low-carbon infrastructure.
In the bill proposed by Senators Markey, Van Hollen, and Schatz, the National Climate Bank would help fund low-income solar projects. Low-income communities often feel the effects of climate change first, and much more, than other areas.
Much like the Green New Deal, a National Climate Bank would help the solar industry grow significantly in 2020.
No extension for the federal tax credit - yet
The federal tax credit began its step-down at the end of 2019. In 2020, those who install residential solar will receive a tax credit equal to 26% as opposed to 30%.
This past July, Senator Catherine Cortez Masto (D) and Representative Mike Thompson (D) introduced joint legislation to the House and the Senate to extend the federal tax credit.
The bill received bipartisan support in the House and Democratic support in the Senate. In November, Congress released a revised version of these bills called the Growing Renewable Energy Efficiency Now Act of 2019 (GREEN Act). It seemed hopeful that the federal tax credit could be extended for another five years.

Schedule for the federal solar tax credit step-down. Image source: SEIA
Sadly, the extension of the federal tax credit was not included in the end-of-year must-pass bill, meaning it would not be extended before the end of 2019. This came as a huge blow to the solar industry, with solar backers extremely disappointed in Congress Democrats for not pushing for the extensions to be included.
However, there is still the possibility for change to be made in 2020, with the bills receiving bipartisan support, as well as backing from thousands of individuals within the solar industry.
Check out this article to learn more about the relationship between the health of the solar industry and the federal tax credit step-down.
States take the lead on setting 100% renewable goals 
Even if renewables aren't getting full support from the federal government, individual states continue to make their dedication to fighting climate change clear.
In recent months, many states revamped their renewable portfolio standards. Here is a list of some states that made the pledge to increase their clean energy production in 2019: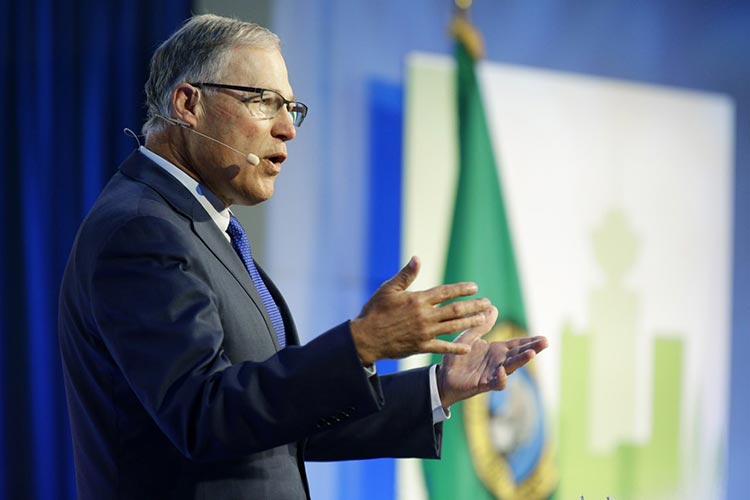 Washington Governor Jay Inslee, known for his strong stance on climate, signed the state's new renewable standards into law in April 2019. Image source: WBUR
Standards like these will incite positive change, like utilities incentivizing rooftop solar and installing more large-scale solar farms. All of this means that utilities could start rolling out rebates and other incentive programs to ensure they meet the new state goals.
Ultimately, solar would become more affordable and utilities will be able to meet their requirements. These new renewable standards show that states are committed to reaching a carbon-free future and mitigating the effects of climate change.
It's encouraging to see that even in a time of immense instability in environmental politics at the federal level, states are still fighting for a better, brighter, and cleaner future.
Some utilities continue to battle rooftop solar
Even with many states jumping aboard the 100% renewable train, some utilities are still trying to prevent renewables from penetrating the grid. The main problem utilities have with solar is net metering; utilities claim that net metering causes them to raise their rates for non-solar customers.
If this sounds ridiculous, that's because it is.
Utilities argue that when a solar customer receives the full retail rate of electricity in exchange for excess solar energy their system produces, they fail to pay for all of the standard fees, forcing the utilities to charge their other customers more for electricity in order to compensate for the lost revenue.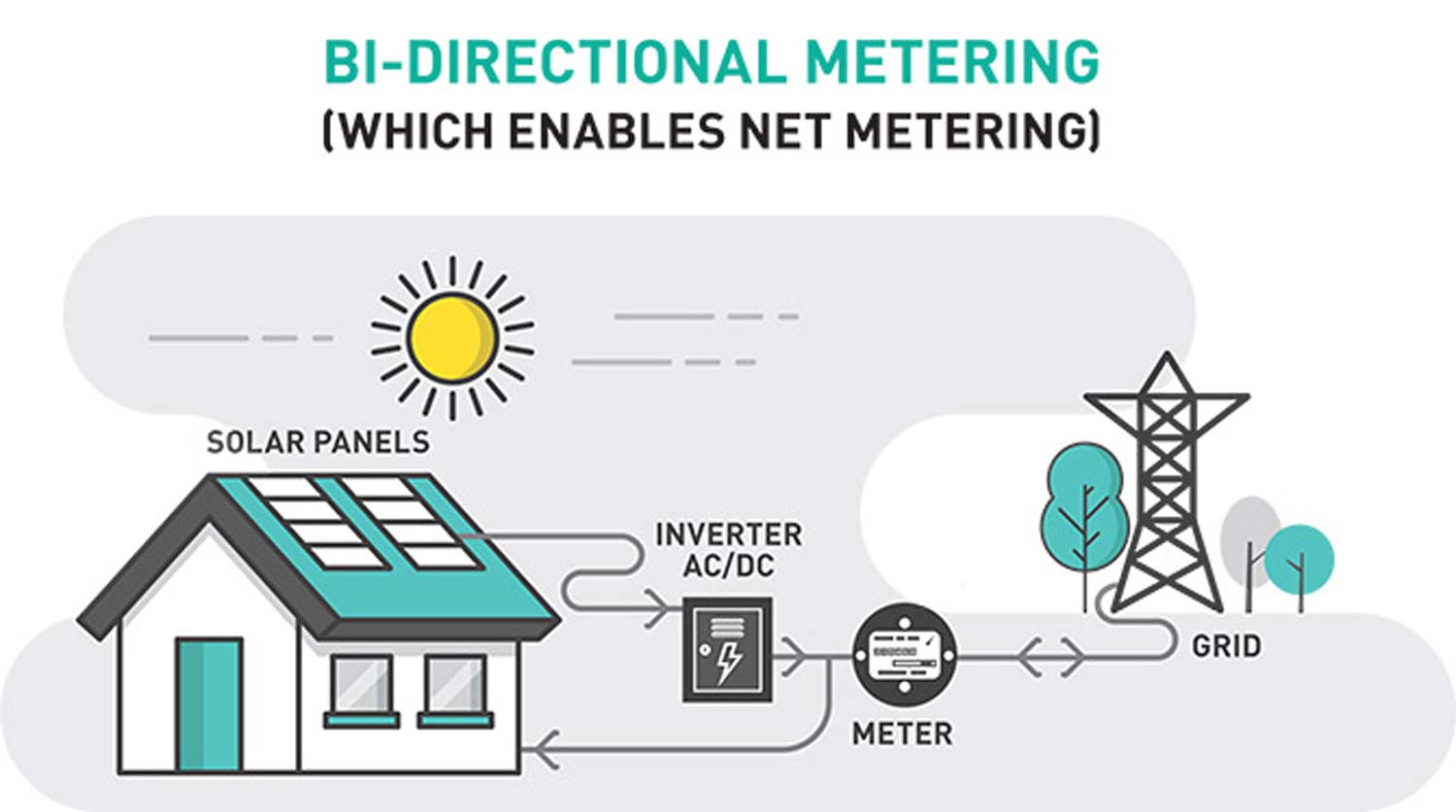 Net metering adjusts what solar system owners feed into the grid against what they take from it, only charging them for the difference. Image source: Proteus Technologies Limited
In reality, this type of rate change isn't necessary until about 10% of the grid is penetrated by solar. Most states are far from reaching this tipping point.
Some utilities don't bother hiding the fact that they are actively trying to prevent solar installations. In a speech this past July, Jacob Williams, the CEO of Florida Municipal Power Agency, revealed that implementing higher fixed charges is a great way to "get rid" of net metering customers, as it will prevent people from wanting to install solar on their homes.
Listen to the speech yourself here (go to minute 35 to hear how Mr. Williams feels about residential solar installations).
Despite the overwhelming evidence that the rate shift won't have to occur until well into the future, utilities continue to argue against full retail net metering. Unfortunately, in some states, the utilities won.
Louisiana guts net metering, Kentucky follows suit
In September of 2019, Louisiana stripped its net metering law down to almost nothing.
The state switched to a "buy-all, sell-all" rate structure, which means that the utility will buy all of the electricity a solar system produces at the avoided cost rate, and customers will buy all of the electricity their home uses at the full retail rate.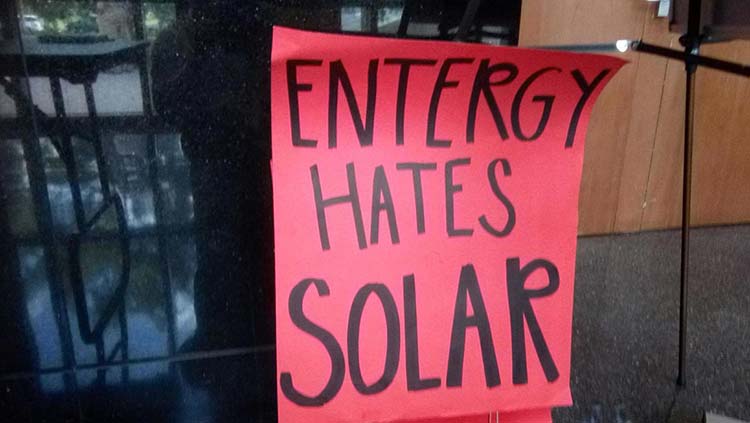 A sign from the Louisiana Board of Public Utilities meeting, where protesters petitioned to keep net metering in place. Image source: The Center Square
None of the electricity solar panels produce will completely offset homeowners' power usage, which means they will save substantially less. Plus, the avoided cost rate in Louisiana is staggeringly low, at only $0.03 per kilowatt hour (kWh).
These types of program changes only benefit the utilities, not their customers.
Kentucky followed in Louisiana's footsteps by changing to a buy-all, sell-all program in November 2019. Kentucky's solar deployment is already low, so gutting one of the largest incentives means that solar installations could continue to slow even more.
Net metering changes like these are detrimental to the state's solar industry. Since people will be receiving less for the energy their solar panels produce, solar won't be an economical option for many homeowners.
This will cause the number of solar installations to drop, affecting the local solar industry in the process.
Georgetown can't compute, solar customers pay the price 
The most interesting move made by a utility in an attempt to thwart solar in 2019 was executed by the municipal utility for the city of Georgetown, South Carolina.
In September, the city instituted a $50 monthly fee for all residential solar customers. Why, you might ask? Well, the utility's accounting software couldn't accommodate the addition of solar, meaning the software could not compute electricity being sent back to the grid.
So, instead of investing in new accounting software, city employees are being forced to calculate solar customers' bills by hand. Such a hefty fee could deter customers in the future from making the switch to solar.
Other utilities decide to embrace solar power
Even though some utilities seem to be in a constant battle with solar, others have decided to take advantage of it.
In 2019, we saw an increasing amount of utility solar being installed, as well as some utilities making pledges to become 100% renewable in the future.
NextEra officially becomes the largest solar operator outside of China
In 2019, NextEra, the world's largest utility company, in partnership with Entergy Arkansas, began construction on a 100 MW solar plant, the largest solar plant in Arkansas. They also brought a 35 MW solar plant online in Colorado, with plans to add more solar over the years.
In fact, NextEra owns a total of 4.4 gigawatts (GW) of solar capacity, making it the largest solar operator outside of China.
Hawaii Electric Corporation makes waves with solar-plus-storage plans
Hawaii Electric Corporation not only increased the amount of solar it owns in 2019, it added battery storage to its portfolio, as well.
In March, Hawaii Electric announced plans for six major grid-scale solar and storage facilities. Three of those projects will add a combined total of 247 MW of solar and 1 GW of storage.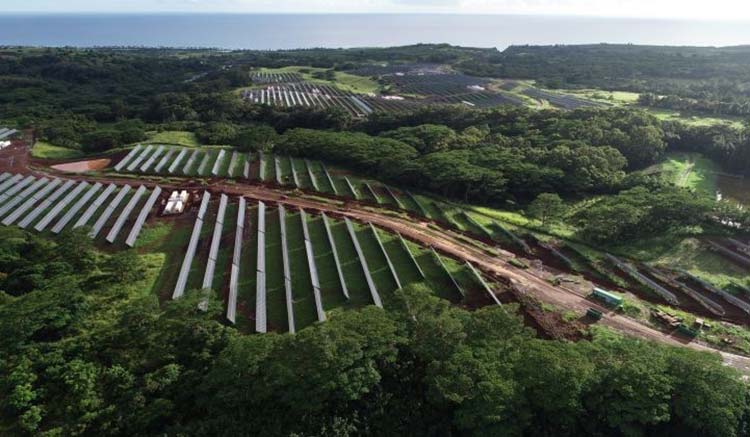 The largest solar-plus-storage plant in the world is located in Hawaii. Image source: GreenTech Media
Electricity produced by these projects is estimated to cost between $0.08/kWh and $0.10/kWh. This is substantially lower than electricity produced by fossil fuels in Hawaii, which comes out to about $0.15/kWh.
In total, Hawaii Electric Corporation has more than 500 MW of renewables under contract, plus over 800,000 private rooftop solar systems in the pipeline.
Florida Power and Light pushes The Sunshine State towards more solar
Despite the bumpy road solar has previously had in Florida, Florida Power and Light announced its 30-by-30 program this past year.
The 30-by-30 program's goal is to install 30 million solar panels by 2030. If this program is successful, it will become the largest solar panel fleet to be deployed by a utility.
Green Mountain Power sets impressive renewable goal 
In 2019, Green Mountain Power, a Vermont-based utility, made a commitment to being 100% renewable by 2030. This is one of the most ambitious commitments that has ever been made by a utility.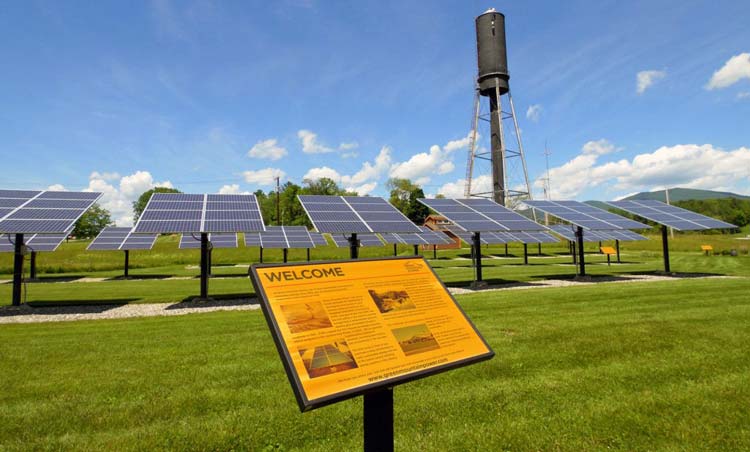 Green Mountain Power has a renewable energy education center, complete with guided and self-guided tours. Image source: Green Mountain Power
The future for solar energy in 2020 looks bright
Projections point to continued growth in the solar sector throughout 2020. According to SEIA, total installed solar capacity is expected to reach 100 GW by 2021.
Overall, 2019 was a rollercoaster of a year for solar. Though there were some losses (like not receiving an extension for the federal tax credit) the perseverance of states, utilities, and voters made it clear that solar is here to stay.